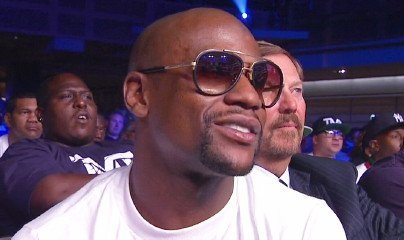 Top Rank promoter Bob Arum says that WBA/WBC 147 pound champion Floyd Mayweather Jr hasn't come forth to sign his part of the contract for a mega-fight against Arum's money guy Manny Pacquiao for a fight on May 2nd. According to Arum, Pacquiao has signed off on everything that Mayweather wants in the negotiations but the fight still hasn't signed by Floyd.
Arum is starting to think that it'll be like the first negotiations that took place between the two superstars in 2009 in which Mayweather chose not to sign for the fight after Pacquiao didn't agree to the full random blood testing that he wanted in order to fight the Filipino fighter.
"They can't produce Floyd to agree. It's the same thing that happened with Ross Greenberg a few years ago when we agreed on everything then they couldn't produce Floyd Mayweather," Arum said via Examiner.com. "Same thing when we got past the drug testing, Pacquiao agreed, and Mayweather wouldn't. This is no different than any other time."
The problem is they didn't get past the drug testing the last time they negotiated the fight back in 2009. That was where the fight fell apart, although you can't really put that on Mayweather, because he was merely looking out for himself in trying to get Pacquiao on board with the drug testing that he wanted for the fight.
Arum went on to say that Pacquiao has agreed to the date of May 2nd for the fight. Arum doesn't think it's a great date due to it being a Mexican holiday, but Pacquiao was the one that agreed to it so it's now the date for the fight if they can get Mayweather to sign for the fight.
Arum says that Pacquiao has "signed off, now we are just waiting for the other side to deliver Mayweather."
If Mayweather hasn't agreed to the negotiations then you've got to suspect that there's something in the contract that he's not happy with, such as the purse split. He wouldn't be holding off unless the money wasn't right. You have to wonder whether Arum is saying that the contract negotiations are complete on Pacquiao's side without them having been previously agreed on by Mayweather.
In other words, Arum taking a unilateral approach to one part of the negotiations and then complaining about Mayweather not folding and putting his John Hancock on the contract in lockstep fashion. If Mayweather doesn't see the money being right, he's not going to give Pacquiao money he feels he doesn't deserve. After all, this isn't charity. Mayweather is the A-side and Pacquiao the B-side in these negotiations.