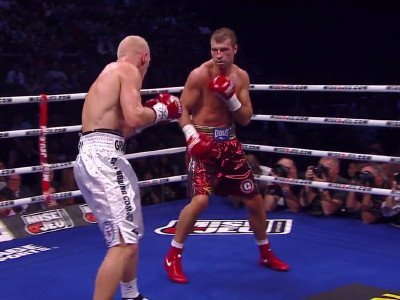 By Marcus Richardson: Top Rank promoter Bob Arum says a fight between former IBF super middleweight champion Lucian Bute (31-1, 24 KO's) and Kelly Pavlik (40-2, 34 KO's) is possible by March of this year. Bute is one of the names that Pavlik's management is working on putting a fight deal with for March.
Arum said to 8countnews.com "I talked with Cameron Dunkin. They're working on a big fight with Pavlik for the first three months of the year. One of the names is Lucian Bute."
Bute's promoter Jean Bedard mentioned recently that he's interested in putting together a fight between Pavlik and Bute. Whether it can happen is still unclear, but it's a great fight for both guys. Pavlik needs a big win over a fighter with a name because he's done nothing for the last two years other than facing weak opposition.
Bute lost to Carl Froch last year in May in a disappointing 5th round TKO loss. Bute didn't look like he had put a good game plan together because he didn't have a plan B to fall back on after it was clear that Froch had too much power for him to fight in the center of the ring in a toe-to-toe battle. Bute needed to shift into a hit and run style that he had used earlier in his career to great success.
Unfortunately, Bute did the worst possible thing you can do against Froch and that was to back up to the ropes and try to fight him from that position. Froch then was able to give Bute a terrible beating on the ropes until the fight was stopped in the 5th.
Bute did win his last fight against Denis Grachev last November, but he showed little improvement from the Froch fight. Bute made the same mistakes that he made in the Froch fight, except that in this case Grachev didn't have the talent to take advantage of them like Froch did.
Pavlik has won his last four fights and he's fighting as well as he ever has. He needs to step it up against Bute or someone along the same lines so that he can find out whether he has the talent to succeed at 168. Few boxing fans see Palik going anywhere in this division, but it's possible if he can go after the WBO champion Arthur Abraham.