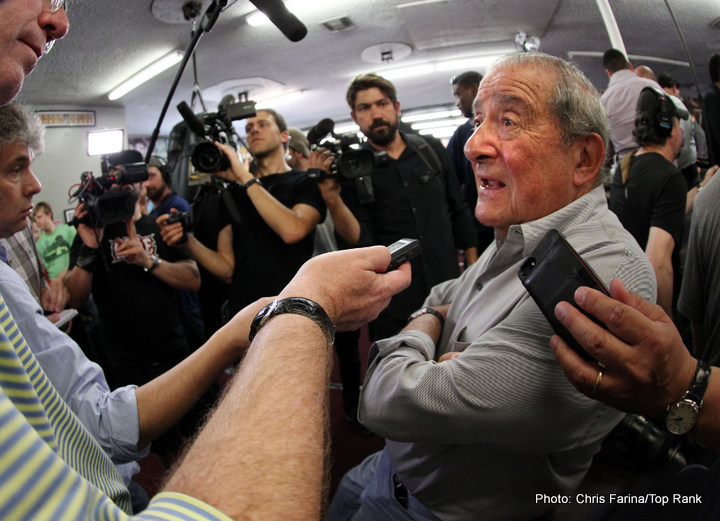 Pac-Man's back. Manny Pacquiao, the superstar who "retired" in April, will fight in Las Vegas on November 5th, promoter Bob Arum said, as reported by The LA Times. The venue will likely be either The MGM Grand, Thomas and Mack or The Mandalay Bay – but who will the opponent be? According to Arum there are now two names in the frame: light-welterweight champion Terence Crawford and welterweight titlist Jessie Vargas.
Arum says that if Pac-Man can get down to 140-pounds in time – this whilst attending to his various senatorial duties, which may restrict his training time – he will face unbeaten Crawford (providing Crawford gets past Viktor Postol in their unification clash this Saturday night), if not he will fight WBO 147-pound champ Jessie Vargas.
"A lot of it depends on if Manny wants to go down to 140," Arum explained. "If he goes down to 140 and Crawford wins, that could be the fight, but if he says, 'no, because of the Senate, I'm not going to be able to get down to 140 comfortably,' then he'll fight against Vargas."
As for WBC welterweight king Danny Garcia, who was supposedly offered a big payday to face Pac-Man, Arum has ruled him out, saying "Nobody's ever called me about Garcia, Garcia's saying he wants more money – who's he talking to?"
As much as fans might be excited at the idea of Pacquiao fighting again, it would perhaps be nice to hear Manny himself speak about what he wants to do. Arum does sound as though HE is in charge, deciding what Pac-Man will do. Pacquiao is of course very busy with his political duties and maybe he hasn't the time to give boxing interviews. But is Pac-Man as determined to fight again as Arum seems determined to have him fight again?
Pacquiao against Crawford would be a massive – and hard – fight for the 37-year-old; a Vargas fight less so. Only in Pacquiao is fully focused on fighting Crawford would he have a great chance of beating him. If Pacquiao does indeed return in November, his "retirement" will have lasted all of seven months.