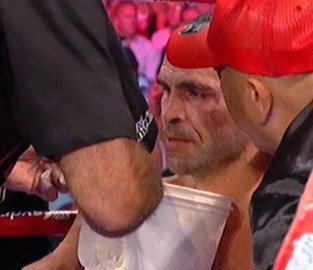 The soon to be 39-year-old Anthony Mundine (45-5, 27 KO's) will continue his slow climb to a title shot at 154 when he faces welterweight Carson Jones (35-10-3, 25 KO's) on January 29th in a scheduled 10 round bout at the Brisbane Entertainment Centre, Boondall, Queensland, Australia. Mundine recently beat 42-year-old Shane Mosley by a 6th round stoppage last November in Australia. Mundine looked huge compared to the smallish Mosley in that fight and it was odd-looking fight.
For fans who don't remember, Mundine has fought most of his career in the super middleweight division and he previously captured the WBA 168 lb. title and held it on two separate occasions. Mundine has come down in weight in hopes of getting a big fight against Floyd Mayweather Jr. Mundine is currently ranked #4 WBA, #10 WBC in the junior middleweight division, and is striking distance to a title shot against Mayweather, if he doesn't vacate his belt.
It's very difficult to imagine Mayweather choosing to defend his WBA 154 lb. title against Mundine, because it's not a fight that would sell in the United States on pay-per-view. If Mundine had fought occasionally in the U.S during his long 14-year pro career then he'd have a much better chance of getting a Mayweather fight at some point. But as it is, Mundine is probably wasting time and would be better off moving back up to the super middleweight division where he can fight guys his own size instead of facing much smaller welterweights like Mosley and Carson Jones while fighting at 154.
The 27-year-old Carson Jones hasn't fought since being stopped in the 8th round by Kell Brook last year in July in the UK. Jones had previously fought Brook and had barely lost by a 12 round majority decision in 2012. However, in the rematch last year, Jones didn't throw enough punches and seemed to be waiting for Brook to tire out. If that was the strategy it was a bad one because Jones took a beating and was halted in the 8th round. Jones looked bad in fighting to an 8 round draw against Dean Bryne in December of 2012. That was a fight that you could have easily given it to Bryne, because he was the much busier guy and landed more shots.