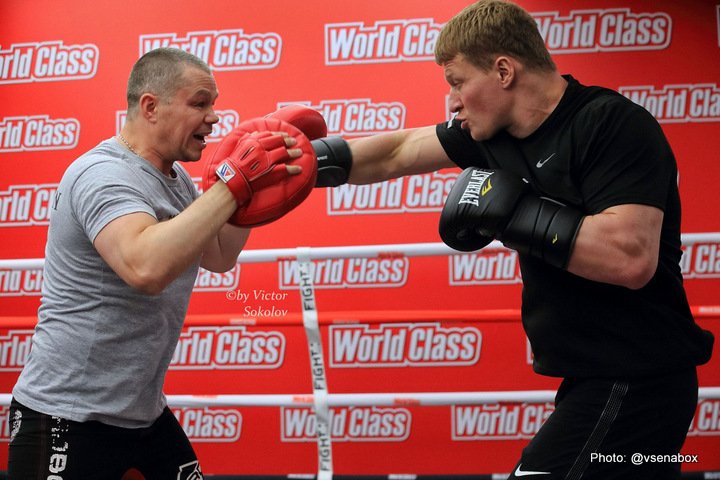 We've all just witnessed a middleweight classic between Canelo Alvarez and Gennady Golovkin, and this Saturday night it will be the turn of the big men, as WBA/ IBF/ WBO heavyweight champ Anthony Joshua defends against former WBA boss Alexander Povetkin. And while much was made of Canelo's two failed drugs tests in the lead-up to the GGG rematch, Povetkin too has a history of failed tests.
As fans know, the Russian star, like Canelo, has failed two drugs tests during his career – one of them ruining a big fight with WBC heavyweight champ Deontay Wilder – and his critics say he should not be getting the big opportunity against AJ. But Joshua, in speaking with BBC Sport's Newsbeat, said that Povetkin has "proven himself clean for this fight." Joshua also said that he will "hurt" his challenger should the opportunity arise in the Wembley fight.
"I think because of the pressure on me [to win], people put it aside that he's failed two drugs tests," Joshua said. "He's proven himself clean for this fight, nothing's come up yet, he's clean for my fight and that's what I've gotta focus on. I'm gonna hurt him. If my instinct tells me to go in and take him out, I will. But this is elite level boxing and I'm not going to over-excel myself because any mistake could change history."
Joshua, 21-0(20) has said he plans to make Saturday night's fight a more exciting affair than his last fight, the wide but largely dull decision win over Joseph Parker in which AJ added the WBO belt to his collection. Plenty of people do see a KO win for Joshua, yet as AJ says himself, he cannot afford to make any mistakes. Povetkin really has nothing to lose. At age 39, the former Olympian is closing in on the final months of his career most likely and though an upset win over Joshua would revive his career in a massive way, a loss would very possibly end his career – a comprehensive, no doubt defeat, anyway.
But Povetkin, 34-1(24) is dangerous, he is experienced and he is coming to win. And, most importantly, he is clean for this fight. Can Joshua become the first man to KO Povetkin?