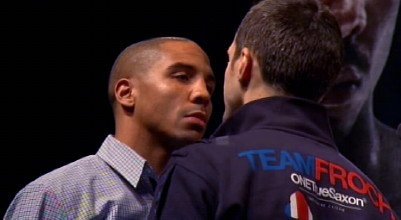 It has been a while since super-middleweight P4P star Andre Ward has performed and true boxing fans should be missing him. His inactivity is of legal nature, he is involved in some litigation that apparently has stalled his career. He may not be the most charismatic persona but he is a gem of a boxer, an all around pugilist in search of recognition. He is a sportsman who is currently "held hostage" by legal obstacles while he is in his prime. He has no control over his career right now and it's a pity that natural ability and talent should be subject to a legal dispute.
His skills are versatile; he paralyzes opponents with range of motion and non-stop action, he does not need a break and fights for every second of a round. He has great technique in offense and defense, no telegraphs, his big shots start as a fast scoring shot or even as a feint and he applies himself at the last moment when he sees the shot will land. He does not load up and does not waste energy, if he misses, he does not miss with a big shot because he did not allow it to become a big shot. Excellent foot work and lightning body movement, his head is at a different spot every second, he can bang and exchange at close range. He can brawl if he has to; close range is comfortable as well and he can not be out boxed.
He has other good wins as well, but I was most impressed by his KO victory over the big southpaw Chad Dawson who campaigned at light heavyweight. Ward demonstrated he bangs pretty hefty for such a technician, he has great infighting, stamina and endurance. He not only outclassed the bigger top 10 P4P (at the time) Dawson but he went for the finish as he was not content with a points win. If you are skeptical about Ward then he hasn't been hyped enough, this was a demolition job of a world class high profile opponent from the upper weight division.
We can only hope to see him back in action soon. The hiatus will not be without consequence, he may have to take a tune up fight and his ratings may not be the same when he resurfaces. He has already beaten most notable opponents at super-middle. Perhaps it's a matter of finding the right managerial team; an athlete of such magnitude should be making more of a splash even in his own country.
Boxing should find a way of taking care of boxers and protecting them against themselves sometimes. There should a way to grant a boxer the opportunity to practice his trade, hold some of his earnings perhaps but don't throw him to the mercy of commercial claims. A boxer's days in the sport are numbered; he should not be spending the best of them in a limbo.