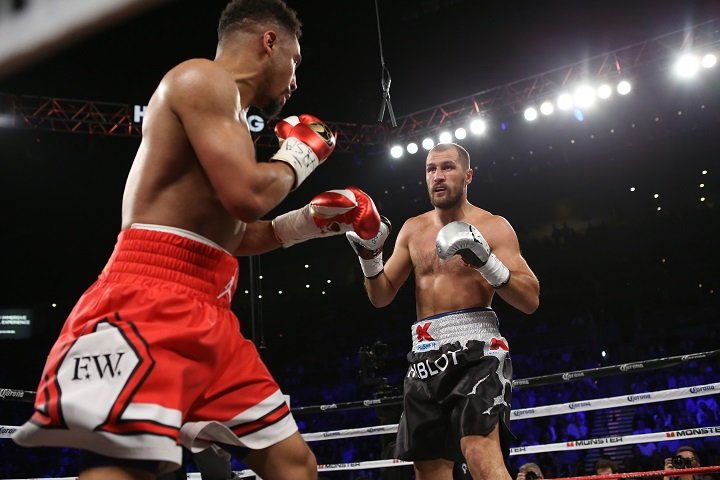 Andre Ward vs. Sergey Kovalev 2: "The Rematch" took place on Saturday, June 17 at the Mandalay Bay Events Center in Las Vegas. The championship event, presented by Corona Extra, was produced and distributed live by HBO Pay-Per-View®.
Below you can find all of the fight results and fighter quotes:
(Photo Credits: David Spagnolo/Main Events)
Sergey Kovalev (30-2-1, 26 KOs) vs. Andre Ward (32-0, 16 KOs)
RESULT: Andre Ward by TKO 2 at 2:29 of the Eighth Round
Andre Ward: "I'm ecstatic, I'm happy. I didn't predict a knockout, but I said it could happen. I've been boxing a long time and, sometimes, a lot of writers and reporters they don't take you at your word. If you look at my career and the way I've gone about things, I'm pretty matter of fact. I'm pretty straightforward. I don't say anything unless I mean it. I have a lot of respect for Kovalev. He is a world champion. He's been on top for a long time. He's a great fighter; there's not a lot of people that elite. I'm not going to throw him under the bus even though they did a lot of different things. But I knew the temperament that I was fighting. I don't want to call him a front-runner, but if he's not having his way, he's got to dig deep. I don't know if he had the right answers tonight. Obviously, he didn't because the fight got stopped.
"I was breathing, he was breathing, but I'm used to working tired. I'm comfortable being uncomfortable; that's how we work, that's how we train. When I saw him put his arms on the ropes in between the rounds – I watch all that stuff – that's trouble for him. I just needed to keep being smart.
"I think it was plain to see that I broke him mentally and physically. I'm not a person that demands respect or none of that. You don't have to respect me and I don't demand anything, but at a certain point and time, you got to give a person their just do. I'm 13 years in and I've been doing it against the best.
"What's next? Cruiserweight? Heavyweight? I dream big. Anything is possible when you have God.
"If there are questions marks after this, that has nothing to do with me. I'm going to enjoy my family, kiss my wife and we out.
Virgil Hunter: "I told them (the media) that I only trained Andre for the knockout twice. The first was Chad Dawson. And the second was for tonight. And they laughed at me. But I knew what was going to happen because he (Ward) was healthy. Now we quieted all those who were whining and thought we didn't take it the first time."
Sergey Kovalev: "He hit with four low blows. The ref didn't call them. I felt I could have continued. This is bull [expletive]."
Ward vs. Kovalev 2: "The Rematch," a 12-round mega-fight for the WBO/IBF/WBA Light Heavyweight World Championships, is presented by Roc Nation Sports, Main Events, Andre Ward Promotions, Krusher Promotions and Corona Extra, sponsored by Mandalay Bay Resort and Casino, Jetlux, Life10 Electrolyte, Zappos, D'USSÉ Cognac, ProSupps and Powered by Monster. The championship event takes place Saturday, June 17 at the Mandalay Bay Events Center in Las Vegas and will be produced and distributed live by HBO Pay-Per-View® beginning at 9:00 p.m. ET/6:00 p.m. PT. Tickets for Ward-Kovalev 2: "The Rematch" are available on axs.com and at the Mandalay Bay Events Center Box Office.
Follow the conversation using #WardKovalev. Follow us: