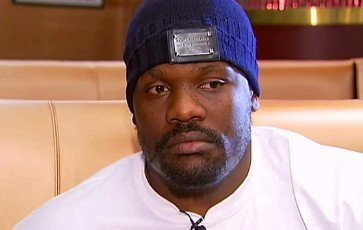 Dear Deontay,
I'm asking you man-to-man and hope that you have the honour and courage to accept my challenge and fight me.
I'm in this business to prove that I'm the best and to become a world champion which I'm sure you are too, so take me up on my challenge and let's do this and get it on early next year.
I'll be honest, I don't rate you. You've put together a record of 30 knockouts from 30 fights, but I believe that you are grossly overhyped for knocking over nobodies – which is understandable for the first two years as a pro when you're learning – but after 30 fights you're still knocking over nobodies. As a guide I fought Vitali Klitschko for the world title in only my 18th fight. When are you going to step up and fight a real contender?
There's only one way to prove me wrong and shut me up and that is to get in the ring with me.
The fans want to see if you can really fight and back up your words by facing someone who will give you a real fight, where you can prove that you America's saviour in the heavyweight division, and that someone is me.
You can punch, there's no question about that, I can bang as well. It would be an explosive and exciting fight between us, but lets see who's got the bigger heart for the fight when the heat is on.
If you beat me fair and square I'll have no problem saying that you were the better man, but lets do it and prove who really is the better man.
Richard Schaefer from your promoter's Golden Boy Promotions has a good relationship with my promoter Frank Warren so there's no problem getting it made.
Deontay, if you are a proud fighting man then you will take up this challenge and give the fans and media what they want to see.
Regards,
Dereck Chisora
###
British heavyweight star Dereck Chisora has sent an open letter challenging undefeated American hope Deontay Wilder to a showdown next year.
The Finchley puncher, who holds the European, WBO and WBA International titles, ended the year with a third round stoppage of Ondrej Pala at London's Copper Box Arena last Saturday night to make it four wins out of four this year – all by knockout.
Chisora has turned his career around with dominant performances over Malik Scott and Edmund Gerber and is now in prime position for his 2014 campaign for a second world title shot.
First, the 29-year-old wants to face the American KO king, who has knocked out all 30 of his opponents inside four rounds, to prove who is the better man.