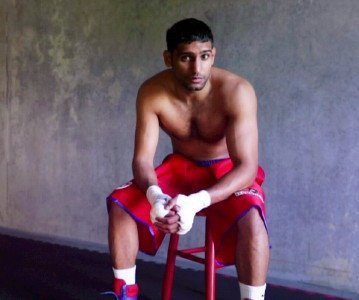 It can be difficult to talk about Amir Khan (27-3, 19KOs) in neutral terms, especially being of the same ethnic background. As a slightly more serious boxing fan than most, I expected great things from the man hailed in my community as a fantastic role model, "Finally!" Parents exclaimed around the country and indeed, possibly in South-Asian neighbourhoods around the world, "our boys and girls have someone to look up to!"
This was true; those who understand why Joe Louis was so celebrated for beating Max Schmeling and its wider context in that era noticed the uptake of the sport in our community and across the wider populace in general; culminating in a triumphant return for British boxing at the London 2012 Olympics. Khan was the sole representative for the Union Jack in Athens in 2004 and his silver medal, if one can look objectively, created a revitalized interest at amateur level.
And after such accolades, the first professional bouts, the fast hands, quick feet and media friendly personality came the fateful night in 2008. The flaws were there previously but ignored, "He's young, he can be refined, he still has a lot of work to do" but no-one knew the extent of the damage the unknown Briedis Prescott would inflict. Dispatched in brutal fashion, we looked to Khan to exact vengeance but nothing was forthcoming. "A lucky shot," was the retort "can't do anything against lucky shots." After blazing upwards, he was burned by leather hooks, as devastating a knockout that has been witnessed in the ring.
The change in coaching along with a move to the lights of Los Angeles and the Wildcard Gym was hailed as a brave move and it was. Khan's status at home was of a national superstar, the distractions and temptations this creates was brought to bear. In the UK, his reputation was being mended without any PR offensive; Pakistani's up and down the country went to bat for Khan and the doubters kept quiet for the meantime. The savvy nature of the Golden Boy Promotions team had long identified Khan's weaknesses and the next few matches proved to be advantages for him, Kotelnik was solid if uninspiring, Salita came with an impressive record that lacked true substance and his subsequent five fights in three years adds weight to that. Malignaggi was never known for possessing punching power and all was well in the Khan camp. His team felt confident to pit him against a dangerous Argentinian in Marcos Maidana and the bluff worked. Only just. Landing a body shot early, Khan looked in control. But Maidana displayed an attribute that Khan has lacked in his entire pro career.
Patience.
Maidana got up off the floor and waited. Khan's inability to finish the job cost him several clean shots to the jaw and was desperately hanging on until the final bell. Khan was lauded for his bravery and survival instincts, only now the contingent that admonished him for not using his brain became louder.
Let's be clear; Khan has physical advantages that are apparent for all to see, but he is deficient in the areas that make good boxers become great boxers. The ability to make tactical adjustments, the ability to frustrate and mentally break opponents, to spoil and hold and use weaponry in an extensive arsenal. Golden Boy learned their lesson, what should have followed was another Vegas night, instead, Khan returned to Manchester to face McCloskey, a European level operator. A baffling win over Judah followed (to me at least) and then came the latest controversy.
This time around the odds were stacked against Khan; Lamont Peterson was his mandatory and thus could control very important aspects of the bout. What happened has already been commented on exhaustively, but the same point emerges. Even with all those obstacles, Khan threw his fight away against Peterson. Pulling or pushing as the case may be, those deductions cost him. After one deduction, he should have stopped and made tactical adjustments. He didn't. Bad refs, dodgy judges, juiced opponents notwithstanding, the sting wasn't as harsh but now his reputation was diminishing due to revelations outside the ring.
Tabloids published kiss and tell stories about Khan, having met several people who have mutual friends with him; it's known that he likes the ladies. And in a community as conservative as ours, this exposure was vehemently decried as conspiracy, "How could our good boy Amir Khan be guilty of this?"
Throughout all of the above, I've heard differing opinions on Khan. His humility in public (he even came to the mosque less than 50m from my door to give something for charity) belies arrogance in private company; a man caught much like his peers in the trappings of wealth and fame. But in the ring there is no such protection.
Danny Garcia, the son of the fast talking Angel Garcia, the WBC light welterweight champion vowed to put Khan away and just as Khan had done against Prescott, it became apparent that for all the improvements that Roach had made to his game, his fundamental mindset had not changed. Dominating the early rounds, Khan looked ahead and in control. But Garcia and Maidana also share an attribute.
Patience.
Garcia's attempts at the counter weren't coming off, but one winding left hook was all that was needed to disconnect Khan's senses and you felt, even after attempting to get straight back up, you'd seen this before. Had Khan learned from Prescott? From Maidana? The answer was no, alternating between fighting fire with fire and backpedalling furiously, it was only a matter of time before Garcia had the scent of blood in his nose and looked to finish Khan. Referee Kenny Bayliss doing the right thing and waving the fight off in the fourth round.
Indeed, the Khan product (and in a sport like boxing, it truly is a product) has suffered irreparable damage. A new trainer may bring a new chapter and change of scenery but it won't change what's hardwired into Khan's head. A Mayweather fight? Not going to happen. Golden Boy is weary and cautious about putting Khan with anyone with respected power. I'm actually pretty disgusted that Garcia, Judah, Matthysse and Peterson have to go through a mini tournament in order to face Khan.
But what of the man? This piece was intended to try and connect those two strands of the boxer's story so far; his rise to boxing stardom intertwined with the spiral descent outside the ring in terms of his personal reputation inside his community, our community of British Pakistanis. In truth, it can only be woven so far, brashness is needed to sell the fight to the public. In my opinion, such behaviour has leaked into his private life and it seems to have clouded his judgement and in turn giving himself an inflated ego.
Wealth (of which Khan now has a considerable amount of) is one of the attributes that is given unequivocal respect in our community. "Get knocked out and buy a Lamborghini? Fair trade!" some of the youths who look up to Khan might say. But I can't help but think that if I was in the same position, no car, woman or designer label is going to help me see that left hook coming any better. So what advice, as a boxing fan whose only sparred properly once and took far too many punches than he should have, can I offer? The same advice that most guys need, from the club casuals to the champions, trying to throw one more combination or trying to run one more mile in pursuit of their ultimate goal.
Patience.