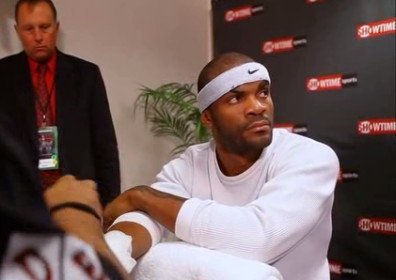 Light heavyweight Allan Green (32-4, 22 KO's) has reportedly pulled out of his scheduled bout against unbeaten Eleider Alvarez (12-0, 8 KO's) due to a case of food poisoning, according to Dan Rafael of ESPN.
The Green-Alvarez fight was scheduled to be televised on ESPN2 from the Connecticut Convention Center, in Hartford, Connecticut. Green, 33, came in 6 pounds over the contracted 180 lb. weight limit during yesterday's weigh-in.
Dan Rafael said on his twitter, "6 pounds over his contract limit, Allan Green has now pulled out of tonight's ESPN FNF main event supposedly because of food poisoning. The new main event will be Billy Dib vs. Mike Oliver. With the Alvarez-Green fight now off, Alvarez probably won't fight until September, promoter Yvon Michel says."
This is a pity the fight won't be taking place because it would have been a good test for Alvarez to see what he has against a fighter with some power like Green has. Green looked good in his last fight against Renan St Juste last November in stopping him in 7 rounds.
Before that, Green knocked Mikkel Kessler down in the 1st round last year in May, but let him off the hook by not going for the knockout when he had him hurt. Kessler came back and knocked Green out in the 4th round.
Green has got some good skills and excellent power, but he's struggled when he's stepped it up against guys like Kessler, Andre Ward, Glen Johnson and Edison Miranda. I rate Eleider Alvarez about as high as a younger Miranda, and Green might have been able to give Alvarez a run for his money if he came out fast. However, the weight issue has me wondering if perhaps Green was weakened taking off weight to try and get down to 180. If that's the case then it's probably better that the fight won't take place.
Despite pulling out of the fight, Green still has a lot talent at 175 and will remain a fighter in demand for the top guys.