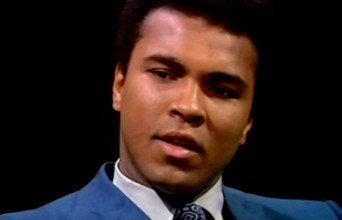 38 years ago today, inside a packed out Superdome in New Orleans, ageing superstar Muhammad Ali did what he should have done in the first place and defeated rank amateur Leon Spinks. Seven months previously, a woefully out of condition Ali was upset by the 1976 Olympic gold medal winner, losing a 15-rounder that was somehow scored as a split decision against "The Greatest."
The February decision handed in in Las Vegas should have been unanimous in favour of 24-year-old "Neon" Leon, as Ali did nothing but clown and lay on the ropes for the first ten-rounds. How one judge scored the fight for Ali is explained only by the enormous impact Ali had on the sport and of how revered he was at the time. The rematch was a different story, at least as far as the physical and, more importantly, the mental condition of the two heavyweights was concerned.
Spinks, always a fun-loving character who was never too fond of training, did as much partying as could be imagined after shocking the world and becoming the first man to take the crown from Ali in the ring. Ali, shamed by the loss, just the third of his storied career, pushed his body harder than he had in many a year, whipping himself into shape as he knew he had to get his title back. Spinks' head was everywhere but the ring that night almost 40 years ago today, and his corner, which featured the great George Benton, was helpless in guiding him.
Despite the turmoil, Spinks, 7-0-1, managed to win a few rounds against the 55-3 Ali. With no punch power to call his own at this advanced stage in his at times brutally punishing career (Ali, who had experienced "near death" in Manila against Joe Frazier three years earlier, should have been happily retired by the time he had allowed a raw novice to pound away at his failing body) Ali had to stay on his toes, hold frequently and pick up points to get the win.
Spinks was in no shape to stop Ali from apparently turning back the clock and, at his lowest weight in years, making history at age 36. Ali bounced, danced and at times punched his was to becoming a three-time heavyweight king, the first ever, as fans endured the occasion, one bereft of action. The win is all that counts in boxing, so they say.
Ali won, for the last time in his life, but, as he told the brilliant Mark Kram when speaking in utmost honesty in the mid-1980s, we "never saw anything" that night in 'Orleans.
Ali got revenge for a loss he should never have suffered in the first place. And this should have been the end for Ali and for a time (two years) it was; only for the tragic decision the finest heavyweight in history made when he came back not once, but twice – losing, badly, to Larry Holmes and then Trevor Berbick. Spinks? He fought on, sort of, for a staggering 17-years and 37 fights.
Ali quit with what he had left, as well as a 56-5 record, in 1981. Spinks took what he had left, whilst sporting a final 26-17-3 ledger, in 1995.