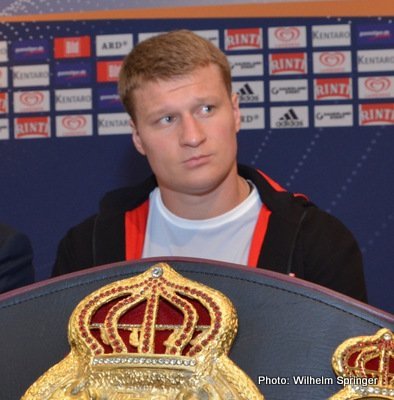 The main event of the action-packed card at the Luzhniki arena in Moscow last night was the shortest fight of the night. Alexander Povetkin (29-1) sandbagged highly regarded Mike Perez (21-2-1) for half a round and cemented his mandatory WBC spot by winning the WBC Silver heavyweight title. He was already number 1 in the rankings prior to the fight.
Both competitors had notable amateur background. Alexander Povetkin won Olympic gold in Athens and Perez was a successful amateur for the Cuban national team winning the World Junior Championship in 2004. He later grew up to cruiser weight but failed to secure a spot in the national team having mixed success against the top dogs. Irish boxing promoter Gary Hyde spotted him at a tournament and lured Perez into defecting from Cuba. He arranged the prospect's escape from the Island of Freedom using the services of a Mexican cartel. Perez was required to swim offshore from Cuba and board a cartel vessel in neutral waters and he ended up being hostage for 9 days until Hyde was able to pay what the cartel demanded for Perez's release.
The fight turned out just like one would expect from an Olympic champion and a Cuban alternative. Povetkin was in great shape and at proper fighting weight for his size (232 lbs) while the shorter Perez came in at 240 and appears to be following the example of his countryman Solis regarding fitness discipline. Being a competent southpaw, the Cuban started well and tried to use strength on Povetkin along with the boxing savvy. He backed up the Russian with a forceful one-two and went forward cautiously observing range and keeping central position with front toes pointing to the center mass. He did most things right but forgot two basic rules – you don't box with a boxer and you don't punch with a puncher, at least not both at the same time against a world class boxer-puncher. Povetkin landed a lead right cross with a minute gone – the southpaw's nightmare – and Perez was staggered with his feet lagging behind, his quick feet suddenly grew weary. Povetkin did not rush forward brawler style, he played for a moment going in and out of range and when he spotted the Cuban's marred footwork and coordination, he went in for the kill. The Russian rolled inside under a right hook and landed a counter right to the forehead, pivoted to his left and hammered in a short right hook to the jaw that left Perez cross-eyed on the floor. He got up but could barely stand and was allowed to fight on against better judgment so Povetkin formally finished him with a wide left hook that landed sloppily behind the ear. The time was 1:31 of round one.
After winning the eliminator and the WBC Silver title, Alexander Povetkin is in line to fight for Deontay Wilder's WBC title. Even if the WBC opts for unification and allows a Wilder-Klitschko showdown, Povetkin will be waiting at a good spot he so richly deserves. His new coach and training regimen appear to be working well for him and Klitschko may still be too good and too big but everyone else should reckon with Povetkin.
Deontay Wilder used a social network to congratulate Alexander on the win and to say he is looking forward to his first mandatory defense.