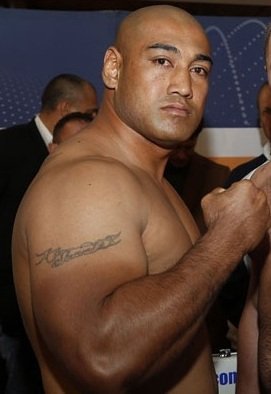 On April 26, Samoan born banger Alex Leapai (30-4-3, 24 KOs) has the opportunity to become boxing's next "Cinderella Man" when he challenges Wladimir Klitschko (61-3, 51 KOs) for the WBA (super)/IBF/WBO/IBO and Ring magazine heavyweight championships in Oberhausen, Germany.
The thirty four year old Leapai from Logan, a satellite city of Brisbane, Queensland, earned his shot as the WBO mandatory challenger by upsetting Hamburg based Russian Dennis Boystov (33-0, 26 KOs) in Bayern on November 23. He scored two knockdowns in the most impressive performance of his career.
Alex's family moved to New Zealand when he was four before settling in Australia eight years later. A promising Rugby League junior, he held the Australian Amateur Boxing League heavyweight title before turning professional in 2004.
He was 2-2-2 after six bouts before winning 23 of his next 25 with one draw and one points defeat that was later avenges with a knockout. He was good enough to defeat handy Americans like Travis Walker and Darnell Wilson while supporting his family as a full time delivery truck driver and part time fighter.
He's won five straight since being stopped by WBC title challenger Kevin Johnson two years ago.
Eastside spoke to the softly spoken "Lionheart", who often sings in his church choir, on Saturday while he was on the Gold Coast sparring. Here's what he had to say.
Eastside Boxing: Alex, firstly, how's the preparation going?
Alex Leapai: Everything is going good. Razvan (Cojanu) is over from the States. We got some good rounds with Trent Rawlins, we have Kali Meehan again next week. Kali and his son Wills helped us last week. We are mainly working with the big guys with the height and reach to get my distance and timing right. All my training is good. Everything is going to plan and it's all systems go.
ESB: Your trainer Noel Thornberry cut sparring two rounds short on Wednesday due to a neck injury. Any problem?
AL: It was just a precaution, it wasn't serious. With a fight of this magnitude you have to be careful. I sparred the next day and again today.
ESB: You've previously been unheralded. Now you're getting calls for interviews everywhere. Any pressure?
AL: You know, I just gotta do what's got to be done. My focus is on the fight. I'm not going to get distracted from doing my job.
ESB: You've spent time in jail for assault. Tell us about that time.
AL: I did some bad things when I was young. I fell in with the wrong people, got into drinking and do drugs and going out fighting. I ended up bashing a few bouncers and went to jail. The worst time in my life was sitting in that courtroom seeing my parents crying when I got sentenced. That was a wake up for me. You know, my dad brought us over here (to Australia from New Zealand) to give us a better life so we can have more opportunities. It wasn't just going to jail, I had a chance with the North Queensland Cowboys (in the National Rugby League competition) but I blew it by making silly mistakes on the field. I got banned for punching a ref. Now I have a chance to repay my parents and make them proud. Also, surrounding my self with good people and becoming closer to God has been very important and really helped me in many different ways.
ESB: You had a patchy record early. What was the main reason?
AL: I never trained full time. I worked an eight hour shift. If I could go out to Gatton (an hour drive from Logan) and train I would but a lot of the time I had to work overtime. Now I know why Noel pushed me and believed in me. I didn't see it back then. Sometimes I'd train two or three times a week and some fights I never had sparring.
ESB: Tell us about the Boystov fight.
AL: That was a good win. I had some good sparring but the preparation wasn't good. I had injuries we didn't let anyone know about that interrupted my training and I didn't get as much in as we hoped. We went ahead with the fight as the opportunity mightn't have come again. I tore my calf in training and did it again during the fight. This preparation is much better. It has to be. I know I have to put everything into it.
ESB: You met Klitschko when you went over for the press conferences. What was your impression?
AL: He's a gentleman. He's doing his part as world champion. I don't see any reason to disrespect him. He has been a great champion for a long time and carries himself as such…..Trash talking is not my go anyway.
ESB: What are your strengths in this fight?
AL: Styles make fights. He is tall and rangy, (Klitschko has a six inch height and reach advantage) he has a great jab and right hand. I believe I have the right style to take those things away from him and make him fight inside and take the opportunities I get. I can't just rely on my power.
ESB: You represent both Samoa and Australia with pride. How important do you think this fight is for both countries?
AL: It's a very important fight. It's been one hundred and six years since an Australian (Bill Lang) has fought for the heavyweight championship of the world. David Tua did a great job and led the way for Samoa for many years but couldn't get the title. Now it's my chance. The heavyweights were always about America and England and now Germany. No one has really recognised this part of the world but we have always had good heavyweights who never got the opportunity. I was born in Samoa. It's a very small Island and you know, to think that I come all this way and fight for the heavyweight championship of the world, I hope it can inspire other people – and not just Islanders, or Australians – not to give up but to keep going no matter what they come up against.
ESB: Who would you rate as your toughest fight?
AL: My first professional fight against Mark De Mori (5-0, 4 KOs). It was my debut and he was on a roll at the time. I knocked him down a couple f times but I had to fight hard the whole way. (Even with the knockdowns) He still did enough to get a draw.
ESB: Who was your idol growing up?
AL: My father (Elisaia). He was a heavyweight. It was tough for him during his career. He couldn't afford to take time to train properly and he had to take fights just to put food on the table. Now I have the chance to fulfil his dream. My game was always football (Rugby League) but the Good Lord had a bigger plan for me.
ESB: Finally, any prediction?
AL: No. I will just say I'm going to go out and give one hundred and ten percent and let my fists do my talking…..We aren't just going over to fight for the title we are going over to win it.