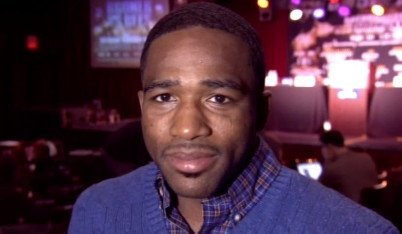 By John G. Thompson: Another black eye for boxing comes not in the ring but in the antics of one of the sport's most promising young champions. Adrien "The Problem" Broner (26-0, 22 KO's) spent a little time in jail on Monday after being arrested in Miami Beach, Florida on battery charges. Broner posted his mug shot on Instagram briefly, before removing it. The mug shot showed his booking time (10:13 am) and his bond amount was set at $1,500. So far details of the "battery" have not surfaced. As of now, it appears that Broner posted the bond and was released.
Broner tweeted at about 7:30 EST that evening, "They tried to keep a nigga locked down in MIA."
At just twenty-three years of age, Broner is the current WBC lightweight champion having moved up from the super featherweight division, where he briefly ruled as the WBO champ. Broner won the WBC belt from Antonio DeMarco in December of 2012 in a dominant performance some view as his "coming out party," and defended it in his most recent bout this past February, again dominating his opponent en route to a victory by stoppage.
Broner's television future is a little uncertain as he is currently promoted by Golden Boy Promotions, who have recently parted ways with longtime partner HBO. All of Broner's most recent fights were broadcast on HBO. According to sources, Broner's contract with Golden Boy expires in April and there are some rumors of him signing with Curtis "50 Cent" Jackson's promotional company TMT, which could allow him to continue to fight on HBO. Then again, Broner's idol Floyd Mayweather Jr. recently started his own promotional company and signed a lucrative deal (understatement) with HBO's leading competitor Showtime. A partnership with Broner and Mayweather would make a lot of financial sense if Broner would be willing to leave HBO.
According to Boxrec.com, Broner is scheduled to move up in weight again after just two fights at lightweight to face Paulie "The Magic Man" Malignaggi on June 22 for Paulie's WBA World welterweight title. The fight was set to take place in Malignaggi's home town of Brooklyn, NY at the Barclay's Center. The fight would most likely have been aired on HBO, even though Malignaggi is currently a ringside commentator for Showtime, but depending on Broner's contract negotiations and legal affairs, this could all change quickly.