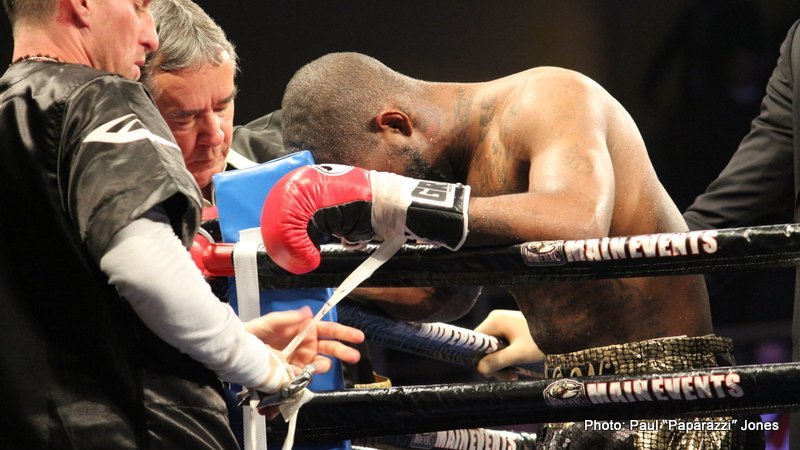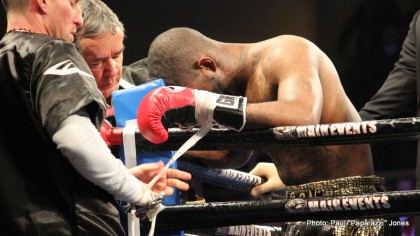 By Justin Jones & Paul "Paparazzi" Jones-, Photo © Paul "Paparazzi" Jones — Atlantic City, NJ — Russian WBO Light Heavyweight Champion Sergey "Krusher" Kovalev (24-0-1, 22 KOs) continued his winning ways on Saturday night at the Boardwalk Hall (Atlantic City) by punishing previously unbeaten Cedric "L.O.W." Agnew (26-1, 13 KOs) over seven rounds. A devastating left hook to Agnew's gut sealed the deal in the seventh round, dropping the challenger to his knees as he winced in pain. Shortly thereafter, the referee stopped the bout when Agnew failed to beat the count.
"I hit him and hurt him with the same shot in the fourth or fifth round, so I knew he felt my punch," said Kovalev. "I knew once I landed the left hand to the liver (in the seventh round) that he was done."
The match-up, which headlined HBO's Boxing After Dark broadcast, was supposed to be showcase fight for Kovalev, 30, as he prepared for potential showdown with WBC Light Heavyweight Champion Adonis "Superman" Stevenson (23-1, 20 KOs). Presuming that Stevenson took care of business by defeating Andrzej Fonfara (25-2, 15 KOs) in May 2014, a unification bout would be a no-brainer. However, recent turmoil between Teams Stevenson and Kovalev and the facial lacerations sustained by Kovalev in his bout with Agnew have placed that fight on ice.
When asked if he was disappointed over not facing Stevenson, Kovalev replied, "yes and no." Despite Kovalev's ambivalence towards the previously mentioned scrap, there may be some legal ramifications associated with the failure of this fight to materialize. Main Events CEO Kathy Duva stated:
"Our position is that we have a deal with [Canadian boxing promoter] Yvon Michel. We are going to protect our rights as we always do. We are reserving all our rights at this moment and we'll make a decision next week about how we're going to pursue [this situation]."
Despite 22 knockout victories, an unblemished record, and a staggering KO ratio (> 90%), the Russian sensation appears to left without a marquee adversary in his immediate future. Therefore, following a dominant win over Agnew, the prevailing question remains, Who is next for the reigning WBO champ? Whether it is Stevenson, Jean Pascal (29-2-1, 17 KOs), or Andre Ward (27-0, 14 KOs), Kovalev has a simple recommendation for his next opponent: "Stay in shape!"
Additional News & Notes:
In the shortest post-fight press conference that we've ever attended, Kathy Duva announced that both Kovalev and Agnew were unable to participate in the presser due to both fighters receiving medical attention at a local hospital—Kovalev to address the cuts he suffered in the bout and Agnew to repair a suspected broken nose and rib.
Author Contact: Justin Jones: Justinjones2112@gmail.com, @jusjones29