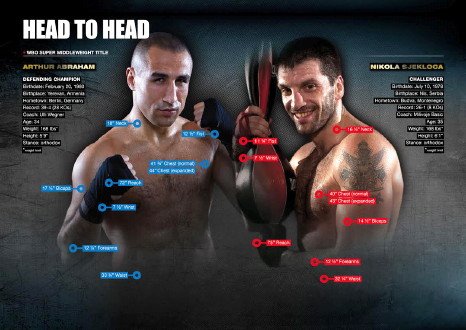 (Credit: Thomas Goos / Team Sjekloca) WBO super middleweight champion Arthur Abraham (39-4, 28 KO's) will be making an optional title defense tonight against #12 WBO Nikola Sjekloca (26-1, 8 KO's) in what hopes to be an entertaining fight at The Velodrom, Prenzlauer Berg, in Berlin, Germany. It's not a particularly interesting fight because Sjekloca has little to no power to speak of, and he's only fought one good opponent during his career in Sakio Bika, who beat him soundly.
Abraham recently won back his WBO title with a victory over Robert Stieglitz last March, and now Abraham is taking an optional title defense before he faces Stieglitz likely for a fourth time in either late 2014 or sometime next year. Stieglitz needs to win at least one of two fights before he can get a fourth fight against Abraham, and it doesn't look like he's going to be asked by the WBO to fight his way to another shot at the title.
I just wonder how the German television is willing to televise Abraham's fights given that he's no longer facing guys with a real chance of beating him like Carl Froch, Mikkel Kessler, Andre Ward, and other top fighters. The only guy that Abraham has been facing that is a decent during the past three years is Stieglitz, and a lot of boxing fans saw him as a paper champion for the many years that he held the WBA title.
The 35-year-old Sjekloca isn't what you would call a deserving challenger given that he was recently beaten by Sakio Bika last year. While Sjekloca did rebound from that loss to defeat someone named Misa Nikolic (18-27-2, 8 KO's), we're not exactly talking about a high quality fighter, are we? For that reason you just have to wonder what Abraham's promoters were thinking in selecting Sjekloca for his first title defense instead of someone a little more worthy? Like a lot of Abraham's fights, it's a disappointing chose of opponent.
Abraham really hasn't taken on what you'd call a good super middleweight since he was beaten over and over again in the Super Six tournament years ago. Abraham was beaten by Andre Dirrell, Andre Ward and Carl Froch. After his dismal performances in the Super Six tournament, Abraham has been matched against little more than fringe contenders with the exception of Stiegliz. Abraham has beaten the following fighters since leaving the Super Six: Giovanni De Carolis, Willbeforce Shihepo, Mehdi Bouadla, Piotr Wilczewski, Pablo Oscar Natalio Farias and Stieglitz. Those are pretty much weaker opponents when you take away Stieglitz. Even Stieglitz is someone that would likely be torn apart by the top contenders in the division like George Groves, Edwin Rodriguez, James DeGale, Brandon Gonzales, Mikkel Kessler, Julio Cesar Chavez Jr, Anthony Dirrell, and Marco Antonio Periban.
Abraham should be able to get passed Sjekloca tonight, but he really needs to step it up in a big way against much, much better opposition than the fodder he's been fighting for the past three years. I don't expect that to happen though. There seems to be a cycle that Abraham is stuck in where he takes on lower level contenders in between his repetitive rematches with Stieglitz.