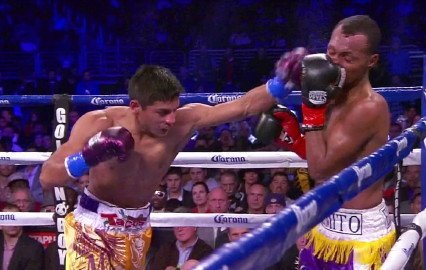 by Emilio Camacho, Esq: Abner Mares is young, disciplined, undefeated and hungry. That is a powerful combination in boxing. He has had a magnificent run and last week he did not disappoint.
Mares' story is compelling. He was born in Guadalajara, Mexico and was brought to the United States as a child to the city of Hawaiian Gardens, California. As many youngsters from low income households, gangs and bad company pushed him into trouble. As a result, his father sent him back to Mexico in order to avoid a tragic result (jail or death).
Back in Mexico, he took boxing seriously. He went to the Olympics and lost a highly controversial decision against Zsolt Bedak of Hungary by 27-24. Some experts believe he could have won the gold medal.
As a professional, his success has been intensifying. First, similar to Andre Ward, Mares won the Showtime four-man single elimination Bantamweight Tournament, which also included the top fighters at the time—Vic Darchinyan, Yonnhy Perez and Joseph Agbeko. The final match of the tournament against Agbeko was a controversial one. As a result, Mares accepted a rematch (something he did not have to do) and won that convincingly. He settled the controversy the way it should be done: in the ring. You gotta love that approach (yes, Floyd and Manny, but mostly Floyd now).

Last Saturday, Mares faced another top rival, Anselmo Moreno. Some experts stated that Moreno's technical skills are close to Mayweather's (a bit of a stretch if you ask me). What is important to understand is that Moreno was considered to be VERY good and some believed that Mares would have difficulty beating him.
In the end, once again, Mares shined. Mares became a punching machine and applied impressive pressure, cutting the ring, roughing Moreno, attacking the body, and suffocating his opponent with relentless, non-stop aggression (in my opinion he provided the blue print to beating Mayweather, with minor adjustments needed, but that is the subject of another article). Mares conditioning was impressive. What is also significant is how, after the fight, when asked about facing another fighter, Leo Santa Cruz, he stopped the non-sense and said he wanted the other top man in his class, Nonito Donaire. And finally we come to the main point of this article: Mares is the real deal because he is always willing to face the top opposition and brings it to the ring every time. No excuses (paging Floyd).
Lastly, there is a triangle that is most compelling at this weight. This trio includes Guillermo Rigondeaux, Nonito Donaire, and Abner Mares. I am going to be bold and assert that Abner Mares is the best out of the three. Let us hope Donaire and Rigondeaux mirror Mares' approach and ask for the top fights that can be made. This is the only way to settle the scores and end the theoretical arguments are to get in the ring. (Send your comments to boxingcamacho@gmail.com).