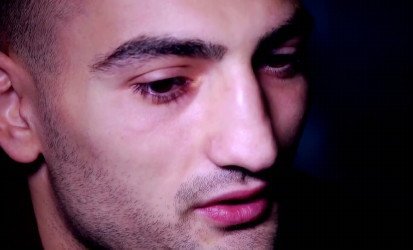 By Joseph Herron: This past Saturday night at the Wynn Las Vegas, former Olympian Vanes Martirosyan (32-0-1, 20 KOs) fought top rated Junior Middleweight contender Erislandy Lara (17-1-2, 11 KOs) to a tactical, nine round technical draw.
Because the fight was deemed by the WBC as an official title eliminator, the inconclusive results will force a rematch at a future designated date and venue. Although many fight fans who witnessed the awkward yet tactical bout aren't exactly clamoring for an immediate sequel, both fighters have acknowledged a willingness to step in the ring one final time.
On this Sunday night's edition of "The Pugilist KOrner's: Weekend Wrap", Lara's world renowned trainer, Mr. Ronnie Shields, revealed that the Cuban missile sustained an injury to his right hand in the first round. The famed fight trainer claims that Erislandy's injured hand drastically affected his punch output within the calculated boxing match.
Vanes Martirosyan had much to say about his former trainer's commentary.
"Really? Man, his fighter's just making excuses for his performance," insists the 2004 Olympian. "Professional fighters don't make excuses. When he gave me the intentional low blow, you didn't see me grab my balls and immediately start rolling around on the ground in a poor attempt to get Lara disqualified."
"Man, that's just an excuse to try and explain why he decided to run instead of fight me. When a fighter is hurt during a fight, you can barely feel the pain because the adrenaline is rushing through your entire body. You just suck it up and keep fighting. But he wasn't fighting, he was just running."
"Did he headbutt me in the ninth because he couldn't use his right hand?"
The fight was officially halted at the 0:29 mark of round number nine by referee Jay Nady, from the advice of the ringside physician, after Vanes received a huge gash over his left eye that resulted from an incidental headbutt.
The 26 year old contender insists that the cut isn't what's currently bothering him.
"The cut over my eye is going to be fine. We're going to the doctor tomorrow to find out how long it's going to take to heal. The stitches should be coming out in about four or five more days, but the cut really isn't what's bothering me."
"A much more sensitive area of my body is what's hurting right now."
"I'm not going to lie…the day after the fight my balls were hurting from the low blow. The cut's doing fine, but it's really sore down there."
After the controversial ending to the elimination contest, Martirosyan's Hall of Fame trainer, Mr. Freddie Roach, stated to the various media members in attendance that he believed the low blow in round number four was indeed intentionally thrown by Erislandy Lara.
Vanes supported his trainer's post fight remarks.
"I definitely believe the low blow wasn't accidental," professed Vanes Martirosyan. "You don't throw a punch like that if you're genuinely aiming for the body. He was aiming for my cup, and he did a good job. I'm just happy that I had my two kids before this fight!"
"Now that hurt really, really bad! I'm still feeling that shot!"
"I think Lara got frustrated because I was pressing him throughout the entire fight and he really didn't know how to handle it. I think that's why he did it. I think me pressuring him all night made him a little crazy and really frustrated him to the point of hitting me down there."
Freddie Roach also stated that he feels the southbound hook wasn't the only intentional foul committed by Lara during the bout. The Hall of Fame trainer believes that the fight ending head butt was also deliberate.
Vanes whole heartedly agrees with his veteran trainer.
"Freddie Roach has seen it all in this sport. He's a smart coach and he's been around long enough where he knows what's dirty and what isn't. Lara purposely hit me low in the fourth and he purposely head butt me in the ninth."
Although both camps agree that Saturday night's contest was a little more problematic than they had originally anticipated, the undefeated Junior Middleweight contends that the rematch will be much more entertaining and a lot more conclusive.
"Lara still fights like an amateur and really isn't who people think he is. That's one of the reasons why I really wanted this fight. I think a lot of people were surprised that he had so much trouble with me."
"I'm going to get back in the gym as soon as possible and try to get on the January 19th Top Rank card on HBO. I know a lot people thought that I was avoiding the best fighters at Junior Middleweight, but I'm ready to face the best. I loved fighting under the bright lights and want to get back on HBO. Now I know why fighters come out of retirement because it was a lot of fun to fight on that stage."
"I'm ready to fight the best in boxing and I will prove it by getting in the ring with anyone at 154, 160, and maybe even 168 pounds."
"I know I have unfinished business with Lara and I will take care of him as soon as the rematch is set. But I want to stay active…a lot more active than I've been. The fight fans are going to see that I'm going to continue to get better and 'The Nightmare' is going to continue to get worse for every fighter in the Junior Middleweight division."