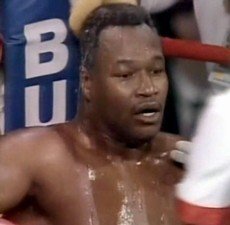 In the list of infamous, never to be forgotten fights, the world heavyweight title fight taht took place 35 years ago next month – between defending champ Larry Holmes and unimaginably tough challenger Randy "Tex" Cobb – holds its own distinctive place in fans' memories.

Famously, Howard Cosell quit commentating on boxing as a result of the fight's sickening one-sided nature and because the mismatch was allowed to continue for round after round. Holmes really did give Cobb a pounding; even if Randy's great sense of humour was still flourishing after the hammering – "Holmes didn't beat me, he just won the first 15 rounds," quipped Cobb!
And, on the subject of a rematch, "I don't think Holmes' hands could stand the abuse!"
So, how bad was the fight to watch then? It must have been pretty wretched for Cosell, a man who simply loved commentating on the great fights, to have given up a large part of his commentary duties as a direct result of it.
Looking at the fight on tape today, it cannot be any easier on the eyes now than it was back when it occurred in 1982. Watching the fight in full, fans will be struck by three things. Number one, "Tex" Cobb's courage was unimaginably limitless, number two, the officials in charge were nothing short of appalling for not bringing an end to the proceedings (this includes Cobb's own corner-men) and three, Larry Holmes' left jab was THE finest in heavyweight history.
All three of these factors from the fight cannot be forgotten. Indeed, as bad as the fight was, it is one of the most well remembered heavyweight fights from the 1980's. Again, the fight is infamous.
Cobb did not win a single round on two of the judge's cards, while Randy won a solitary round on the third card. Put simply, the fight was a shut-out. Larry basically won the early and middle rounds with nothing more than his jab and the occasional right hand. Cobb could not get near him at all. He was off balance, his attacks were embarrassing in their crudity, and his defence was nonexistent. But so was his desire to give up – Randy's heart was legendary.
This was evident in the later rounds, when Holmes began landing big punches flush on the challenger's head and jaw. It wasn't a case of Holmes merely out-boxing Cobb now, he was beating him severely. Randy was busted up real bad and was all but out on his feet. It was at this point in the contest that Howard Cosell went uncharacteristically silent. He later remarked that such one sided butchering was unworthy of commentary. And yes, it was at this stage that someone, anyone, should have done the decent thing and pulled Randy out. Fighters rarely quit on their own – such is their great courage and spirit. So it was up to someone else to do the right thing. Yet no-one did.
So, has there been a more one-sided world heavyweight title fight since? Discuss.