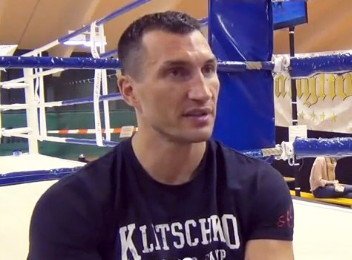 WLADIMIR KLITSCHKO
2014 was simply a continuation of the pattern Klitschko has seen for quite some time now. Two unknown opponents, two more victories, and two more defenses of a title that he's rarely been tested for. While critics will jump at the chance to tear down this 'great wall' of talent, the truth is that no talent can choose the era in which they dominate.
Wladimir unfortunately came along at a point where the talent pool in the heavyweight division is about as tough as that last ply of toilet paper on the roll. No fault of his own, which has to mean something when scanning over his lifeless resume. 2015 could offer a few interesting twist, as suddenly, the heavyweight division has received a shot in the arm that few saw coming.
The emergence of Wilder, Stiverne, Jennings, Ruiz and select others has given fans some hope of a competitive year in the division. The irony in it all is that these men have emerged at the tail end of Wladimir's reign, which means he very well could be as beatable as he's been over his tenure. In a few weeks we'll see the two men closest to facing him as Stiverne and Wilder face off. Not too long after, Wladimir have a very welcomed test ahead of him. Hopefully so. If not, 2015 will be more of the same, with just a change of the names.
DEONTAY WILDER
2014 for the "Bronze Bomber" was somewhat bittersweet for fans and staunch supporters as Wilder kept his undefeated record, although the level of competition he did it against was sub-zero. For Wilder, KO's and victories aren't the only thing he's managed to rack up over his brief 6 year career. Sadly, the range of questions surrounding him as a perennial talent in the sports begrudgingly boring heavyweight division has mounted as well.
Those who support him stand strong when asked about his worth, while those who question him hold comparable passion about their position. Somewhere in the middle lies the truth about Wilder. A truth that reflects the fact that just a few years ago Wilder was an everyday citizen, working two jobs to support the apple of his eye (daughter Naieya) who was born with a medical condition (spinal bifida). With few options, he put on a pair of gloves and literally willed himself to an Olympic Bronze Medal after only 21 amateur bouts.
We've seen him dropped in sparring footage and we've seen him appear less than best, but there's no way to downplay an Olympic medal with practically no amateur career. His first pro test will come against Canada's Bermane Stiverne in exactly two weeks. Critics have used a limited resume to question his worth. Will they praise him if he passes one of their 'anointed and appointed' test with flying colors? There's lies his motivation….here lies his opportunity. 2015 could be his watershed moment. Stay tuned….
BERMANE STIVERNE
Who is Bermane Stiverne? Since 2005 he's been on the Heavyweight scene, kicking up dust, blazing a trail that few knew would lead to one of the biggest fights of the famed Heavyweight division in 2015. The 2014 calendar year was a very uneventful one, with Stiverne only entering the ring once in what was a dominant fight over Mexican Chris Arreola.
While Arreola was a big name in the heavyweight division, a deeper reality tells us that he was hardly the talent we saw earlier in his career, which leads many to question how good Stiverne really is. He has the power, he has the heart, and he has the drive….what he doesn't have is the defining moment to prove his true worth over a credible threat. 2015 will start with a solid litmus test for he and the man across from him (Wilder); as both have unanswered questions.
Wilder has never faced a credible opponent. Stiverne defeated a once credible opponent, but the effort came on the heels of a string of 25 barely mentionables, and a career with a total of 4 fights scheduled to go past 8 rounds…..at the age of 36! Stiverne has a golden moment before him. Is he the slugger an old Arreola made him appear to be? Or is he an untested tough puncher on his last leg? We don't have much longer to find out!
DEMETRIUS ANDRADE
2014 for Andrade was far more uneventful than it should have been. For quite some time, those who have followed him have viewed him as a top-level young talent on the rise. Towards the end of 2014 he had an opportunity to prove his worth, but a business decision to avoid Jermell Charlo in a December showdown has led to more questions than answers.
The move by Charlo was a clear indication of the era in which the sport lives in now days. Once upon a time, two rising stars would understand their role, and relish in the chance to win against someone comparable, giving them the chance to inch closer to the elite mega fight level. Today, politics play a role which enables fighters looking to earn more by doing less.
Can't knock Andrade for his decision, as it was well thought out. That said, he'll have to work harder in 2015 to reach the same level he could have reached in 2014. Similar to Amir Khan with Devon Alexander, he'll probably have to face the same opponent his "business decision" kept him away from. When it's all said and done, 2015 will be a career defining year for Andrade. It'll begin with questions, hopefully it ends with clear and concise answers.
MIKEY GARCIA
2014 for Mikey was a very dull year of sorts. Not quite what we've come to know from one of the sports rising stars. A victory over Juan Carlos Burgos wasn't a bad feather to put in his cap, but with emerging talent within his weight range, there's no question, the politics which have kept him out of the ring could not have come at a worst time.
Like many of his contemporaries, 2015 should be a very telling year. Does he move up in weight and consider the likes of Terrance Crawford? Or does he stay put and run the risk of losing to 'under the radar, but above the rim' type talents such as Uchiyama and Miura? There's quite a bit of talent in his neck of the woods, and either way, 2015 will have to present better credibility than 2014 did.
While Garcia has been little short of a stud thus far, reality tells us that there are still many who questions his true worth. While his resume boast a few decent names, few offer the level of competition required to say he truly is who some feel he is. By the end of 2015, hopefully we can find out. Until then, we wait……
ABNER MARES
2014 was a good start for Mares who attempted to bounce back from his lone career loss in 2013. That said, it wasn't quite the way some expected the rugged banger to make his comeback. Many felt he should have attempted to go straight for Gonzalez to avenge his lost. Truth be known, this was clearly the better path, as Mares has yet to find the level of confidence he had prior to.
Despite the victories, recent performances have been good enough to build some confidence, yet too small to gauge whether or not he can be the same talent most once felt he would be. 2015 should answer that question, as he has recently said all the right things you want to hear from a fighter on the mend.
Donaire never got the shot he wanted against Mares for political reasons, but despite Lomachenko and many of the other studs on the rise, there was never a better time for that fight than now. Donaire still has enough heart, chin, and speed to test Mares. Yet Mares still have enough resolve to finish a fading Donaire. A victory over Nonito would be the confidence builder Mares needs to rise again. With or without him, 2015 cannot end without him testing his worth again. How he fares will be interesting to watch unfold.
JERMELL CHARLO
2014 for Charlo was a year that started with a bang, as he captured victory in an incredible performance over Gabriel Rosado. Sadly, he wasn't given the opportunity to end his year with as big of a bang as it started, due to the unfortunate decision to back out by Demtrius Andrade. Despite the fact that we didn't see the showdown, there's no question that he's ready for it. Several of them, actually!
When we look at the jr. middleweight landscape, there's no question he's at the head of the class. Not necessarily the clear and concise leader, but nonetheless, a close follower, if not. Saul Alvarez, Erislandy Lara, and one or two other names will have their say. The good thing about this group of fighters is that they all are talented, and they all have no plans to run from anyone else who is.
That subplot alone tells us that 2015 will be an incredible year in the jr. middleweight division. Expect Charlo to be right in the thick of things when they heat up. Can he be the last man standing? Gonna be interesting to find out.
FELIX VERDEJO
On paper, Verdejo is listed as a "lightweight", but the burden to carry the torch for Puerto Rican boxing is quite heavy indeed. That being said, there's nothing to indicate that he isn't ready to shoulder the load. In 2014, Verdejo took to the ring 7 times, finding victory at every turn, and little opposition to be concerned.
Seven fights in one calender year is a pace few can sustain, but for a young and hungry lion with such pride, expect no less until he reaches the very height of the sport. How easy that'll be in the midst of a very deep lightweight division remains to be seen. But his desire to be a part of it is clear.
2015 will likely start slow – in terms of his level of competition. But by the end of the year, expect Verdejo to wiggle his way into that upper echelon some way, one way, or the other! Excellent speed, great power, great toughness. At 5'9″ with a 72 inch reach, this young stud has more in common with Floyd Mayweather than the average. Does he have the talent to support such parallels? Some would say yes! I'd say watch closely, as he's ready to show you exactly what he's about!
(Vivek "Vito" Wallace can be reached at 754.307.7747 and on "Left-Hook Lounge Radio". He can also be reached at Twitter (@lefthooklounge1), Instagram (ViveksView), and Facebook).