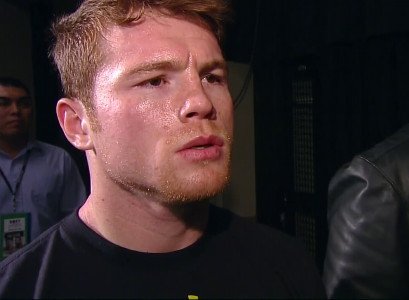 Saul "Canelo" Alvarez (44-1-1, 31 KOs) isn't shy about letting people know how badly he wants a fight against WBC middleweight champion Miguel Cotto (39-4, 32 KOs) on Cinco de Mayo on May 2nd. Canelo believes that a fight against the 34-year-old Cotto is something that all of boxing wants to see. He may be correct to a certain extent.
There are a lot of fans who want to see that fight take place. However, there are still major question marks about Canelo's talent level after his three step up fights against Austin Trout, Erislandy Lara and Floyd Mayweather Jr. Even if Canelo beats Cotto, he's still going to have a lot to prove against other fighters like Gennady Golovkin.
Canelo still has unfinished business with Lara, Trout and Mayweather, because he struggled badly in all three of those fights.
"I believe and think the fans of the world, especially Puerto Rico, want me to face Cotto," Canelo said via RingTV.com.
It's a good fight, to be sure. But it's really just the beginning for Canelo if he gets past Cotto. Canelo would have to prove that he has the nerve to hold onto the WBC title and face a real middleweight like Golovkin or Peter Quillin.
If Canelo vacates the title rather than facing Golovkin, he's going to look incredibly bad, even if his promoter Oscar De La Hoya takes the lead in giving excuses for why Canelo is choosing not to face Golovkin. We've already seen other top fighters' promoters say that Golovkin doesn't bring much to the table because he's not a pay-per-view fighter as of now. This is something that De La Hoya might use to explain why Canelo can't or won't fight Golovkin.
After the controversy surrounding Canelo's last fight against Lara, De La Hoya basically told Lara to get in line behind the other fighters to try and get a fight against Canelo because he wasn't going to be given a rematch. Their clearly rated a rematch because a lot of fans felt that Lara beat Canelo, or at least fought him closely enough to deserve a draw.