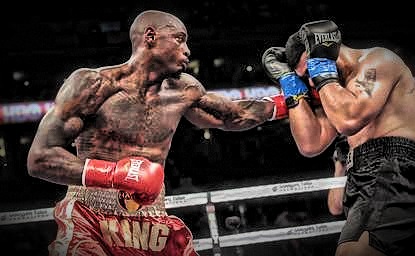 "If Tarver is looking to fight somebody who's motivated with true skills then I'm here ready to put his old a** in a rocking chair!"
Exclusive Interview by Charles C. White – What's up Malik? Been a while since our last interview, how have you been man?
MS: Everything has been great baby, just constantly striving to put myself back in position to fight for a world title.
Congrats on your latest win over Alex Leapai. How does it feel to get back in the mix bro?
MS: Thanks man, It was a good win against Leapai even though I was slightly disappointed that I didn't get the stoppage like I promised but I broke my right hand in the 4th round so I just used my God-given skills to finish getting the job done but like I always say I find it rather sexy to go to another man's country or home town and annihilate him in front of his own people.
What's next for you Malik? Who is on the radar?
MS: What's next for me is whoever I can get with a legitimate name or ranking to put me back closer to contentions for fighting for a world title. The only fighters on my radar are fighters that are currently active. I seen a clip of the Tarver-Banks fight the other night and we all know Banks' passion and energy has been in training Klitschko and the last time he fought was 2 years ago so after Tarver clips him before a snoozing 5-6 rounds of staring at him then he start yelling for a Klitschko or David Haye fight when that doesn't make any sense at all. What you did in the light heavyweight division was great but it doesn't mean shit in this heavyweight division today so I'm just coming off a fresh win against Leapai, whose last opponent before me was Klitschko and Tarver is just coming off the Banks win so if Tarver is looking to fight somebody who's motivated with true skills then I'm here ready to put his old ass in a rocking chair.
What did you think of Tarver's latest win over Jonathan Banks?
MS: I thought he looked ok and closed the show when he could on a fighter that hasn't fought in 2 years. Not taking no credit away from Banks because Banks is a good fighter when he's focused but his mind, passion and energy is spent on Wladimir's career not his own anymore. So to me Tarver didn't even fight the real Jonathan Banks.
Did you see anything in Tarver that could give you any problems?
MS: Look the man is probably going to be in the Hall of Fame when his retired…I'm aware of the credentials he holds but I also see a lot of loop holes in his game right now that I would definitely take advantage of if he ever fought me.
If a fight between you and Tarver can't be made, who else would you like to face?
MS: Well the ultimate most realistic goal is to still strive to get a world title but we have the Wilder-Stiverne fight in a month so I'm looking to fight the winner of that in the near future. We still have Arreola who is as tough and rugged as they come, I would be excited to get that fight. The Chisora rematch is always on my radar. So it's tons of good fights out there it's just all a matter of making the contracts and ink pen meet. But we'll see man. I'm just motivated and up for any legitimate challenge.
Prediction for Deontay Wilder vs. Bermane Stiverne?
MS: I think it's a good fight. I think Stiverne's skill level is underrated plus he has a good teacher in Don House. But when I do the mathematics on the fight I don't think it's going to be enough to deal with the range, power and deceiving speed Deontay is gifted with. It's a 70/30 fight for Deontay in my opinion.
If you were to have your choice between a fight with the Wilder-Stiverne winner and Wladimir, which would you take?
MS: If Deontay beats Stiverne, that's the rematch I want. If Stiverne beats Deontay I think I beat Stiverne easy. As far as Wladimir is concerned, he has his hands full with North Philly's own Bryant Jennings who also has the same childhood trainer as me, a real teacher Freddie Jenkins from ABC Gym.
When can we expect to see you back in the ring Malik?
MS: I'm looking to get back in late February-early March.
Thank you for your time Malik. Any final thoughts for the fans?
MS: Thank you. R.I.P Dan Goossen, miss you brother.
For questions or comments, to schedule an interview, or to simply chat about all things boxing, Charles C. White can be reached at cwhite1078@hotmail.com