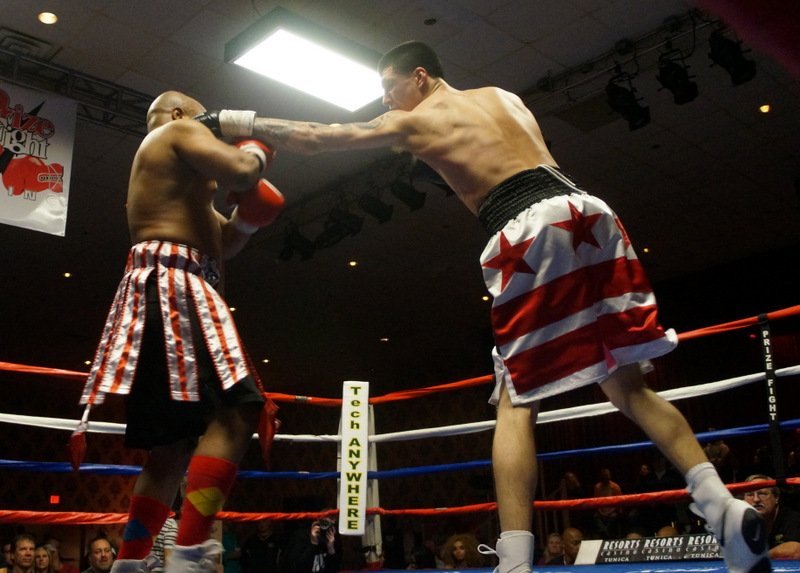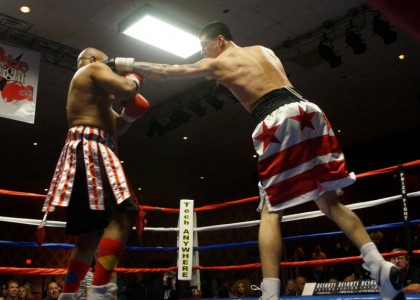 DUSTY HARRISON-HERNANDEZ (24-0, 13 KOs), from Washington D.C., very bright prospect that people are expecting a lot of things out of and is no stranger to fighting at the Garden
DUSTY HARRISON-HERNANDEZ: I would just like to say everything has been really fun about this event. I never did a media call before and never had a billboard up, I really love the way everything has been promoted and I am enjoying it. I have been watching Tommy Rainone and I think it is a perfect fight for me to develop my career. He is not one of those guys that comes right at you, he is slick and crafty – perfect for me right now.
What does it mean to you to be the featured fighter in ROC NATION's first fight?
DUSTY HARRISON-HERNANDEZ: I am honored and it has been great for me. My family is really enjoying it and my friends of course. There are artists performing at the fight – it is more than just a boxing event. I think if there are more events like this it will attract more crowds. All of my friends that are my age are looking forward to this fight more than any other. And I think that kind of says something.
What do you think this fight will do for your future?
DUSTY HARRISON-HERNANDEZ: I think it opens up a lot of opportunity for me outside of the ring. I am only twenty and the sky is the limit for me inside of the ring. I think the way they promote fights will do wonders for me outside of the ring.
What kind of performance do you need to put on to justify the hype of this event?
DUSTY HARRISON-HERNANDEZ: The biggest thing, obviously, that I've got to do is win, and do what the people want to see. They'd like to see a knockout, but I need to show all of the potential I have a twenty-year-old. I need to show something that people will want to watch again.
You will now be fighting at an event with stars in the house that people your age and your friends are huge fans of. What have they been saying?
DUSTY HARRISON-HERNANDEZ: My friends say I was fighting with ROC NATION and they say 'Jay Z's ROC NATION?' I am just their friend to them so it is a little surreal to them. I know that I have been in the gym working so I feel that I deserve it. They are happy for me a surprised and they think it's great. But come fight night, I am just in the ring and I have never had a problem of staying focused when it comes to the fight and being prepared. I give credit to my mom and step-mom and my trainer to keep me focused.
Are people bugging you more for tickets for this event? Is there someone that runs interference for you?
DUSTY HARRISON-HERNANDEZ: I have great people around me. My dad helps me with training and there is a lady that helps me with the tickets. There is a bus trip going up from D.C, not sure how many buses but she handles all the tickets for that. Michael helps me with the media requests. I have a lot of people that help me. It has been about 3½ years and I have developed a perfect team around me and I give all the credit to them for helping me stay focused.
How do you feel about facing probably your toughest opponent to date?
DUSTY HARRISON-HERNANDEZ: It is important for me to develop. I can't keep fighting the same types of fighters and the same skill level. It is important for me to take this fight to become the best boxer that I can be. I am twenty so I really need to develop the right way. He is probably the slickest and craftiest fighter I have fought other than Michael Clark but I think it will be a tougher fight than that.
You are the headliner but Tommy Rainone is a New Yorker – will that make you fight harder?
DUSTY HARRISON-HERNANDEZ: When it comes to that night in the ring and they announce our names, the people are not there specifically for him they are there because it is a boxing event. By that time they have been there all night and they have been drinking and they are just going to go crazy when they hear the kid is from New York. Subconsciously the judges may hear the big cheer every time he throws a punch and every time he lands something, but yes it definitely makes me push harder. It's a new thing and another part of development for my career fighting in his hometown.
What was your reaction when you were told you would be headlining ROC NATON's first card?
DUSTY HARRISON-HERNANDEZ: I was excited. I then kind of thought it would just be another fight. ROC NATION only had experience with entertainment and I knew they were going to have big plans for it. They proved me right and it is going to be exciting.
Do you compare yourself signing to ROC NATION to Canelo Alvarez signing with Golden Boy?
DUSTY HARRISON-HERNANDEZ: I don't know if that was the plan but with Canelo and with Chavez Jr the amount of fights and the age – everything just kind of happened the same. I don't know how many more fights it will take to get to the big one. It depends on me and how I look in fights. My team will know after each fight and what kind of test that opponent gave to me. It's on me and how good I look.
How have are you handling your rise to fame?
DUSTY HARRISON-HERNANDEZ: It actually surprised my mom (the way things have gone). But she know what I do in the gym and how much hard work I put in. I am so used to it now and I just keep moving on in my career. But my mom is really enjoying it and I am happy to see her having fun. She is enjoying the fights and she is excited for this fight and that means a lot to me.
How about the father-son relationship?
DUSTY HARRISON-HERNANDEZ: We got lucky. We had so many problems going thru the amateurs and we kind of worked out the method that we do things. When I have my hands wrapped – Billy Briscoe wraps my hands and he is OK with it – or another guy is holding the mitts for me – he is OK with it – as long as my dad is in my corner at the end of the day it is good. He has been in my corner for every amateur fight, every exhibition, every sparring match and every pro fight he has always been in my corner and that's what means the most to him. We both give-and-take and we both worked it out so there won't be any problems in the future. We still argue over small things but nothing that is going to end a relationship between us.
Has the ROC NATION signing made you train herder or differently?
DUSTY HARRISON-HERNANDEZ: I haven't changed any of my workouts, I have just been doing them harder and more intense – that is the only thing that has changed. Sparring harder, more rounds, running harder.
Do you have a strength and conditioning coach?
DUSTY HARRISON-HERNANDEZ: No I like to stick to more traditional boxing training. I think the best way to prepare for a fight is boxing training. I noticed a lot of the pros do not spar as much as me and they don't run as much as me. I think too many boxers get caught up in the strength and conditioning workouts, which takes away from their actual boxing workouts. I do some strength and conditioning but I don't think that should be the main part. I have seen boxers do their conditioning workouts and they have nothing left to spar – they skip the bag or skip the mitts and like like to focus more on the boxing workout.
How did you decide to sign Dusty Harrison?
DAVID ITZKOWITCH: Obviously talent is a big part of the equation and he is a very marketable fighter. He's a good kid and we feel he has a bright future both in and out of the ring.
Dave, is this a test run for bigger things?
DAVID ITZKOWITCH: We have already announced that we have three shows schedule for FOX Sports 1. We are going to be announcing the other dates shortly. In the short term we have two additional shows and we plan on doing more after that.
DAVID ITZKOWITCH: Tommy Rainone – most of you in New York know Tommy. He is a local favorite out of Long Island and has fought at the Gardena and Yankee Stadium. He is a big attraction and ticket seller. An interesting fact about Tommy is that he also has a regular job – he works nights at a Hilton on Long Island at nights in the accounting department. He works by night, trains by day and fights by weekend. He has a record of 22-5-1 with 4 KOs. I present Tommy "The Razor" Rainone…
TOMMY RAINONE: It is winding down. All the hard work is done and all of the sparring is done. I am just watching what I eat and getting my strength back this week. I am ready to go. I am ready to fight.
Can you talk about being a self-managed boxer?
TOMMY RAINONE: Honestly, when you don't have a promoter or a manager and working a full-time job – all of these are distractions to a point. To be honest with you, leading up to a fight it becomes total chaos. Having to sell tickets and the phone never stops ringing. But I get used to it I have been doing it like this my whole career and it's the only thing that I know and I am used to handling it that way.
How did you choose that rout?
TOMMY RAINONE: Some of it is by choice and some of it is not. As far as managing myself that is by choice because I like to control my own destiny. I think I have done a good enough job of that since I am fighting in a main event fight at the Garden on Saturday night. I feel like I could do as well for myself as any manager could do for me and why pay somebody for a job that I thought I could do just as well.
How do you feel you can get the win on Friday against Dusty?
TOMMY RAINONE: Good question, as I have discussed it before, the whole knockout thing…the black and white of it is I only have four knockouts, but the gray of it is that I have scored fifteen or sixteen knockdowns in my career. My last fight I dropped the guy twice and it was a ten-round decision but all you see is that it was a ten-round decision. You just see another decision victory and not that the guy was on the canvas twice. After I drop them I keep them honest and I keep them gun-shy. I know that I can punch and I know that I am not a finisher. I admit that and it's one part of my game that is missing. But the element of surprise is when I hit these guys – they are not expecting a guy that can punch at all. I know that I will get his respect with my power if he thinking that I can't punch. I know that his father, who is a very knowledgeable guy, I am sure that he has studied me plenty and I'm sure he gave the kid a little heads up that I can punch a little more than you think. The element of surprise may not be there as much because this particular guy I am fighting right now – I think his father is a very good trainer even though he doesn't make as much as most trainers make but with that being said I just have to go out there and be myself make adjustments and worry about firing on all cylinders and as long as I do that I think I have a very good chance to beat this kid. I can't worry too much about what he does.
How do you envision the fight taking place?
TOMMY RAINONE: Just like any other right. I've had twenty-eight fights and this is my twenty-ninth and listen if anyone tells you they don't think about losing before the fight in the dressing room is lying. If you go into the fight with no fear factor then you don't respect your opponent. That's what keeps a guy honest and hungry. My confidence is there and I have gotten excellent sparring from excellent fighters like Chris Algieri and Thomas LaManna and so forth getting ready to finish fights. I put in the work with tall, long guys with a lot of talent, just as good, if not better than Dusty and with a little diversity as far as the guys I was sparring. I put in a lot of hard work so I see the fight as being a chess match, a mental battle. I think I am going to have to fight myself as much as I have to fight him and as long as I do that well I will come out on top.
What do you think of Dusty?
TOMMY RAINONE: On paper of course he is my toughest opponent to date but I won't know until the bell rings. Hopefully he is not but on paper he is the most accomplished. I respect the kid. I think he is a good solid fighter but I don't think he's a killer. I also know that's only twenty years old and people tend to rush people and they may be a little impatient with him as far as him stepping up. This is a step up for him. As much as you say this is the best guy that I fought I promise you that I am the best guy that he has fought. He really hasn't fought good competition yet. I'm not knocking him on that because you can only expect so much from a kid that young but I am the best fighter he ever fought. It's that simple and it works both ways.