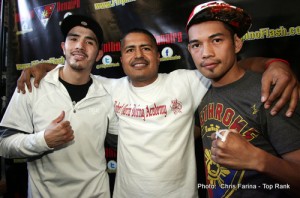 Tonight at 9PM EST/6PM PST, "JEK III Productions" presents another packed edition of "The Pugilist KOrner"!!
The two hour program will feature two time "Trainer of the Year" Robert Garcia, Kronk Gym trainer Javan "Sugar" Hill, Junior Welterweight prospect Thomas Dulorme, talented young trainer Sam Garcia, and Super Flyweight prospect Bruno Escalante.
Pugilist KOrner link: http://www.blogtalkradio.com/wcsteelerfan/2014/03/05/tha-pugilist-korner

Pugilist KOrner listener line: 718-506-1506
Kicking off tonight's program will be Oxnard, California based trainer Robert Garcia. The two time trainer of the year will discuss the upcoming Marcos Maidana/Floyd Mayweather Jr. special event, which will go down on May 3rd in Las Vegas, Nevada. Robert will also discuss the future of Mikey Garcia, Brandon Rios, Nonito Donaire, IBF Featherweight title holder Evgeny Gradovich, and many other talented fighters in his stable.