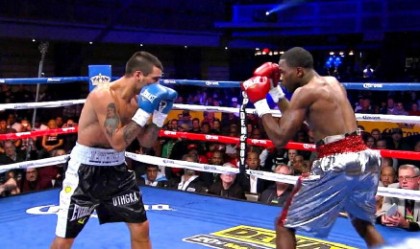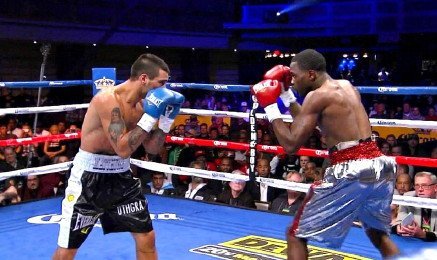 By Bill Phanco: It took WBC interim light welterweight champion Lucas Matthysse (33-2, 31 KO's) most of the 1st round to adjust to the hand speed of Mike Dallas Jr. (19-3-1, 8 KO's) tonight but once he did, he tagged him with a monstrous overhand right late in the round that knocked Dallas Jr. clean out, sending him down face first on the canvas at the Hard Rock Hotel & Casino in Las Vegas, Nevada. The referee immediately stopped the fight after realizing that Dallas Jr. was out cold and wasn't moving a muscle. The official stoppage was at 2:26 of the round.
Dallas Jr. was jabbing well in the early part of the fight, and tying Matthysse up each time he could get in close to land his power punches. However, as the round wore on, Matthysse began to catch Dallas Jr. with hard left hooks to the head and big right hands. You could see with the power that Matthysse was throwing his shots that Dallas Jr. wasn't going to last very long in this fight.
Matthysse's power was pretty impressive in this fight because he wasn't just punching big power with his left hand. He was also throwing with good power with his right as well, and there aren't too many fighters at 140 that would have been able to last long tonight against him.