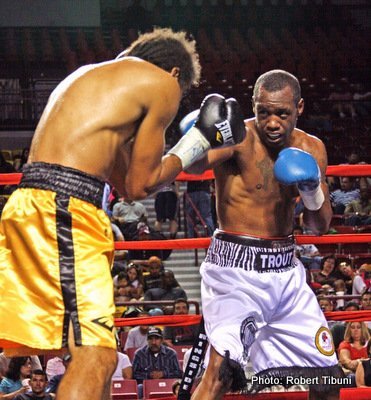 By Paul Grunich, photo by Robert Tibuni – WBA World junior middleweight champion Austin Trout (25-0, 14 KO's) may be the champion as he enters his fight this Saturday night against former three division world champion Miguel Cotto (37-3, 30 KO's), but Trout is going to be fighting in front of pretty much mostly Cotto's fans at the Madison Square Garden, New York, New York, USA.
What this means is that the fans will be cheering every punch that Cotto throws, even the ones where he misses his target. The judges will no doubt be influenced by the pro-Cotto fans, and this could lead to Trout losing a lot of rounds where he appears to win them. This could be big problem for Trout int his fight. He's also starting off as the much less popular fighter of the two, and that's a potential problem as well.
Cotto is the recognizable name, the star if you will, whereas Trout is just a young, slick fighter with a ton of athletic skills going for him. Think of Trout as the future of the junior middleweight division, along with Saul "Canelo" Alvarez. Even if Cotto wins this fight on Saturday, he's not going to be fighting for too much longer because the competition is catching up to him, and he mainly wants to fight just the big names in the sport.
It's surprising that he's taking the Trout fight, because Trout isn't well know. But the likely reason that Cotto is taking this fight is so that he can try and pick up a title, and then use that title to get a bigger cut of the financial pie in a unification bout against the WBC junior middleweight champion Saul Alvarez in 2013. Cotto may need a title in his possession to get a bigger cut against Alvarez.
Read moreTrout needs to give Cotto a real pounding to ensure he gets the decision