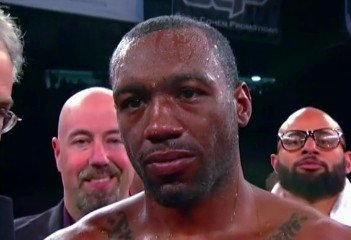 By Joseph Herron: It's Official! On December 1st, three division world champion and future Hall of Famer Miguel Angel Cotto (37-3, 30 KOs) will take on current WBA Junior Middleweight Champion Austin "No Doubt" Trout (25-0, 14 KOs) at the world renowned Madison Square Garden in New York City, NY.
When most boxing insiders didn't believe Austin would ever get the opportunity to showcase his skills on the biggest stage of boxing, the Las Cruces, New Mexico resident always had faith that his time would eventually come.
"I've definitely paid my dues," claims the 26 year old southpaw fighter. "But I really have to thank Al Haymon for this big fight. He told me that he was working on something big, and he really delivered."
The big 154 pound title fight will easily be Austin's toughest test to date. Not only will the young chameleon be facing a three division warrior who can box and punch proficiently, but the reigning title holder will also be fighting in the hostile confines of Cotto's venue of choice; Madison Square Garden.
Austin believes the pro-Cotto crowd won't be a problem.
"I originally won the title in hostile territory by defeating Canelo's big brother in Guadalajara, Mexico. I not only beat him, but I pitched a shut-out. I'm used to fighting in front of another fighter's fans. It only makes my accomplishments that much more impressive."
So far, Trout has been perfect in the ring. The skilled ring technician has only lost a handful of rounds in 25 professional bouts. Although the slick southpaw fighter has never faced an opponent with Miguel Cotto's winning pedigree, Austin has "no doubt" that he will be victorious once again in December.
"I know Cotto is a great fighter and a future, first ballot Hall of Famer, but this is my time in boxing," insists Austin "No Doubt" Trout. "He's had his time. He was a great champion but this is not going to be another championship winning effort for Miguel."
Although the young title holder ultimately believes he will be victorious on December 1st, Austin expects to see the best version of Miguel Cotto in New York City.
"Miguel is a true professional and I know he will bring the best he has to offer, but his best simply won't be good enough against a fighter like me. I'll be ready for whatever strategy he chooses to implement on December 1st. If decides to be aggressive, I'll use his aggression against him. If he decides to box, I'll use my reach, height, and speed to pick him apart from the outside."
"I am a versatile fighter and can adapt to whatever my opponents show me on fight night. Those who don't realize what a complete fighter I am will recognize my skills after December 1st. This is going to be somewhat of a 'passing of the torch' type of event. I am going to show the boxing world that I deserve to be considered among the pound for pound elite."
The hungry young champion has waited patiently for his moment in the sun to finally arrive. Now that his date with destiny has ultimately been set, Austin "No Doubt" Trout would like to thank his die-hard fans that have been in his corner since turning pro in 2005.
"On the eve of my biggest fight to date, I want to thank all of my friends and supporters for sticking by me through this long and wonderful journey; everyone who has sat back and listened to all of the naysayers and the critics deny me the credit and respect I deserve."
"Well everyone can hold their heads up with pride and let the world know that it's our time now…it's our time now."