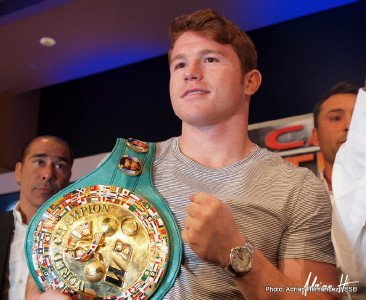 One of many question marks about WBC junior middleweight champion Saul "Canelo" Alvarez (41-0-1, 30 KO's) going into his April 20th fight against WBA junior middleweight champion Austin Trout (26-0, 14 KO's) is whether Canelo's stamina will hold up for the full 12 rounds in a fast paced fight.
We've seen how Canelo has looked tired in his fights against Ryan Rhodes, Matthew Hatton, Alfonso Gomez, and Shane Mosley, and those were fights where he was allowed to plod for the full fight and not have to move quickly to catch up to a fighter on the move like he will against a constantly moving Trout at the Alamodome in San Antonio, Texas.
Canelo looked like he didn't have a lot of excess energy in the gas tank any of those fights, which is perhaps why he seemed to pace himself and fight flat-footed in each one of them. They were all mismatches, yet Canelo wasn't take to take it out of 2nd gear to put these guys away quickly. He did stop Rhodes and Gomez, but it took a lot longer than it should have, and I don't buy the excuse that his fans make that Canelo did this on purpose.