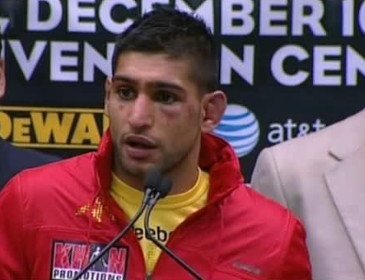 Amir Khan is starting to sound increasingly unhappy with Floyd Mayweather Jr. judging by his comments in interviews and on his twitter account. With each day that goes by, it seems more and more likely that Mayweather won't be giving Khan a fight on May 3rd and that seems to be getting to the British fighter. Khan thought he had the fight with Mayweather after winning his poll competition against Marcos Maidana. Mayweather, however, appears to have other ideas for his May 3rd fight instead of Khan. A lot of Boxing fans think Khan is desperate for a retirement fight against Mayweather.
In an interview today, Khan took the opportunity to lash out at Mayweather, saying that he's slower than he used to be, and that he's fighting slow opponents because he's slowed down with his ability to get around the ring.
I'm not sure that Khan is going to endear himself to Mayweather by dumping on him in interviews. It might be better if he goes back on the charm offensive by reminding him about 'what an honor it would be to share the ring with him.'
"Floyd is not the same fighter as he was three or four years ago," Khan said to thenational. "That's why he picks slow fighters, because he doesn't have the same movement as he used to. I have been working very hard in camp on a Plan A, Plan B and Plan C on how to beat him…He has dodged two of the quickest fighters in the business because he knows I can give him a headache. If you look at his last three or four fights … all of them are slow, with no footwork, one-dimensional fighters. He cherry-picks them, to make himself look good."
This reads like a frustrated fighter taking a shot at Mayweather simply because he's not giving him the fight that he wanted. Khan should let Mayweather have his space. I mean, if he wants to fight Khan, he'll do it in good time. Buy by Khan trashing him and saying he's avoiding fast fighters, it might send Mayweather in the opposite direction permanently.
Khan needs the fight against Mayweather more than he needs the Khan fight. With two defeats in his last four fights, Khan's future paydays could dry up overnight if he gets beaten once or twice more. The thing is Golden Boy Promotions has a lot of good fighters in their stable, and they're going to offer him plan B and C opponents, but these guys aren't chopped liver. Khan could find himself fighting Lucas Matthysse or Keith Thurman, and right now I think both of those fighters would knock Khan out and finish his career. To be sure, Khan could keep fighting after he gets knocked out by one or both of those guys, but who's going to take him seriously? That would be 3 losses in his last 5 fights for Khan, with his only 2 wins coming against weak opposition. The Mayweather fight can be looked at as a cash out fight, whether Khan wants to admit it or not. It's a fight where Khan will make so much money that he won't have to worry about what happens afterwards with his career, because he'll get a payday of $6 million or more.