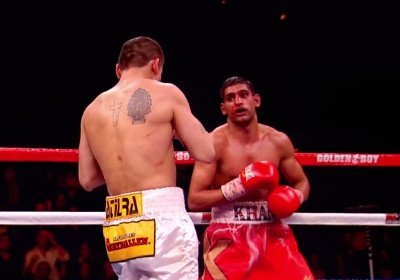 Top Rank promoter Bob Arum is all bent out of shape with the way that Floyd Mayweather Jr. has treated Britain's Amir Khan by not naming him as his next opponent for May 3rd, and having him compete for the fight with Marcos Maidana on his website poll at Mayweatherpromotions.com.
Khan won the poll, but Mayweather still hasn't named him as his next opponent yet. Arum says he would never do that with his fighters in his stable, and he thinks that Khan should "cut his ties with them." Arum thinks Mayweather has decided to fight Maidana instead of Khan.
We still don't know why Mayweather hasn't named Khan as his next opponent, but it could be a number of reasons. Mayweather might be working on the undercard still with Golden Boy Promotions or he might be focusing on the fact that Khan was badly beaten by Maidana in three other independent polls where many more fans voted. It's unknown why Mayweather hasn't named his next opponent, but it's standard for him to wait a while before he names who he plans on fighting. It's good to be the king. You can't blame Mayweather if he doesn't want to fight someone that fans will be ridiculing him for. He needs to make sure he chooses an opponent that fans actually want to pay to see. The last thing Mayweather needs is to select an opponent that will result in pay-per-view numbers similar to Manny Pacquiao's last fight against Brandon Rios.
"What he has done to Amir Khan is absolutely disgraceful, whether he ends up fighting him, or he doesn't," Arum told the Telegraph "My feeling is he is not going to fight him, but it's disgraceful to do that to another human being because you are in a position to do that. Just because he has the power where you can do something like that…They have allowed Mayweather to get away with this s***. It's terrible. They have twisted the kid in the wind. Mayweather should be ashamed of himself. He's not going to sign the contract. I think he will fight Maidana."
Well, I kind of recall how Khan strung former IBF welterweight champion Devon Alexander along recently for a fight that was supposed to take place last December, so I don't see what Mayweather is doing to Khan as being that bad. What's good for the goose is good for the gander. I think Arum needs to remember what Khan did to Alexander. Of course, it obviously plays well for Arum if he takes a shot at Mayweather because if Khan were to leave Golden Boy Promotions, there's a chance that he might sign with Top Rank. Arum could then use him to fight Manny Pacquiao and Tim Bradley 4 or 5 times in rematch after rematch for the next 5 years or so.