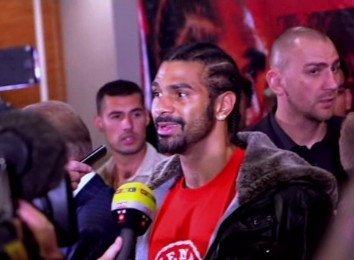 Former two division world champion David Haye (26-2, 24 KO's) says he's just signed the contract for a fight against the unbeaten but totally untested 6'9" Tyson Fury (21-0, 15 KO's). Haye is now hoping and praying that Fury doesn't duck out and choose not to sign his portion of the contract.
David Haye said on his twitter "I've just signed to fight Fury on Sep 28, lets hope he finally agrees (and signs today) and he doesn't keep delaying. Word around "Camp Fire" is Fury is looking to duck me and fight Toney "The Tiger". Lets hope they are just to rumours."
Gosh, I hope Fury doesn't get a case of stage fright and head in the opposite direction for some of the journeyman he's been building his unbeaten record. I'd hate to see Fury ending up turning down fights against Haye and Kubrat Pulev and then going back to the journeyman circuit to continue to pump up his inflated resume.