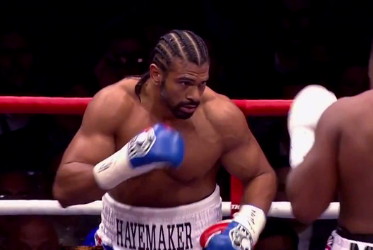 By James Slater: You didn't think David Haye would be humble or at all quiet after returning to action and hammering out a 5th-round stoppage over Dereck Chisora, did you! No chance.
Haye, feeling back to his best after smashing bitter rival "Del Boy," has wasted no time in calling out reigning WBC heavyweight king Vitali Klitschko. As we know, there is practically zero chance of Haye fighting the all-conquering Wladimir for a second time, but older brother Vitali, despite having one eye towards retirement, has an ache to punish and KO the Londoner who so insulted his family. And Haye is hoping to taunt his way into a second date with a Klitschko.
"It was a scary message," Haye said of last night's crushing win. "I'd be surprised if he (Vitali) wants to fight now. He will no doubt fight some chump and then retire to be a politician. If he wants to fight me then I'm ready."
Although Vitali (who will indeed next fight a guy some fans have labelled a "chump," in the largely unknown Manuel Charr) owes Haye absolutely nothing, I for one would love to see "Dr. Iron Fist" take on Haye before he walks away. Can you name another more intriguing, potentially exciting heavyweight title fight? Haye was outclassed by the younger, more athletic Wladimir, sure, but against Vitali – the ageing legend who was unable to put a dent in Chisora, the man Haye wrecked with his speed and power – Haye would have a much better chance.
Haye's blend of speed, power and movement would perhaps be the kryptonite to Vitali's power, experience and physical strength. How would Vitali cope with a constantly moving target, one who throws lethal right hands? How would Haye's chin cope if it were tagged by Vitali's monstrous right? I for one would like to find out, as I've said. And I'm not the only one.
Ladbrokes, fresh off Haye's impressive win, have "The Hayemaker" at 9/4 to meet and defeat Vitali (Vitali is a 1/3 favourite to win, but Haye has more of a chance now, according to the bookies).
Already then, people are wondering if the fight will happen. Will Vitali choose to stick around after doing a number on Charr? If he has the easy time most experts and fans fell he will have in September, then maybe, just maybe, Vitali will choose to sign off on his great career with a massive event of a fight with Haye. And just imagine if Haye, who "retired" last year, managed to pull it off!
David Haye may well be around for some time yet.