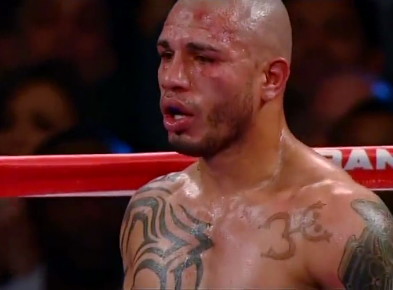 by Vivek Wallace: In last weeks segment of EastSideBoxing's countdown to Mayweather vs Cotto we took at a look at the obvious. This week we analyze an angle that will take us from the simple to the complex. Mayweather has effectively built his resume on the art of the "take-away", nullifying practically all of an opponents strengths. Cotto isn't as skilled in this department, but under his new fundamental trainer, Cuban, Pedro Diaz, there seems to be an awakening. On the heels of this realization, today, we visit the intricate topics of precisely "WHAT STRENGTH EACH MAN WILL POTENTIALLY TAKE AWAY FROM THE OTHER"?…..AS WELL AS "WHAT PREVIOUSLY UNSEEN ATTRIBUTES THAT MAN COULD POTENTIALLY AWAKEN IN THE OTHER"?:
MIGUEL COTTO:
In Miguel Cotto, we see a warrior who has been to the mountaintop, as well as through the valley. Highs and lows are part of any warriors journey in the sport, but for Cotto, the road for redemption has clearly defined the mission. In the Summer of 2008 Cotto faced Antonio Margarito and had no answer. Just a few bouts later he would face Pacquiao and meet the same fate. What did he learn from these defeats? Considering the paralleled "ambush" style of both fighters, the biggest lesson he learned was simply to box intelligently and bang only when opportunity presents itself, leaving less room for the type of brutal warfare known to bring many careers to an end..
Against Floyd Mayweather jr., the task is vastly different. Coming in the ring with plans to outbox Mayweather is simply not an option. So what element in Cotto could Mayweather awaken that we've never seen him use to help him pull this off? Good question. The closest valid answer comes down to one word: DISCIPLINE. In each of Cotto's losses and close contest, it was his inability to stick to the script when he began to get hit. Against both Margarito and Pacquiao he boxed beautifully and led on the cards, but when the shots started to land rapidly, his limited discipline caused him to immediately revert to a style that appears "fan-friendly" yet results in "losses-plenty".
A complexed puzzle like Mayweather will surely require the best of Cotto. And the best in Cotto is an effort we've yet to see. Although we've seen him put together a few masterpieces, we have never seen him put together the perfect fight, where discipline at the height of the battle remains present without abandon. This previously unseen attribute is one that Mayweather could potentially awaken in him…..if it truly does exist, that is.
Identifying the attribute that has made Cotto most successful which Mayweather will potentially take away is quite simple. Cotto's bread and butter has been his ability to close the distance and drop bombs. Never has he had to work as hard as he will against Mayweather at cutting the ring off and trapping his prey. The footwork of Mayweather has been absent for the past few fights. A dancing partner like Cotto who hunts both the body and head will awaken that particular skill, as Mayweather's chances to win lessen without it (footwork).
FLOYD MAYWEATHER JR:
In Floyd Mayweather, we have a fighter who can do it all. That "handyman" reference used in the past is categorically "perfect", as no other adjective could be used to describe him in a more concise fashion. That in mind, the operative question becomes "What can Cotto possibly take away from Floyd that he can't replace"? When we dig deep to uncover this mystery, few elements surface….but only one is necessary to accomplish the mission. That one? Space…..or lack thereof. Floyd Mayweather jr. has a ring IQ that remains unparalleled, but the best way to enter the mind of any opponent is to get inside of it quicker than it can comprehend a way to keep you out!
Hatton, Oscar, and Castillo each found a certain level of success by crowding Floyd to the point where thinking too far ahead of them wasn't an option, all because he was simply too busy trying to escape the present moment at hand. A fighter with Cotto's deceptive speed, thunderous power, and vintage 'stalk-til-they-can't-walk' style is enough for any opponent to breath hard in suspense. We've seen Cotto mowed down at the hands of two men who had the stamina to outwork him and the chin to outlast him. Mayweather's game has never been about a heavy punch volume, so based on that, we have to analyze whether or not he can defeat a man who has never lost without this element present.
When we flip the script and take a look at the question relative to what attribute Cotto could potentially awaken in Mayweather that we haven't really seen, the plot thickens. Many of Mayweather's fights have prompted a different angle towards his path to victory, and in the past he was able to answer the call. Against Judah he had to conquer speed from a southpaw. In Corrales (RIP) he faced height and reach. Mosley presented great power combined with speed and toughness….and the list goes on. Seems we've seen Mayweather against every template in the book. What we haven't seen is actually something we have seen…..problem is…..we haven't seen it in so long we don't know if he can still pull it off.
At age 35 with a modest activity rate which has left him untested in this area in recent years, we will now see if Mayweather still has what it takes to conquer the equivalence of Jose Luis Castillo (1st fight)? Losing isn't an option for Floyd, so at long last, the public may finally get what most have wanted to see: Mayweather in a not-so-pretty slugfest where he has to show a level of toughness few knew he had. The one tool we haven't seen Floyd pull from that proverbial 'toolbelt' is victory from the jaws of defeat. A rare moment where his back is against the wall and he has no choice but to sink or swim. Brother Naazim Richardson told Mosley it exist in him because "you don't get to his level without it".
We saw glimpses against Mosley, but not as much as he may be required to display against the likes of Cotto. If there's anyone in the sport today on Mayweather's shortlist who can bring that 'beast' out, it's Miguelito. For those who question whether or not Floyd "has it in him"…..stay tuned…..I think he has something to show you! (Tune in next Friday as the Official EastSideBoxing Countdown to Mayweather/Cotto continues).
(Vivek "Vito" Wallace can be reached at 954.292.7346, vivexemail@yahoo.com, Youtube (Vivek1251), Twitter (VivekWallace747), Skype (Vito-Boxing), and FaceBook)