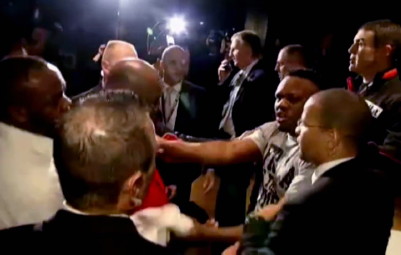 By James Slater – As surely every fight fan the world over knows, British heavyweight Dereck "Del Boy" Chisora wound up in a whole heap of trouble and on a whole pile of front pages after his recent "Mayhem in Munich" adventure. The now infamous brawl with David Haye followed the Vitali Klitschko "slap" and the Wladimir Klitschko "spit," and Chisora subsequently had his licence to box removed "indefinitely" by the BBB of C.
Today, promoter Frank Warren confirmed that his fighter has officially appealed against the decision; claiming the way the hearing went was not satisfactory. Warren also stated that in his belief a fight (in the ring!) between Chisora and David Haye (who, after all, played his part in the Munich post-fight press conference melee), is "a natural."
First, here is what Warren had to say about the appeal:
"The appeal has gone in already," Warren said as quoted by The Mail.. "The grounds for the appeal are that we're not satisfied with the way the hearing went. There was no chance to review any evidence before the hearing. All I want to see is a fair hearing. Dereck will present his side of events and then we'll see what happens.
"A lot of stuff came out at the first hearing. For example, we though Charlie Giles (the BBB of C chairman) was in charge (at the Chisora-Vitali fight) but it turns out there was no steward from the BBB of C representing the British boxer's interests. Instead he was working for the WBC. We wanted him to give evidence at the hearing but he didn't. He didn't even put in a written report which is strange given what happened and that he was there."
The result of the appeal will be most interesting to say the least. However, what Warren had to say about a possible Haye-Chisora fight will likely interest fight fans more so. Although at one time (while a guest on The Bunce Boxing Hour), Warren said he would not promote a fight between the two Londoners (maybe he still will not do so), the top British promoter now says a fight between the two is almost inevitable, and that it would also be "bigger that either of them fighting Wladimir or Vitali Klitschko."
"It's a natural fight, it doesn't matter what anyone says," Warren said of Chisora-Haye. " There's a lot for them to fight about – in a proper environment. I do see the fight happening. It's the proper forum for them to settle their differences."
And say what you want, but the fight, staged at an big outdoor stadium in the U.K, would be a massive, massive draw. You simply cannot buy the kind of publicity the two heavyweights recently enjoyed (due to admittedly disgraceful behaviour in Germany; the entire sporting world watching), and for good or for bad, a ton of money is now up for grabs.
But the fight is nowhere near close to happening at this stage. First of all, Chisora's appeal must prove successful, second of all Haye himself would have to reapply for his own licence (there is absolutely no guarantee that he would get it) and thirdly, Haye himself has said a number of times that he has zero interest in coming out of retirement for anyone other than the two Klitschkos.
I do, however, agree with Warren: at some point this grudge-match of grudge-matches WILL happen. There is simply too much money and publicity for it not to go ahead. And you know you'll watch it when it does go down, don't you!?!