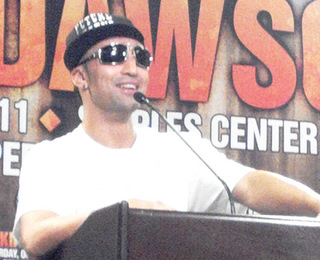 HOBOKEN, NJ (March 28, 2012) – Former International Boxing Federation ("IBF") Light Welterweight Champion Paulie "Magic Man" Malignaggi will soon embark on his Ukrainian mission, as he challenges undefeated World Boxing Association ("WBA") World Welterweight Champion Vyacheslav Senchenko, live on pay per view April 29 from Donboss Arena in Donetsk, Ukraine.
Senchenko vs. Malignaggi," presented by Union Boxing Promotion, is being distributed in the United States by Integrated Sports Media for live viewing at 1:00 PM/ET – 10:00 AM/PT on both cable and satellite pay-per-view via iN Demand, DIRECTV, DISH Network and Avail-TVNfor a suggested retail price of only $29.95.
"I look forward to becoming the WBA World Welterweight Champion," Malignaggi commented. "I'm not worried about fighting over there because the WBA and Golden Boy Promotions have appeased any fears I may have had at first. Golden Boy takes good care of its fighters, so I took the fight.."
Malignaggi (30-4, 6 KOs) captured the IBF junior welterweight title in 2007, scoring a 12-round decision over defending champ Lovemore N'dou, successfully defending that belt twice versus Herman Ngoudjo (DEC12) and N'dou (DEC12) in a rematch before relinquishing the title in order to face Ricky Hatton in the fall of 2008. Since moving up to welterweight, Malignaggi is unbeaten with victories against Michael Lozada (TKO6), Jose Miguel Cotto (DEC10) and Orlando Lora (DEC10).
"I love fighting at 147 pounds and look forward to this opportunity to become a two-division world champion that will legitimize me even more," the outspoken 31-year-old Malignaggi said. "I'm smarter now about my body and making 147 isn't a strain. I'm a high-energy fighter and now I'm not draining myself losing weight."
2000 Ukraine Olympian Senchenko, who is rated No. 5 in the world by The Ring Magazine at welterweight,won the WBA title in 2009 by way of a 12-round decision against previously undefeated Yuriy Nuzhnenko. Vyacheslav has successfully defended his world title belt three times against Motoki Sasaki (DEC12), Charlie Jose Navarro (DEC12) and more recently Marco Antonio Avendano (TKO6) last August in his last fight.
"This fight is driving me because I want my first title defense to be at the Barclay Center in Brooklyn (where Maligaggi lives), October 20th on opening night," Malignaggi added. "I'm going to beat this guy to become a two-division World champion. Senchenko's never been in the ring with anybody like Paulie Malignaggi. He's never seen anybody like me. He has fought in the comfort of his home during his entire career against pitiful opponents.
"I'm the biggest name he's ever fought. He's never fought anybody on my level. He's in for a rude awakening April 29th. I'm going to force him to adapt and dig down to the point where he's not going to want to get up and fight me every three minutes. I have the answer for everything he brings into the ring. There's nothing he can do that I haven't seen and can't handle. I'm better than him. Senchenko has never fought anybody like Pauli Malignaggi."
Go online to www.integratedsportsnet.com for additional information. Follow Integrated Sports Media on Twitter @IntegratedPPV.