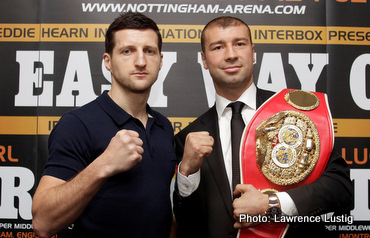 By James Slater – Last year, British boxing had four world championship claimants: in Amir Khan, Carl Froch, Ricky Burns and Nathan Cleverly. Super-featherweight (now lightweight) star Burns continued his storied career, and 175-pound titlist Cleverly began his rise to the top of his division; yet it was Khan and Froch who enjoyed the most global attention in 2011.
But then, at the end of last year, "King Khan" and "The Cobra" both lost their belts. Froch was an underdog entering his "Super-Six" final with the awesomely talented Andre Ward, so his points defeat was to some extent seen coming. Yet Khan was a big favourite to beat Lamont Peterson; even if the fight was held in "Havoc's" hometown. Yet Khan also lost a decision; leaving his two belts in D.C..
Now, in what promises to be a May to remember in 2012, the two British stars attempt to rise back to the top of their respective weight classes. Khan faces Peterson in a May 19th return in Las Vegas, then, the following Saturday, Froch challenges reigning IBF 168-pound boss Lucian Bute in his home town of Nottingham.
The careers of both men are well and truly on the line, and both guys are training as hard as can be to see to it that they reign supreme once again. The odds makers have some interesting numbers regarding both upcoming fights.
According to world leaders when it comes to taking bets, Ladbrokes, Khan WILL win his return; while Ladbrokes reckon Froch will come up short in his title challenge. It's currently ¼ that Khan gets revenge over Peterson, while Froch is currently a 7/4 underdog against the unbeaten Bute.
Interestingly, heavyweight great Lennox Lewis (who has recently been talking a little bit about the possibility of making a ring return of his own; most likely with his tongue placed in his cheek!) says both guys will win their upcoming fights. The bookies, at least Ladbrokes, disagree with Lennox, however.
Both fights promise to be great, fan-friendly affairs – on that we can all agree. For what it's worth, I think Khan will get his revenge on May 19th, with the challenger regaining his belts via early stoppage. While I see Froch winning also, by close decision.
The real winners this May will be the fans though. Both fights are very much of the publicly demanded variety. With superstar Floyd Mayweather Junior also in action this May, it's very much going to be an early summer sizzler! I can't wait. Can you?