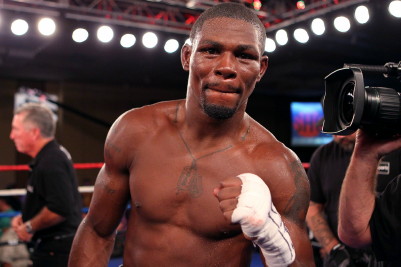 (Photo credit: Tom Casino/SHOWTIMEBy James Slater: The way former middleweight king Jermain Taylor tells it, he should never have moved up in weight to fight as a 168-pounder. Had "Bad Intentions" taken another route and stayed at 160-pounds, he would not have been a part of the recently concluded "Super Six" and he would not have lost to Carl Froch (non-tourney) and Arthur Abraham.
But as we know, the Arkansas man was persuaded to leave the middleweight division and his run of bad luck appeared to have finished his career. Last night, however, 33-year-old Taylor returned to winning ways for the first time in over two years. With original promoter Lou DiBella's backing and support, the former middleweight ruler scored a rust-remover of an 8th-round TKO over tough Jessie Nicklow.
Taylor said post-fight that he feels great as a middleweight, and that he felt good in the fight last night (although he did say, not surprisingly, that he felt a little rusty). Taylor added that he will take one step at a time (he hurt his right hand in last night's fight, which may mean a delay before his next bout), but that he will "fight anyone."
As with any comeback of a former world champ, the long term goal for Taylor will be to become champion all over again. Today's 160-pound division is ruled by Sergio Gabriel Martinez of Argentina, and it would take a brave fan to predict Taylor beating the southpaw. Even in his prime years, when he was beating the likes of Bernard Hopkins and Cory Spinks, Taylor would have had a tough time with the tall, hard-hitting Martinez. But Taylor, after a few more comeback wins, would perhaps have to be given a real shot against the reigning alphabelt rulers: Felix Sturm and Julio Cesar Chavez Jr. the two most prominent.
In reality, it's still too early to say how far Taylor, now 29-4-1(18) can go in his comeback. Jermain passed all vigorous pre-fight exams, which proved beyond all doubt that his health is fine, and he sounds as though he has the old hunger back. Still fast, still powerful and now competing in his natural weight class, Taylor will hopefully be back by spring, against a contender.
As Taylor said himself, "everyone loves a comeback." Especially if the comeback proves successful. It sure would be a feel-good story if Taylor were able to win another major title before he's finally done.