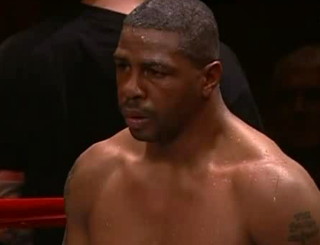 By James Slater: In surprising news, it has been reported by The New Zealand Herald that New York's Monte Barrett, winner over David Tua back in August, failed that bout's post-fight drugs test. The two veterans met on August 13th in New Zealand, with 40-year-old "Two Gunz" climbing off the floor in the 12th and final round to win a points decision and the World Boxing Organization (WBO) Asia Pacific and Oriental heavyweight belts.
The return followed a July 2010 meeting that saw Tua on the floor (for the first time in his long career), with the decision being given as a draw. Barrett received much praise for the manner in which he travelled to New Zealand to beat Tua, but now some of the lustre has come off Monte's big win. But are the accusations – that Barrett tested positive for methlyhex-anemine – to be believed? Not according to Barrett, they're not.
"We've asked the WBO to overturn the result of the match," Tua lawyer Blair Edwards said. "We have also asked for the return of the belts Barrett has in his possession and we have asked for David's rankings to be reinstated to where they were before the fight."
Tua himself is obviously upset:
"Monte came to New Zealand telling everyone how hard he had worked for the fight. Now we know he is just a drugs cheat," the 38-year-old contender said. "He has fooled everyone and cheated me out of an honest result."
Barrett has angrily fired back at the accusations, insisting he has never, ever been a cheat.
"If I would have failed a test, they would have never let me out of New Zealand with those belts," Barrett said. "I've never been a cheater. I busted Tua's butt fair and square: that's the bottom line. If he wants me to, I'll move to New Zealand, train there for the whole time, and he can watch me eat, watch me train, watch the supplements I take , and I'm still gonna bust him down."
The first thing that popped into my mind upon reading this news? Why has it taken so long for the test results to come out? Barrett fought and defeated Tua over three months ago, after all. In any case, it seems this new controversy will see to it that the two veterans fight a third fight (which was on the cards anyway).
Tua's career looked all but over after his having failed to beat Barrett at a second time of asking, but these new allegations will convince the popular Samoan slugger's fans that he is not finished after all.
Will Barrett's upset win be turned into a No-Contest, though? Stay tuned.