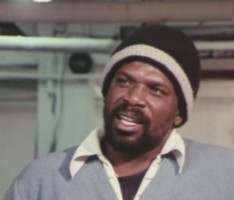 By James Slater: In what has been a very sad year for heavyweight boxing – what with the deaths of Sir Henry Cooper in May and of "Smokin'" Joe Frazier earlier this month – it has been reported that another fighter no less deserving of the status of legend passed away yesterday at the age of 70. Denver's murderous-punching slugger Ron Lyle died in hospital yesterday morning.
Having complained about stomach pains, Lyle was taken into hospital where he later died due to a stomach abscess that became septic. As was the case with Frazier, tributes are now pouring in for the man who helped make the heavyweight division so very special back in that glory-filled decade that was the 1970s.
Lyle, one of the most humble and down to earth guys you could have wished to find in a sport where egos can get out of control, came to boxing quite late in life. Having served time in prison (where he almost died from a vicious stab wound to the stomach), Lyle turned pro in 1971, having had little amateur experience. A strong puncher with physical prowess to go with his zinging fists, Lyle was soon battling the best in the world.
Who can forget Lyle's epic slugfest with fellow great George Foreman? Twice each the two crashed to the canvas in an unforgettable five-round war. Simply put, the January 1976 fight is THE best non-title heavyweight fight of all-time. Lyle lost that one, as did he lose (via somewhat controversial, premature 11th-round TKO) to Muhammad Ali in his one and only crack at the title the year before he rumbled with Big George. But Lyle did manage to bag wins over the likes of: Earnie Shavers (TKO6 in 1975, another awesome fight where both men hit the mat), Oscar Bonavena (WU12 1974), Buster Mathis (KO2 1972), Jimmy Ellis (WU12 1974), Joe Bugner (WS12 1977) and Scott LeDoux (WS10 1979).
Lyle retired in 1980, after being taken out in a round by new star Gerry Cooney – only to make an astonishing comeback in 1995. Aged 54, Lyle managed to reel off four KO wins!
It is the sensational, never-to-be-topped Foreman fight Ron will likely be best remembered for, however. Both men, seemingly hell-bent on ignoring the defensive side of the game, went at it like nothing fans had ever seen. "This isn't artistic," commentator Howard Cosell bellowed, "but it is slugging; the way the public wants it!" Was it ever!
Today, fight fans should raise a glass in tribute to Ron Lyle whilst watching his famous battle with Foreman. That's what I'm going to do. I had the honour of interviewing Ron a couple of years ago, and he truly was one of the warmest, classiest guys you could wish to talk with.
Rest in peace, Ron – fans will never forget you.
Ron Lyle: February 12th 1941 to November 26th 2011. Pro record: 43-7-1(31).