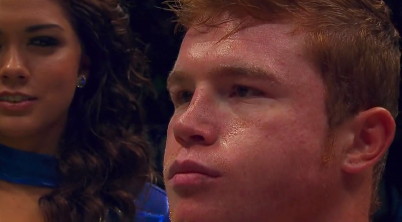 By Paul Strauss: El Mono, Argentina. HBO coverage bounced from Cincinnati to Mexico City. First, Adrien "The Problem" Broner 22-0 (KO 18) was featured in his hometown against Vincente Martin Rodriquez 34(KO 19) 2-1 , who is from El Mono, Argentina. As is often the case, on paper Rodriquez looked to be a decent test for the undefeated, rising star Broner. But, Broner had all the answers for this test, and Rodriquez never proved to be any kind of threat. Broner had an easy time of it, and stopped Rodriquez with a sharp left hook in the third.
So, Broner's heart and toughness remain untested, but there's no doubt about his skill. Offensively, he can do it all. He moves well. He is elusive with his shoulder roll, and head slipping. He's got a good jab, and very good check hook. He punches in combinations with power. When he got Rodriquez in trouble, first with a right uppercut, he wisely kept his composure and landed hard shots to the body to continue the destruction. It appeared if he pressed hard earlier, he could have gotten Rodriquez out of there sooner, but he knew he had him and stuck with the game plan.
Don't get too excited, though, because Martin Rodriquez was an awkward, slow, unskilled fighter. With the exception of the second round, he let Broner do what ever he wanted. For that matter, so did Referee Frank Garza. When Rodriquez attempted to press the action in the second round, he would lead with his head down, and Broner would grab him behind the neck, and push down. Judges undoubtedly gave Rodriquez the round, but in truth his attack was no threat to Broner. Rodriquez had nothing but wild swings, taps and pushes for punches.
It would seem Broner's catch phrase is something like, "Hook, right, good night"! But, in the third it was a little bit different. Everything started out again with the right uppercut. Rodriquez left himself wide open for the punch by leaning in and down, with his gloves alongside his head. The uppercut had a clear path to the chin. Broner followed with a good mix, going up and down with his shots. A couple of good body shots got through, and when Rodriquez started his counter, Broner beat him with a clean hard left hook to the chin. Rodriquez fell back into the ropes and down to the canvas. It was obvious from the dazed look on his face that he was not going to beat the count. It was 1:43 of the third round.
From there, HBO switched to Monumental Plaza de Toros in Mexico City for what many thought would be the toughest test yet for Saul "Canelo" Alvarez 39 -0 (KO 25). At one time Kermit Cintron 33-5-1 (KO 28) was a feared hard punching welterweight. But, every time the tall, wide shouldered, former college wrestler had an opportunity to shine in a big fight, he failed. When Antonio Margarito was caught trying to load his hand wraps before the Shane Mosley fight, Cintron jumped on the chance to use that as an excuse for his two defeats to Tony. But, the truth is he folded before the plaster of paris even had a chance to get wet from Tony's sweat. His draw against Sergio Martinez was a gift, and his nose dive against Paul Williams was bizarre.
Saturday, the only bull in the ring was Alvarez. Even though he is only twenty-one years old, he fights with poise and maturity. Initially, he boxed from distance, and allowed Cintron to get a pretty good jab working. But, even in the first round he showed an explosiveness that was a portend of things to come. He was testing the waters.
Roy Jones, Jr. pointed out that if Cintron was going to make any kind of a fight, he needed to gain Alvarez's respect. He never did that. He continued with the jab, and right hand to the body, but never really followed with the left hook. On those few occasions when he did throw a right to the head of Canelo, it didn't look like his big right of old. When Canelo wanted, he would explode with a two or three punch combination, that punished Cintron, even if at first the punches were partially blocked.
Alvarez quickly found a home for his left hook to the body and right hand to the head. Several times he got through a lead right, because Cintron elected to keep his left low and roll with the shot. But, he didn't get his shoulders turned sufficiently and lean back out of range, so the punch was catching him on the side and top of his head. He quickly wilted. At other times, he would try to slip or duck under the shot, but instead of moving the necessary 1/2 foot, he would move three feet, usually down! He was totally out of position, and couldn't possibly see what was coming next. It appeared fear was getting the best of him.
By the third round, Alvarez was already starting to walk him down. It was obvious Alvarez didn't respect Cintron's so called power. Alvarez was doubling up on his left hooks; first one to the heart, and then another ripped from underneath. Cintron couldn't get out of the way of anything. By the fourth round, he was really being punished. After one particularly hard Alvarez combination, he folded up and took a knee. He already seemed to be looking for a way out.
The fifth round started with another Alvarez right to Cintron's head. Right away Kermit started to wobble, but he had no answer for the right. He atttempted some wild retaliatory shots, but he was in desperation mode, and his shots were missing by feet, not inches. He lost all focus and was trying to flee the scene. Referee Hector Afu recognized the signs of a fighter who didn't want to continue, so he stepped in and stopped the action at 2:53 of the fifth round.
It would seem the young Saul "Canelo" Alvarez can do it all pretty well. He has good footwork and balance. He can slip punches when needed. He is patient, and he throws hard combinations. Plus, he picks good times to keep his opponents honest with lead right hands and double left hooks. The 154 lbs division has lots of talent, so there's no shortage of opportunities for this youngster, and it would appear there are at least a few very big paydays on the horizon for him. Consider………Sergio Martinez, James Kirkland, Julio Cesar Chavez, Jr. to name a few. Exciting times.
It's worth mentioning highlights of another fight that HBO showed. It was Gary Russell, Jr's 19-0 (11) impressive first round KO of veteran Heriberto Ruiz 47 (KO 29)-12-2. The southpaw Russell closed the distance on Ruiz and threw a right hook to the body. Ruiz planned to counter with a left right combination. He got off the left, but as he was starting the right, Russell caught him with a beautiful right hook to the chin. So, from Russell's point of view, it was a double right hook. First the one to the body and then to the head, which Ruiz moved right into for maximum results.
While Ruiz lay on his back, his eyes were open but glazed. They weren't taking in anything. It was like a blank stare. He was definitely in dream land, and for a few moments there was concern. But, thankfully, he seemed to respond to those around him. In the post fight interview, Russell, Jr. presented himself very well, much better than Broner who wanted his short cropped hair brushed?
Prior to the start of live action, HBO ran the second installment of Cotto/Margarito. This episode emphasized the compulsory eye exam for Margarito, which resulted in a N.Y. licencse being granted to Tony by the commission. There was some definite concern that the fight might fall through if he didn't pass. Cotto stated he signed to fight in N.Y., and he wasn't receptive to moving it elsewhere. Obviously, that caused some nervous moments for Top Rank. Action scenes of their training camps were once again shown, and one couldn't help but wonder about the lack of intensity exhibited by Cotto. He's a slight betting favorite, but a bet the other way doesn't seem like much of a risk. Another point of interest, is there's no question Madison Square Garden will be full of loyal fans. Cotto, in particular, has a huge fan base there. But, to the rest of the world, the fight is offered on PPV, and if I am not mistaken is in competition with the Abner Mares vs. Joseph Agbeko rematch being shown free on Showtime.