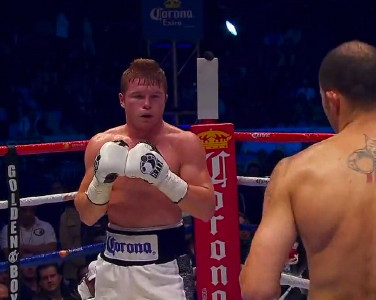 By Rob Smith: WBC junior middleweight champion Saul Alvarez Saul Alvarez (39-0-1, 29 KO's) looked very impressive tonight in taking apart former IBF welterweight champion Kermit Cintron (33-5-1, 28 KO's) in stopping him in the 5th round at the Plaza Mexico in Mexico City, Mexico. Alvarez, 21, knocked a confused looking Cintron down in the 4th round and had him ready to go late. And in the 5th, Alvarez finished Cintron off with a flurry of power shots.
Cintron just didn't have it tonight. He wasn't the same aggressive fighter he was in the past at 147. It could be that he doesn't belong at 154, because he's not nearly the same puncher at this weight compared to how he was when he fought at welterweight. Alvarez was the stronger fighter tonight and the more aggressive guy. Cintron fought like he was walking on egg shells with both feet tied together. He just didn't look comfortable at all, and was getting hit with some big shots round after round.
At the time of the stoppage, I had Alvarez up 4 rounds to 0. Cintron didn't have it tonight. You have to give compliments to Golden Boy Promotions for the good matchmaking. They saw Cintron at number #14 at the bottom and picked him out for Alvarez. Hopefully, Alvarez can finally fight someone good for a change in his next bout because these mismatches are getting tedious.
***
Adrien Broner (22-0, 18 KO's) really opened some eyes tonight in blasting out Vincente Martin Rodriguez (34-3-1, 19 KO's) to win the vacant WBO lightweight title at the U.S Bank Arena in Cincinnati, Ohio. Broner, 21, showed excellent boxing skills that were Mayweather-esque as he hurt Rodriguez with a left hand and then finished him off with another big left hand shot to the head that put him down. The referee halted the fight at 1;43 of he round.
Broner now can move onto bigger and better things such as fights against the likes of Yuriorkis Gamboa, Brandon Rios and Ricky Burns.
In other action tonight:
The hard hitting heavyweight prospect Deontay Wilder (20-0, 20 KO's) made quick work of David Long, halting him with the first hard right hand that he threw. Long went down like he'd been poleaxed and was down a long time on the canvas. Wilder, who a lot of boxing fans are skeptical about due to his light opposition, is starting to prove himself as a possible future threat in the heavyweight division. His opposition may be weak, but you can see the power in his right hand. He really hits hard and would give anyone in the division problems if he's able to land that right hand.
***
Undefeated featherweight prospect Gary Russell Jr. (19-0, 11 KO's) showed a rare glimpse of power in defeating Heriberto Ruiz (48-12-2, 30 KO's) by a 1st round TKO. Russell Jr., who is mainly known for his good hand speed, hurt the overmatched Ruiz with a right hand to the head and then finished him off with another right. Although Russell Jr. looked good in the fight it's still too early to tell whether he'll be a big star at featherweight. He's there to be hit despite having good hand speed and he really isn't a big puncher. One thing he has going for him is that he can win one of the interim titles and maybe go after one of the current paper champions. However, guys like Juan Manuel Lopez, Orlando Salido and Yuriorkis Gamboa are simply too powerful and sturdy for this guy. I can't see Russell Jr. ever beating any of them. But at 23, he can wait them out until they move up or retire.
***
Juan Garcia PTS 6 William Jackson
Chris Pearson KO 1 Steven Chadwick
DeVonte Allen SD 4 Salvador Perez