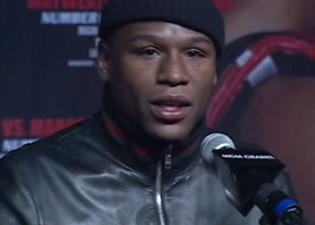 By Ted Sares:By Ted Sares: This edition is dedicated to my fellow ESB posters.
Let's get right to boxing topics, opinions, disagreement, or agreement. Tonight we are featuring brief but hopefully thought-provoking subjects. Let's sit back with something liquid and amber (and maybe with some ice), torch up a Griffin Corona, and unwind. D-Jay Red is spinning tunes out of his Harlem headquarters. He's got everything from funk to rap. Boosty, ya dig?
1) Here is my top ten Pound for Pound list RIGHT NOW.
This is simply a snapshot as of September 27, 2011 and is significantly different than my last listing as Gamboa moves off due to his inconsistency. Ward and Froch will be resolved soon enough. And Vitali makes his first (and likely not his last) appearance in my top ten. Floyd trades places with Manny because Manny is fighting a guy (again) Floyd totally dominated in Marquez.
1. Floyd Mayweather Jr.
2. Manny Pacquiao
3. Sergio Martinez
4. Nonito Donaire
5. Andre Ward
6. Carl Froch
7. Juan Manuel Marquez
8. Timothy Bradley
9. Lucien Bute
10. Vitali Klitschko.
Others in no particular order include Abner Mares, Pongsaklek Wonjongkam, Giovani Segura, Amir Khan, Chad Dawson, Bernard Hopkins, Jean Pascal, Wladimir Klitschko, and Yuriorkis Gamboa.
2) Fight of the Year (so far): Rodriguez and Wolak remains tough to beat, but Jorge Arce's redemptive and bloody stoppage over Simphiwe Nongqayi was short, sweet and savage. It rates as well.
3) Latest delusional and bile-inducing Klit callouts:
David Haye says he has a good chance of beating Vitali. Antonio Tarver says that Wlad is avoiding him. And this, in part, from Cedric "The Boz" Boswell, "Dr. Klitschko, you owe the fans an opportunity to see you compete against a REAL contender, rather than blown-up cruiserweights or fighters you have already devastated. Let's get it on. I am ready willing and very able." Even 39 year old, 5'11"Amir Mansour (15-0) is in on the act.
4) Massimo Barrovecchio
It might have started with Arthur Mercante's deplorable showboating during the Cotto-Foreman affair. Russell Mora then did a slow stoppage in the Donaire- Montiel fight and Steve Smoger lived up to his reputation as Denis Lebedev unnecessarily hammered Roy Jones into unconsciousness. Mora proved that a even a heretofore solid referee can have two bad nights when he inexplicably failed to penalize Abner Mares for repeated low blows in the fight against Joseph Agbeko. Then last week, referee Wayne Hedgpeth made what appeared to be a premature stoppage of Alfonso Gomez in his fight with "Canelo" Álvarez. Even usually reliable Tony Weeks was a bit too intrusive in the entertaining Vargas-Lopez war. Adding to the downward slide, Joe Cortez became a principal party to the contributory and by now infamous negligence of what happened between Mayweather and Ortiz.
Enter Massimo
However, lost in the shuffle of this string of questionable referring, well known (in Europe) and longtime Italian boxing judge and referee Massimo Barrovecchio worked the Klitschko-Adamek fight in Poland. He did an extraordinary job as he moved about the ring with light-footed grace and remained virtually invisible until he appeared out of nowhere and at just the right moment to signal the end to that beat down.
Maybe they can have a seminar in Las Vegas and invite Massimo to be one of the speakers. Maybe we can learn some things.
5) Guys who are firmly back on track
Jorge Arce (58-6-2). He is now on a 7-fight undefeated streak and holds the WBO super bantamweight title. Most had him figured as being done and shot when he lost badly to Simphiwe Nongqayi in 2009. But as he continues to roll, the possibility of a Hall of Fame call down the road becomes quite distinct.
Jhonny Gonzalez (50-7). He holds the WBC featherweight title and has steamrolled ten tough opponents (all stoppages) sine being stopped himself by Toshiaki Nishioka. Jhonny may be the best kept secret in boxing.
Cristian Mijares (43-6-2). After losing three straight in 2008 and 2009, this warrior has now won 7 in a row and holds the IBF super flyweight crown.
6) Alfredo Angulo vs. James Kirkland
…the fact is that these are two guys who don't know how to fight any speed but full steam ahead. It's going to be a collision. Does anyone think this thing possibly gets past five rounds?
–Scott Christ
If rumors out of Mexico materialize (and they are only rumors), boxing fans may be treated to a spectacular shootout on November 5 between light middleweights James "Mandingo Warrior" Kirkland (29-1) and Alfredo "Perro" Angulo (20-1) with ultra violence in the offing. I mean they could show this one on the Discovery Channel.
Angulo has fought mostly in the US and is coming off two first round icings—one against the highly regarded Joachim Alcine (32-1 coming in). Kirkland also is coming off two quick KOs against limited opposition. Angulo's chin has never really been tested. Mandingo's chin failed the test against Ishida. However, he is now back with Ann Wolfe and the two have an uncommon symbiosis.
Both fighters have experienced setbacks (Angulo against Cintron and Kirkland against Ishida), but outside the ring the setbacks have been quite onerous. Kirkland went to prison for a gun possession charge. Perro lost a year of his career because of promoter and visa issues that still keep him from entering the United States.
Now, Golden Boy Promotions is reportedly considering a fight between the two. Both Mandingo and Wolfe indicated prior to Kirkland's July 23 win over club fighter Alexis Hloros that they are sick of easy fights and are looking to do something big.
Look no further, for this fight would be huge if it gets made. Both bring plenty of menace and action into the ring. It would be a throwback type of fight in the vein of Juan Meza vs. Jaime Garza or an all-action type like Brandon Rios vs.Urbano Antillon. Both are heavy handed, all-action, incoming pressure fighters and that spells K-N-O-C-K-O-U-T.
If this fight happens, I have just two words of advice: Don't blink!
7) How do you feel about the return of Victor Conte?
I'm very pleased to be working with Nonito [Donaire], he's a very gifted guy, not only in terms of his boxing skills but as a person, his belief system is tremendous.—Victor Conte
Conte (who served four months in prison in 2005 for supplying athletes with performance-enhancing drugs), was formerly with scandal-ridden BALCO. He now runs a company called Scientific Nutrition for Advanced Conditioning. From that base and like it or not,, he is helping to train a number of well-known athletes including boxers Andre Ward, Andre Berto, and Zab Judah as part of their respective support team.
Speaking for Team Donaire (who will be facing top super flyweight Omar Narvaez of Argentina), and paying the fighter high compliments at a press conference, he no longer appears uncomfortable in the spotlight and is beginning to assert himself into the boxing scene.
America has always been a forgiving country and might be the case here. As Conte's clients continue to sing his praises as someone who truly knows nutrition, strength, and conditioning, it will become increasingly difficult to criticize the reformed Victor without also criticizing his clients. In short, if you continue suspect Conte, then you suspect Donaire
What say you?
8) Who Should Robert Helenius Fight Next?
After having accomplished an impressive hat trick of stoppage victories over Siarhei "White Wolf" Liakhovich, fellow nightmare Samuel Peter, and Lamon "no longer Relentless" Brewster, Robert "The Nordic Nightmare" Helenius is capturing the attention and respect of global boxing fans and has a number of intriguing options. My favorite matchup would be Chris Arreola in a site not in Finland or Germany.
Who do you think he should fight next and where should that fight be held?
By the way, former WBO heavyweight champion Siarhei "The White Wolf" Liakhovich was stopped by Helenius in Round 9 and then, following the bout, was taken to a local emergency room. He had suffered a broken nose in two spots with the first fracture occurring early in the fight and the second one during the second half. Yet he displayed uncommon courage throughout the fight and gained much respect and many new fans in the process as he went out on his shield. Are you reading this David Haye?
10) Scheduled fights I'm hyped to see:
Andy Lee vs. Brian Vera—redemption is on the table here
Tony Grano vs. Brian Minto—rock and roll rumble between two big guys.
Frans Botha vs. Michael Grant—Great chance for Grant to get back into the mix.
Sharif Bogere vs. Francisco Contreras—It's worth Bogere's walk-in.
Chris Arreola vs. TBA—TBA will be the underdog.
Abner Mares vs. Joseph Agbeko (rematch) redemption is also on the table here
Take a musical and photographic tour on the author's site at www.tedsares.com