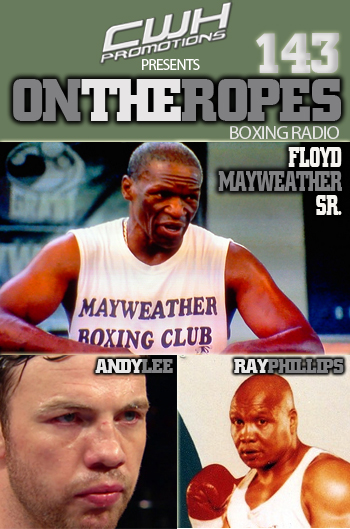 by Jenna J – This week's 143rd edition of On the Ropes Boxing Radio (brought to you by CWH Promotions) features special guests Floyd Mayweather Senior, Andy Lee, and Sugar Ray Phillips. You can click play on the player to listen.
On the Ropes Boxing Radio is back to bring you the latest and greatest in the world of boxing! Join me Jenna J, the Hostess, along with my amazing Producer and Co-Host Geoffrey Ciani, along with Correspondent heavyweight contender Chauncy Welliver.
TOPICS FOR DISCUSSION:
• Floyd Mayweather Junior's controversial KO4 win against Victor Ortiz
• Does the way the fight ended diminish Mayweather's accomplishment ?
• Has this fight brought us one step closer to a Mayweather-Pacquiao match-up?
• Where does Vicious Victor Ortiz go from here?
• Erik Morales winning a vacant WBC belt after scoring a 10th round stoppage against Pablo Cano
• Does "El Terrible" stand a chance against the best at 140?
• Timothy Bradley rumors regarding a possibly signing with Top Rank. Does this mean we might see Bradley-Pacquiao next?
• Saul Alvarez stopping Alfonso Gomez in 6 rounds. Does Alcarez need to step up his level of opposition?
• Rumors of match up between Alfredo Anglo & James Kirkland for November
CLICK PLAYER TO LISTEN
EXCLUSIVE INTERVIEWS!
Be sure to join us for three exclusive interviews:
Floyd Mayweather Senior:
• Highly regarded boxing trainer who works with Mickey Bey, Vernon Paris, & Lenardo Tyner
• Father of one of the best pound-for-pound fighters today, Floyd Mayweather Junior
• Had a career record of 28-6-1 with 18 wins coming by way of knockout
• Will be making his 14th guest appearance "On the Ropes"
Andy Lee:
• Is scheduled to have a long awaited rematch with Bryan Vera on October 1
• Scored a dramatic come from behind knockout win against Craig McEwan in March
• Current record stands at 26-1 with 19 wins coming by way of knockout
• Will be making his 6th guest appearance "On the Ropes"
Sugar Ray Phillips:
• Former professional boxer who once fought Marvelous Marvin Hagler
• Had a career amateur record of 145-6 which included a National Golden Glove championship
• Had a career record 15-9 with 4 wins coming by way of knockout
• Will be making his 5th guest appearance "On the Ropes"
UPCOMING FIGHTS
• Marcos Maidana vs. Petr Petrov (WBA Jr. Welter)(Fri)
• Jorge Arce vs. Simphiwe Nongqayi (WBO Jr. Feather)(Sat)
BE SURE TO TUNE IN!
***
To learn more about "On the Ropes Boxing Radio:
Visit our official Website:
http://www.ontheropesboxingradio.com
Subscribe to our show on i-tunes:
http://itunes.apple.com/us/podcast/on-the-ropes/id427474189
Join our Facebook Group:
http://www.facebook.com/group.php?gid=231954175413&ref=ts
Or Follow us on Twitter:
http://twitter.com/JennaOnTheRopes
To contact Geoffrey Ciani or Jenna J:
ontheropes@boxing247.com
To read more by Ciani or Jenna please visit The Mushroom Mag:
http://www.eatthemushroom.com/mag