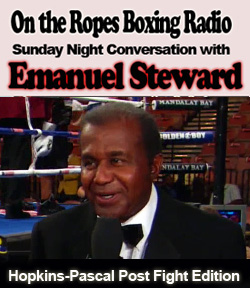 by Geoffrey Ciani (Interviewed by Jenna J & Geoffrey Ciani) – Hall of Fame boxing trainer Emanuel Steward discussed his views on Bernard Hopkin's history making victory against Jean Pascal in the second edition of a new series of special episodes of On the Ropes Boxing Radio (brought to you by CWH Promotions) In addition to discussing the Hopkins-Pascal fight, Steward also touched on a variety of other topics including Chad Dawson's victory over Adrian Diaconu, a potential showdown between Hopkins and Dawson, Andy Lee's recent victory against Alex Bunema, Cornelius Bundrage versus Sechew Powerll, the upcoming fight between Julio Cesar Chavez Junior and Sebastian Zbik, and more! Here is a complete transcript of that episode:
JENNA J: Hey boxing fans! This is Jenna J and Geoff Ciani welcoming you to another edition of Sunday Night Conversation with Emanuel Steward. We are fortunate enough to have Emanuel on the line with us right now. How are you doing tonight Emanuel?
EMANUEL STEWARD: I'm doing fine.
JENNA: Well we had quite a fight weekend. The ageless wonder Bernard Hopkins returned to the ring in a rematch against Jean Pascal. What were your thoughts on his performance?
STEWARD: I thought his performance was superb. It was an excellent performance. He did things that he had never done before and it's not so much just the skill level, but at this stage of his career at 46 he was fighting a strong young fighter in his hometown, and not just a hometown city but it's more like a hometown country which means everything is really stacked against him. He fought a fantastic fight. I think maybe it's the best fight that he's fought since Felix Trinidad. It wasn't just winning the fight but the way he won the fight by outboxing and actually, which is not typical of Bernard Hopkins' style, outslugging and outmatching the guy in terms of physical strength and making commitments that he's never made before in terms of being so offensive. I thought it was his best performance when you look at everything. Even with the fight with Trinidad he still was very cautious. With Oscar he was very cautious. He would play it safe until he felt it was the proper time to execute, but in this fight here he came out in the first round and started applying pressure. The main thing I could see with the way that the fight was going that he was going to win it because you could look at his eyes and see the determination and the focus that he had going into the fight.
JENNA: Alright now Emanuel, you are obviously very familiar with boxing history. Have you seen any fighter like Bernard Hopkins?
STEWARD: Well yes. There has been Archie Moore, there have been a lot of fighters, but for today he stands out. There were a lot of great fighters back then but for today he stands out. I like the fact that he went back to training in Philadelphia old school. I think with the whole environment there at the gym, I think Nazim Richardson did a fantastic job because he and Bernard communicate with the same language. Bernard not only won the fight but he outboxed Pascal. He was so smart. He would sometimes actually throw a real jab where he would actually hit Pascal with his left jab in the, nose, or whatever. He caused damage to Pascal's right eye early with a jab where his thumb hit him, but it was not something that was on purpose because of the way the way the gloves are designed the thumb is attached to the glove. But nevertheless he landed the jab and sometimes he would be like just feeling with the jab. It looked like he was jabbing but he wasn't. He was just doing that to find out which way Pascal's head was going to go before he would shoot the right hand or the left hook and he did a variety of everything, and not just outboxing. He outfought him when it came to the exchanges. He got hurt a couple of times, which I respect him for that. He outmuscled him, and as far as power punches he landed the power punches. He had the stamina, and then he captivated the crowd by doing his pushups or whatever. So he stole the show. I think it was a superb performance.
JENNA: Now Bernard seemingly improved on his first performance. Now Jean Pascal, he didn't. Why do you think he was unable to make any adjustments the second time around against Bernard?
STEWARD: Pascal still is a, and I don't like to use this phrase because it's very degrading to him, but he's an amateur fighter. He's one dimensional. He backs back, backs back, and then he runs in and explodes and then he wants to go on a holiday, and he can't do that. Bernard made him fight consistently. He has never developed a jab, basic fundamental balance, and how to be consistent in a steady flow. Everything is like a big real rush, rush, rush. He's too hyper. He doesn't relax and what Bernard did was he was able to sustain himself and hold up with those wild barrages when Pascal would come in, but then he actually stood toe-to-toe with him and got hit in a few of those exchanges. But Bernard made him fight consistently this time. Pascal has to learn how to box and throw combinations so things flow smoothly, be consistent throughout the whole round and not just explode in certain spots, and he needs to learn his basic fundamentals. He doesn't have proper balance, a jab, or anything. Everything is just a big rush in and charge type of situation. It gets him to a certain point but when you run across a real crafty seasoned old school type of fighter like Bernard, and usually it doesn't get you that way unless you can just overpower the older fighter, but Bernard held up and this to me was one of his best fights.
JENNA: Alright well Emanuel, as always I'm joined by my Co-Host and Producer Geoff Ciani.
GEOFFREY CIANI: Hey Emanuel. It's a pleasure to have you on the show.
STEWARD: It's my pleasure to talk to you Geoff.
CIANI: Thanks Emanuel. Now I wanted to congratulate you on your victory. It was the first fight you and Chad Dawson worked together in his fight against Adrian Diaconu. How would you evaluate his performance?
STEWARD: Well, a B. It was not a super performance and both Chad and I have discussed that, but I knew it was going to be very difficult to some degree because Diaconu fought above his norm because of the unbelievable support of almost 18,000 people and about every one of them was behind him. He ended up having a tremendous amount of support based on the Lusican Bute Romanian type crowd in the build up and he had a solid amateur background with over 300 fights. He beat Sergio Martinez and a lot of other top fighters as an amateur. So I knew based on that amateur background and the fact that he would have unbelievable support he was going to be a difficult fight and he would fight above his normal level. Chad fought a good fight. In certain spots I thought Chad should have been more aggressive, but it takes time to change a person. You can't do that over night. By nature he's an extremely talented person as we all know, but also he's the type of a guy from I guess his previous amateur trainers or whatever has been more of a win the fight, don't worry about taking chances and being too dramatic. Just win the fight and you'll be okay and then next fight will be a big fight.
So it's going to take time to change things, but overall I thought under the conditions he was in there he fought a good fight and Diaconu fought the best fight that he fought. So I was satisfied with the victory. I still didn't trust the judges. I was surprised at the big gap in the scores because everyone, not just me, has experienced the unbelievable one-sided scoring that they have in Montreal. But for that night I think based on the fact that the whole world has been talking so badly about their scoring system and their bias that I think it made them go a little more the other way. They were a little more favorable to the visitors than they normally would have been, but anyway I am glad for the victory. You can't look great in every fight. I mean Muhammad Ali when he was still Cassius Clay had a tough fight with Doug Jones, but the next fight he was fighting Sonny Liston and he looked great.It will be an interesting matchup between Chad and Bernard because Chad is a different fighter. He's still a professional style fighter and not the amateur type of fighter that Pascal is.
But the night belonged to Bernard and all I can do is give praise to him. It was his night and I think one of his best nights. It was just showing that if he and Chad fight, which I'm hoping they will, it would be an interesting fight but Bernard right now has become the darling of boxing, especially because of his age factor. It's interesting that the whole sport of boxing was on the shoulders of a little Filipino guy named Manny Pacquiao, but now we have a new star who's never been a big live attraction in Bernard Hopkins and he had to go to a foreign country to really become a star, but he is a star now.
CIANI: Now Emanuel it seemed to me that earlier in the fight Chad looked to be, maybe in the first three rounds, he seemed to be a little bit more active and a little bit more aggressive I thought than we usually see him come out. But then at times in the fight there were spots where he seemed to kind of fall into more of an old school Chad style where he wasn't as active and you were getting on his case to throw more punches. It seems to me looking at Bernard Hopkins these days, that guys who fight in spurts and allow him the time to dictate the pace are the guys that Bernard does best against, whereas a guy like Calzaghe who was very active gave Bernard more trouble. Is that kind of your thinking going into this fight?
STEWARD: Exactly! Bernard right now is fighting very intelligently, very smart, and I agree. For Chad to be effective with Bernard he's going to have to be a different fighter. He's got to be busy, utilize his height, and realize that he's fighting a guy who's very smart, who may have slipped a little bit in terms of his skill level with age, but he makes up for it with knowledge and he's extremely relaxed Bernard which makes him very effective. So the Chad Dawson that fought last night would have a tough problem with Bernard. He's going to have to make a lot of adjustments to beat Bernard and we realize that.
CIANI: Emanuel when you look at Bernard's victory in becoming the oldest champion, how do you think it compares to when George Foreman beat Michael Moorer?
STEWARD: Well I don't know. I will let you decide that. George Foreman had lost every round of his fight with Michael Moorer including every minute and second of that round when he knocked out Michael Moorer, but that's still phenomenal when you look at the age and the fact that he did not have the coordination that Bernard had. You look at that and I would have it equal, but then you look at Bernard going to a foreign country. Bernard still has a lot of his skills intact that George did not have at that age 45. Bernard is much more skillful and much more coordinated, but he was going against a young aggressive guy to some degree who's physically very rough and then with a really, really strong crowd. Bernard has never fought, he's not like a guy like say Glen Johnson who's used to going into hostile situations in other countries and winning. But this is a whole new experience for him in his last two fights. So I would have them both 50-50. I cannot say one performance was more dominant than the other.
JENNA: Emanuel my Co-Host brought up the fact that Dawson is obviously going to be fighting Bernard Hopkins next. How soon do you see that fight actually coming together?
STEWARD: I don't know. I was with Kerry Davis last night and it will take time to sort itself out, but it's the only fight in the light heavyweight division. It's really a division that's been dead. Basically the controversial decision with Bernard and Pascal created a little excitement, not so much about that fight being such a great fight but it was the controversy of the division that focused a lot of attention on the light heavyweight division which is good. Dawson and Hopkins, strangely as I said on TV during my broadcast, they can end up in Montreal even though both guys are Americans. It could end up being a big attraction there. The only other place I think it would be a big attraction would be possibly in Atlantic City, but right now Bernard is becoming a big star where he's never been a really big gate attraction and Chad definitely has not been either. Based on Bernard's performance, and I'm watching him on ESPN and CNN and everything, his next fight is going to be a very big live gate for him, and not just a live gate but a live gate for him. Normally it was the opponent that he fought whether it was De La Hoya, or Pavlik, or whoever, that for the most part brought the live gate. But he's the star now and I think the fight should take place probably before the end of this year and Bernard feels very good about himself where before it was always suspect that he was dodging Chad Dawson. I think the way he feels about himself now he's ready to fight anyone and he feels that he could beat a lot of these young fighters out here now.
JENNA: Emanuel, the last time we had you on I asked you about Evander Holyfield. You said you didn't think he was tarnishing his legacy due to the fact he's been competitive in his recent fights. Well another former star, Roy Jones Junior, fought just this past weekend getting knocked out cold by Denis Lebedev in the tenth round. Do you think these type of losses Roy's been getting in the latter part of his career will tarnish what was an all time great legacy?
STEWARD: I think Roy Jones Junior's losses have probably been the most surprising and dramatic that I can recall in my life in boxing. To be an elite superstar and not just a superstar, but the superstar, I mean to see him go out the way he's gone out now. It's very seldom you see a very big legendary fighter whether it's Ali, Robinson, or whoever, lose by knockout. He's been knocked out, I don't mean TKOs, he's been knocked out—knocked out, four times. It's definitely going to diminish his reputation. Usually with the great fighters when they lose in the latter part of their careers it really doesn't affect their legacies. I don't know in the case of Roy Jones because he's been knocked out.
In the fight with Tarver, I thought it was a punch that really wound up slipping through the guard because of little small details that I won't go into at the time when the punch landed. But then to come back and be knocked out by Glen Johnson, and then I think it was Green who knocked him out, and then this knockout which I didn't see and I don't want to see. With all of the unbelievable accomplishments he's had with the dramatic knockouts, and I don't mean TKOs, I think it's definitely going to affect his legacy. Kids and boxers like Jean Pascal just idolized Roy Jones and the kids wanted to have Roy Jones shoes and this and that. I think the way that he's going out has hurt him tremendously. I don't recall any other big fighter that I've ever known to be knocked out like that.
It's unfortunate because he was so good for boxing. He had probably the biggest impact on kids in terms of styles and attitudes I hate to say. He played basketball the same day of a fight. He had his own recording company. He just did what he wanted. He was a broadcaster. It was like he had the world at his feet and to go out like this here, I was unbelievably shocked when I was in the dressing room with Chad Dawson and me hearing that Roy Jones had been knocked out. You can see Chad like almost starting to cry. He said, "What? That's my hero. I mean all my life I idolized Roy Jones." If you lose a fight it's one thing, but to be knocked out—knocked out!—it's different, and I think it will hurt his legacy.
CIANI: Emanuel changing things up here a little bit, your fighter Andy Lee had a fight on Wednesday. He won by a virtual shutout on all three of the judges' scorecards. What are your thoughts on his victory?
STEWARD: I gave Andy a 10 because Bunema after the first round realized that Andy was difficult to get close to and Andy was using his reach and his height very well. He went into a defensive mode and when a fighter goes into a defensive mode it's very difficult to hurt him and before this fight Bunema was fighting more aggressive with fighters when he was fighting Martinez, and the other fighters, Jermain Taylor, and Karmazin, or whatever. For this fight after he realized that Andy was sharp and he couldn't get inside he went into a defensive mode, but Andy went ten rounds and that's what he needs is the working experience.
With all of the good fighters today it's like if I can't get my $50,000 or $85,000 or whatever I signed in my contract with my promoter, I can't fight. I have to wait until I get a TV date, and the promoters have to do that. They have to wait until they get a date. Andy said he wanted to stay busy even at the risk of losing a fight. He's right now become still become one of the most recognizable middleweights out there probably next to Martinez. Even though his last fight was not a great performance in terms of his skill on TV with McEwan, but nevertheless his name is a name that when you mention the middleweight division that comes up right away. He says he wants to stay busy. For this fight he fought for $5,000 and he wants to fight again in July, and then he wants a fight with Vera in September or October or whenever. There's a new HBO series or something that may be coming up. He wants to fight Vera on that, and by the time that he fights for the title in March or the latter part of this year, he will be prepared because he has had the fights and will be what we call "fight sharp".
CIANI: Now I also wanted to ask you about Cornelius Bundrage's upcoming fight against Sechew Powell and what you think Bundrage needs to do to start getting a little more attention because he's kind of like the forgotten fighter in your stable yet he's a world champion?
STEWARD: Well it's just one of those things that happens. He's in a division right now which is not that hot except for the hot marquee names and he can't fight any of them seemingly. If he knocks out Sechew I think he'll start getting attention, and I feel that he will knockout Sechew because he's not the same fighter that Sechew knocked out about five or six years ago. He's a seasoned fighter now. He's been boxing with some of the top fighters in the world. He's learned his craft in the gym. He didn't have a good amateur background. I think physically and mentally he's too strong for Sechew Powell. I think knocking out Sechew Powell he will eventually get a big super fight because of the division he's in. All of these guys are trying to break records and want to move up. Sooner or later they're going to fight him. Then that he has a lot of respect from the organizations, Powell with the IBF, I think this is the key fight for him. I don't know if HBO is going to show his fight or not once again, but he will get a lot of attention if he knocks out Sechew Powell and I think that from there his career will change.
JENNA: Alright Emanuel, well I just have a couple of more questions before I let you off the line. Recently a program came out involving Wladimir Klitschko and David Haye. It was called "Ringside" and it just seemed visibly that David Haye has been gotten to mentally by Wladimir Klitschko. I'm curious what your perception of that is? I mean David Haye has been quite quiet during the presser tour for this entire fight.
STEWARD: Well I think the closer we get to reality, I mean the fight actually taking place, you're going to see him become even quieter. I think the reality is setting in. It's different when you're speaking about an opponent when you're by yourself and you're arrogant and you're confident. When Haye starts dealing with him up close face-to-face and he can feel the mental strength of Wladimir and the physical size of Wladimir I think the reality is setting in that in every area he is deficient. Wladimir is bigger. He's faster, which is the big surprise. Wladimir is much faster. We had "Fast" Eddie Chambers who I think is the best heavyweight coming up after Wladimir retires which will probably be in the next year or so. Eddie Chambers basically said that Wladimir beat him not so much just from the size but that he was actually too fast. I think the experience factor, possibly the hometown situation being it's going to be in Germany where Wladimir's fought most of his fights. There are too many things going against David. I cannot see him win in any way. They're looking at just punching power and speed. You can forgot the speed because Wladimir is faster as we will find out and Wladimir has naturally great punching power. But the one thing that Wladimir has not demonstrated in a lot of his fights has been the nasty side of him and you will see that with David Haye. This was the only fight that I know he was going in with that type of attitude since he fought Chris Byrd in the rematch fight because he was very upset with Chris Byrd's camp and family comments about him not having any heart and not having any stamina. In this fight here he is very agitated and I think I everybody will see a much more aggressive meaner Wladimir Klitschko and it's very difficult for me to see David Haye going more than four rounds.
JENNA: Alright Emanuel, I want to get your thoughts on an upcoming match that's going to take place on June 4 on HBO: Sebatian Zbik versus Julio Cesar Chavez Junior, "The Son of a Legend". What are your thoughts on Chavez as a fighter and his upcoming match?
STEWARD: I think Julio Cesar Chavez has developed into a good fighter. With Chavez Junior, for being a tall fighter which he is physically tall, has become more and more as I have watched his recent fights has become more of a duplicate of his father. He's fighting more. He's more of a body puncher now, which makes for an exciting fight but I don't know if it's best for him the way he's physically built. But I think the momentum is with him. His father was one of the greatest fighters ever and one of the greatest fighters that I've ever trained and the fact that Top Rank has moved him tremendously well. He's been busy and had the right fights. I would have to favor him, but he is not the talent of his father and I don't know if his concentration so much now being a body puncher is going to benefit him physically the way that he's built. So it's going to be interesting, but if he does win the fight with this big board and superstar fighters today he's going to definitely with that name—and he's a good looking kid whose very charismatic—he will be a big, big star.
JENNA: Now if Chavez Junior actually wins the fight against Zbik Bob Arum has brought up the possibility of Miguel Cotto facing off against him at a catch weight. Would you at all be interested in seeing Miguel Cotto versus Julio Cesar Chavez for the middleweight belt?
STEWARD: Yeah, Miguel would take the fight. It would be a great fight for him with a legendary Mexican and a legendary Puerto Rican and the name "Julio Cesar Chavez Junior" helps a little bit, too. I think it would be a good fight. Originally when they were speaking about the two matching each other about a year ago, I said, oh boy! It's going to be a pretty rough fight because of the tremendous height difference advantage for Julio Junior, but now that Julio has sat down as we say banging, he has actually become a really tough body puncher which means that he's fighting the same type of a style that Miguel fights.
In fact Miguel has always reminded me so much of Julio Cesar Chavez Senior when I was training him. I always would comment that training you reminds me a lot of when I was training Julio Cesar Chavez and now to see his son fighting Miguel and Chavez Junior is fighting more like his Daddy now, it means that if they do fight it's going to be an extremely exciting fight. I don't think there will be any clinches. There will be a lot of tremendous body punches and it's a fight that would sell and be very big and it might possibly even come close to one of the record-setting fights believe it or not. Even though Chavez Junior is not a big name so far, but just the name "Chavez" I think would make it be a super fight and a very exciting fight, too.
JENNA: Alright well Emanuel, it's been a pleasure as always getting your thoughts on this past weekend's boxing and also your views on a few upcoming fights. Thank you for your time. It was a pleasure for me and Geoff to get those views.
STEWARD: Well it's been my pleasure. I love sharing my ideas with the public on East Side Boxing.
CIANI: Thanks Emanuel.
STEWARD: Okay, thank you very much Geoffrey.
JENNA: Okay! That was Emanuel Steward once again doing a 'Sunday Night Conversation' with us. I want to thank him again for his time. It was a pleasure getting his commentary on this past week's fights. I would like to thank my Co-Host Geoff, great job as always. For all of the fans listening out there be sure to check out our normal edition of On The Ropes. It will be out later this week and thank you again for tuning in.
***
RIGHT CLICK and 'SAVE AS' TO DOWNLOAD EPISODE #126
***
To learn more about "On the Ropes Boxing Radio:
Visit our official Website:
http://www.ontheropesboxingradio.com
Subscribe to our show on i-tunes:
http://itunes.apple.com/us/podcast/on-the-ropes/id427474189
Join our Facebook Group:
http://www.facebook.com/group.php?gid=231954175413&ref=ts
Or Follow us on Twitter:
http://twitter.com/JennaOnTheRopes
To contact Geoffrey Ciani or Jenna J:
ontheropes@boxing247.com
To read more by Ciani or Jenna please visit The Mushroom Mag:
http://www.eatthemushroom.com/mag