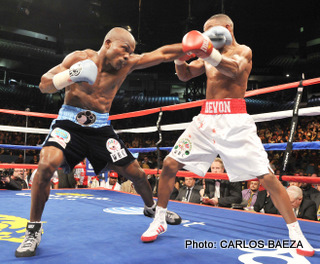 By Paul Stauss: Devon Alexander said, "I've never been head butted like that before. He's got a big head!". The butt Devon referred to occurred at the beginning of the tenth round.The clash was to the left side of both fighters' heads. Ironically, it was Bradley who came away with a lump and a cut. Bradley didn't squint or grimace at all. But, Alexander had already sustained a cut above his right eye from a butt that occurred earlier in the fight. Intially, it was somewhat confusing as to whether he sustained more damage to that eye.
In fact it was confusing to everyone, including the ringside physician, as to why Alexander was claiming he couldn't see? He kept squinting both eyes shut, and at the same time swearing and complaining that it hurt. The physican asked again, "If he could see?" and Alexander responded in the same way, which implied that he couldn't see and that he did not want to continue. As a result, the fight was stopped because of an accidental head butt, and the fight went to the score cards, which resulted in a unanimous technical decision for Bradley and both the WBC and WBO junior welter titles..
The fight was televised on HBO, and took place in the Silver Dome at Pontiac Michigan. Since both undefeated fighters were also title holders, they flipped a coin to see who would enter the ring first. Timothy Bradley, age 27, with a record of 26-0 (11 KO's) came in first against his younger opponent. Devon Alexander took his 21-0 (13 KO's) record, along with his two inch height advantage, into the ring second. Most of the experts felt Bradley might have a slight edge in the fight because of his experience and tha fact the he had fought better opposition. However, no one was ready to go out on a limb and say one fighter would dominate the other.
Ringside announcers Emanuel Steward and Larry Merchant both felt Alexander might use his great hand and foot speed to win the early rounds, but expected Bradley to come on strong. Manny thought speed might eventually win the fight, but like others didn't feel very confident one way or the other. To their surprise, Brandley dominated the action from the very beginning. He managed to keep Alexander moving to his left (Bradley's right), which made it more difficult for Alexander to land his left.
Early on Bradley went to Alexander's body with a straight right. He landed two or three in the first round. As the fight progressed he kept up that strategy, but also moved from the body to the head with short rights. Alexander sometimes came back with a counter left. But, just when it seemed like Alexander might be stepping things up, Bradley would come back with a good flurry.
Bradley's punches weren't particularly hard, but they were causing Alexander problems, and keeping him from getting into any kind of rthythm. A couple of times Alexander seemed to slip into a side to side rmovement that enabled him to gain a momentary advantage, but Bradley's own good footwork would cut Alexander's movement off, and the action would return to Bradley being the aggressor with Alexander the counter puncher.
The cut to Alexander's right eye occurred in the second round from an accidental head butt, which occurred right after Bradley landed a pretty good left hook to the same eye.. Referee Frank Garza called time and had the doctor check out the cut, which also gave Alexander an opportunity to shake things off a bit. In between rounds, Alexander's corner man screamed at the referee about heads butts, but the fact is both fighters were moving forward at the same time.
On occasion Bradley seemed to square up too much, and even went so far as to have his right foot ahead of his left. That wouldn't have been so bad if he had positioned himself more to Alexander's right, but he didn't. That left him vulnerable right in front of Alexander, but Alexander couldn't capitalize, due somewhat to Brandley's good head movement. Bradley's corner cautioned him not to get careless, to keep his hands up and to stay low. He was instructed to keep throwing the right hand to the body, and not the head. It was good advice.
After the fifth round, Harold Lederman had the fight scored 58-56 for Bradley. In the sixth round, Bradley temporarily exhibited a peek-a-boo style, which gave Alexander a chance to score. Thankfully for Bradley, he didn't keep up with that tactic. He went back to staying low and primarily firing shots to Alexander's body. He was out working Alexander.
The best exchanges occurred when Bradley would catch Alexander with a right or rights to the head, and Alexander would counter with a straight left. In the seventh round, there were two instances when head butts occurred. Bradley had a little lapse, but came on strong at the end of the round with a good combination. Brandley was continually taking more chances, more risks than Alexander, and Alexander wasn't making him pay enough to win rounds.
After the eighth round, Harold had the contest scored 87-84 for Bradley. Alexander managed to have flashes here and there, but every time he seemed to be turning the tide somewhat, Bradley would come right back and take charge. In the ninth, Bradley landed a nice short left uppercut, as he continued to stay low and minimize his target. Bradley was a bit wild though, neglecting to keep his right straight and aimed down to the body. Harold gave the ninth to Bradley as well, so his unofficial score was 97-93.
The tenth round action had barely begun when the two fighters' heads clashed again, as already mentioned, and Alexander's reluctance to fight on left the doctor and referee no choice but to call a halt to the action and go to the score cards. Judge Duane Ford scored the fight 97-93. Judge Tom Miller had it 96-95, and Judge Omar Mintun saw it 98-93, all three for Timothy Bradley.
In the post-fight interview, Alexander said he didn't want to make any excuses, but then went on to do just that when he claimed he lost the fight because because Bradley kept head butting him! He told Larry Merchant that Bradley couldn't deal with his power? Larry pointed out the obvious, which was the judges saw Bradley winning the fight, because he kept landing short right hands. There just wasn't any ifs ands or butts about it.