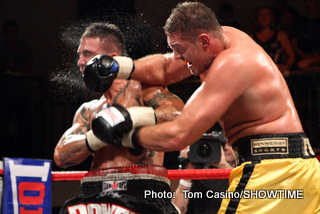 Montreal, Canada (December 21, 2010) Undefeated Irish/British heavyweight prospect Tyson Fury was very pleased with his performance against Zack Page this past Saturday night at the Pepsi Coliseum in Quebec City, Quebec.
Fury posted a shutout eight round unanimous decision over Page on the undercard to the Jean Pascal/Bernard Hopkins light heavyweight world title bout in front of a sold out crowd of over 16,000 fight fans.
Spending an extra day in Montreal with friends before heading home to Manchester, United Kingdom for the holidays, the 22 year old Fury spoke on his most recent win and his upcoming plans for the New Year.
"I was very pleased with my performance, Page was a little awkward but I kept the pressure on and got the job done. It was terrific fighting in Canada and I look forward to returning next year.."
With a record of 13-0-0 (9KO's), Fury is destined to face world class competition in the New Year, a move he relishes. 'Bring them on, anyone in the top twenty. I'm confident in my skills that I'm ready right now" said the towering 6'9" inch heavyweight. "I'll be back in the gym right after Christmas working with my new trainer Emanuel Steward."
Fury is scheduled to return to the ring on Saturday, February 5th at Wembley Arena in London as part of the featured undercard of the British Welterweight Title showdown between John O'Donnell and Craig Watson. Shortly thereafter, he is set to head back across the pond to fight in Canada early in the new year.
"I plan to conquer both sides of the Atlantic in 2011 and can't wait to get started."