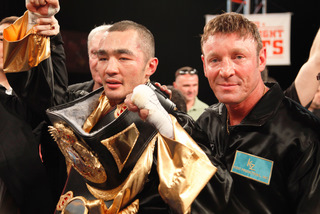 By Fantana: When you look into the eyes of Beibut Shumenov you can feel the intensity of a World Champion who is hungry to be known as the best of the best. You better know you are going be in a heap of trouble when you meet his icy gaze, that is unless of course you are not his scheduled opponent and you look like Bruce Willis (Please note – I am NOT Bruce Willis). With notable wins over Montel Griffin, Byron Mitchell and the then undefeated Uzelkov WBA Light Heavyweight Champion Beibut Shumenov is on a quest to unify the light heavyweight division. After capturing the WBA world title in his second attempt against Gabriel Compillo and successfully defending it back in July Shumenov is looking forward to his unification fight against the tough German Juergen Braehmer. "The Unification," presented by Goossen Tutor Promotions and KZ Event Productions, will feature WBA/IBA light heavyweight champion Beibut Shumenov (10-1, 6 KOs) versus WBO titleist Juergen Braehmer (36-2, 29 KOs) on January 8, 2011 at the Ice Mansion in Shymkent, Kazakhstan. Shumenov, a native of Shymkent, who now fights out of Las Vegas, owns and operates KZ Event Productions along with his brother, Chingis, and he is promoted by Goossen Tutor Promotions. Kazakhstan is a country everyone in Great Britain knows thanks to the 2006 hit 'Borat' starring Ali G. Boxing is Kazakhstan's biggest sport right now and Beibut is a national hero. He represented his home nation in the 2004 Olympics where he suffered a hand injury in his opening bout and turned professional in 2007. Beibut has quickly risen to the top in a division with an abundance of talent and big names such as Hopkins, Pascal, Chad Dawson and Britain's very own Nathan Cleverly. Taking time out of his busy schedule of old school training which consists of lots of road work and punching things I was excited, in a non-gay way, to be able to get an exclusive interview with the twenty seven year old world champion..
When you first fought for the world title in a close fight against Campillo you were not given the decision how did this mentally affect you? What was the decision to have the rematch staged in United States rather than in Khazakstan?
"It made me work even harder to become the WBA light heavyweight champion. I also brought on head trainer Kevin Barry who has been with me for my last two fights. I reside in Las Vegas where my promotional company, KZ Event Productions, Inc., is licensed. I have much respect for the Nevada Boxing Commission and I wanted to fight and win a World title in Las Vegas. Las Vegas is considered the boxing capital of the World and to win the title here was a dream come true for me."
You certainly didn't take the easy path as a pro and battled the experienced former world champion Montell Griffin in just your sixth pro fight, going into that particular bout did you have any concerns that perhaps you wouldn't have enough experience to defeat him?
"I never wanted to pad my record by fighting opponents who weren't a challenge. I've learned from each fight, especially against Griffin because he had been world champion and fought many of the best light heavyweights in the world."
You are known as a mysterious and private man of few words, what is it like for you when you meet your fans?
"I'm private but I'm becoming more comfortable meeting new fans in the US."
When are we likely to see you next fight, has anything been set in concrete about a unification bout?
"Recently an announcement was made about my next fight against the WBO Champion, Braehmer. My promoter, Goossen Tutor, and my company, KZ Event Productions, will be staging the event January 8 in Kazakhstan."
Who do you think will win between Bernard Hopkins and Pascal? Are these guys options for any of your future fights?
"Pascal is the champion with youth on his side; Hopkins is a future Hall of Famer with invaluable experience. I'm not in the predicting business but I feel that it'll be a great fight. I'm looking forward to unifying the division."
Can we get an insight into the training you do? Is it any different for you training in America than in your home country?
"I came to the U.S. for the training advantages it offers. I love training and Kevin keeps driving me."
Injuries have been setbacks for you throughout your career, how are doing now?
"I take good care of my body and I don't look back at the past."
If you could fight one other light heavyweight from the past who would it be and why?
"I'd want to fight the best, as always."
You speak five languages and run your own promotion companies, are a world champion and have some big fight opportunities ahead of you. What inspires you to better yourself?
"My goal is to Unify the Light Heavyweight Division and help my fighters become World Champions, too."
___
Well there you have it, folks. 2011 looks set to be the year of unification with possible bouts between Haye and a Klitschko, Khan vs another belt holder and Shumenov vs Braehmer kicking it all off in early January.
Merry Christmas.
Yours in manliness,
Fantana
About the author – For your chance to punch Fantana in the face add him on Playstation 3 (PSN ID Fantana) and challenge him to a brawl on Fight Night Round 4