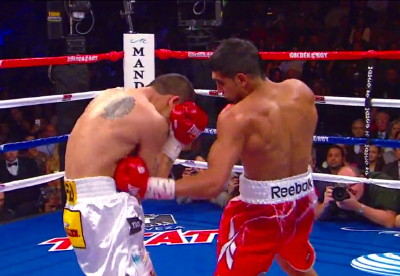 By James Slater – Fans were treated to a quite sensational fight last night in Las Vegas, as defending WBA 140-pound champion Amir Khan fought the fight of his life in out-pointing interim champ Marcos Maidana, who also fought the fight of his pro career.
In winning via scores of 114-111 twice and 113-112, 24-year-old Khan did way more than just retain his world title. No, in taking the best, the most brutal punches the 27-year-old Argentine could muster, Khan forever killed the notion that he has anything approaching a glass jaw.
Now 24-1(17) and seemingly light years improved from the lightweight "kid" who was stopped by Colombia's Breidis Prescott over two years ago, Khan could be on the verge of true greatness. Maidana, whose great effort last night makes referring to him as a loser seem harsh, can come again. Beaten for just the second time in his pro career (never stopped), Maidana is now 29-2(27)..
Last night's terrific, on-the-edge-of-your-seat battle was excellent entertainment in so many ways. First of all, the pace Khan set and managed to keep up was blistering, and then, with seemingly barely seconds gone, we had out first sensation. Khan ate a big right hand to the head – but he didn't wobble. Returning fire in a cracking opener, Khan then almost did the unthinkable – he came agonisingly close to taking out the teak-tough Maidana in the very 1st-round!
A wicked left hand to the body dropped Maidana, his face twisted with pain. Bravely he got up and made it to the bell, but had the punch landed a half-minute or so earlier, who knows, the fight might have been over. There was more drama to come, though, much more.
Khan looked good in the 2nd, while Maidana bossed the 3rd. A real war was now well and truly on and it must have been shocking to Maidana to see Khan taking his best shots, willing to fight inside with him, and even trade with him. Khan seemed to have a hell-bent desire to prove all the stories about his being "chinny" were false and so far he was doing it.
Maidana was deducted a point in the 5th for throwing an elbow (which actually caught ref Joe Cortez), but at this stage points totals were the least of it. There was no way this fight could go the distance, was there?
In the 10th-round of a fight that was thoroughly engrossing, Khan forever ended talk that he lacks a solid chin or toughness. Caught by a monstrous right hand to the head, Khan's legs splayed but he never went down. Then, for pretty much a full three minutes, the hardest 140-pound puncher in the sport battered Khan all over the ring. How on earth Khan, his face covered with blood, was able to remain conscious we will never know! Where on earth did Amir get the chin he displayed in his Las Vegas debut?!
A 10-8 round on my card, the 10th looked like it might be the end of Khan, but he managed to make it to the bell, as disorientated as he was. During the minute's rest, Cortez visited Khan's corner and told him he wouldn't allow him to take unnecessary punishment out there. And surely, what Khan was doing in there, the way he was fighting, was NOT what Freddie Roach wanted. Khan was out-toughing the lethal hitter. Khan was fighting with Maidana, not boxing him.
The final two rounds saw Khan get back to his boxing, jab and move style as best he could, and to his credit he was able to deal with whatever strength Miadna had left in his shots. Right up until the final bell, it was impossible to relax, and for Khan fans everywhere the fight was a genuine ordeal.
In the end, "King" Khan more than lived up to his nickname and at the bell he raised both arms. Maidana seemed to know he had lost, though the fight had been a close, punishing affair.
Post-fight, Khan said he proved he can take a punch and that all those who watched the fight would have to agree with him on that score. Khan adopted extremely dangerous, gung-ho tactics tonight, but his macho attitude surely earned him many more additional fans. How can anyone not have liked what they saw last night? Both men were terrific and gave their all.
Where Khan goes from here, and how great he can become will prove extremely interesting. Could we even see a return of last night's classic?