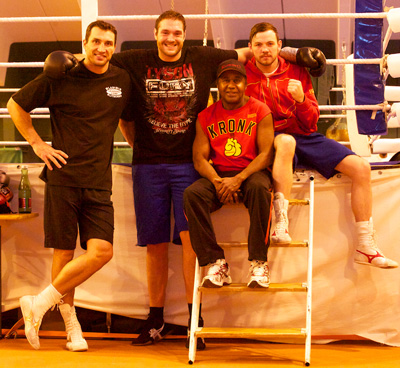 by Geoffrey Ciani – Last week's 102nd edition of On the Ropes Boxing Radio featured an exclusive interview with Hall of Fame trainer Emanuel Steward who is currently preparing IBF/WBO heavyweight champion Wladimir Klitschko (55-3, 49 KOs) for a title defense against Dereck Chisora (14-0, 9 KOs) this Saturday, December 11 in Germany. Steward talked about this fight, and also shared his thoughts on many current events in boxing, including Marquez-Katsidis, Sergio Martinez, Manny Pacquiao, Oscar De La Hoya, David Haye, the possibility of Andy Lee facing Sergio Martinez, and much more. Here is what he had to say:
His views on Juan Manuel Marquez's recent ninth round stoppage of Michael Katsidis:
"It lived up to my expectations. It was a very, very fantastic fight. The knockdown scored by Katsidis earlier in the fight was a slight surprise, but not really. I say 'slight' because he's not really a puncher. He's a real pressure fighter who wears people down through an accumulation of punches, but it was a perfect left hook at the right moment at the right time and down went Marquez. But like the great fighter that Marquez is he got off the floor, which he did quite a few times, and he came back and fought a brilliant fight. It was a fight that was as exciting as I expected. We were at HBO talking amongst ourselves that we were so fortunate to have two really brilliant fights to finish up the year and we still have the Amir Khan fight coming. It's going to be hard to top those last two fights. The Paul Williams fight with Sergio Martinez—we thought it was going to be a candidate for fight of the year but it turned out to be a candidate for knockout of the year. I would say probably in my life of watching boxing matches that would be in the top five most dramatic knockouts in the history of boxing. When Sergio Martinez knocked out Paul Williams with that one punch it was just phenomenal."
On whether he is surprised that Juan Manuel Marquez continues fighting at such a high level despite being 37 years old:
"I am just totally amazed and shocked when you look at the fact that it's the little small guys who usually start declining because speed, coordination, and timing is so important for smaller division fighters. For him to be fighting on this level, maybe better than ever, and I remember when was involved with training Prince Naseem Hamed about ten years ago, he was the one fighter that I told Naz that I didn't want to fight. I mean he was that good already and he was nowhere like he is now. So he has been fighting at top form a long time and in this last fight I was just totally amazed how he was able to get out of trouble, blocking, picking punches off, and counter-punching with effective punches from a young aggressive guy who was crowding him. As soon as he got a little daylight he put it all together. This was a tremendous performance. I would say I have to rate him as one of the all around fundamentally good boxers in the history of the sport, maybe up there with the best that can do everything, and he has tremendous punching power. I know we've had his teammate Ricardo Lopez was considered a great, but nobody was in kind of trenches that he's been in and still had so much punching power in addition to ring intelligence.
I'm looking at the fights with Pacquiao, and if it hadn't been that he knocked down three times in that first round I think because he wasn't prepared for that fast onslaught of Manny. Manny particularly had such good foot work. He comes at you from all angles, but once he figured that out and avoided the straight left for Manny, really for the rest of that fight he won most of the rounds. He still ended up with a draw because of the scoring system, and I think in the second fight there was a knockdown in an exchange that cost him that fight. But for total rounds and overall generalship in the fights with Pacquiao, I think he won more rounds still, but the knockdowns cost him to lose the edge and from winning the fights. I was definitely looking for some decline after the tough fight with the punches he took from a much bigger talented guy like Mayweather. I expected him to slow down a little bit. Then the tough fight, and all of his fights have been tough, but Juan Diaz that was still a tough fight, and then going back with all of the tough fights that he's had with Barrera and everyone.
I thought he would be slipping, but that's not the case and to me I think a fight between him and Manny Pacquiao at about 140, because I don't think Manny is really much more than a 140 pounder. That's why he has to eat all of those meals and eat the day of the fight to come in about 142 or 144 or whatever he comes in at. That's why Freddie has been so careful, which is smart to make all of these title fights at different weight divisions always where he doesn't have to weigh into the full limit and the opponent can't weigh into the full limit of whatever the division is. So it's a smart move, and they're letting him get away with it because deep down he's about a good 138 or 140 pounder. I know Marquez, before his last fight when we were interviewing him he was saying that he was down to 133 or 132 two weeks before the fight so he has to eat to get up to 135 himself. So I think a fight between Pacuiao and Marquez at 140, which I think they both could make easily, would be a phenomenal fight. It would once again be a dramatic fight regardless of who wins the fight. Manny will always be a problem because he moves and punches from so many different angles and he has good punching power with both hands, and Marquez will always be a problem for Manny because Manny gets off-balance. He does this sometimes when he's overexcited. Marquez is going to be ready to take advantage of every mistake that he makes. The third fight with them would probably be a classic somewhere along the lines of the third fight with Ali and Joe Frazier."
On whether he believes middleweight champion Sergio Martinez is too big for Manny Pacquiao at this point:
"I don't think that the people who really make the decisions or select the opponents for Manny Pacquiao are going to seriously entertain that. First of all, Manny is not even a junior middleweight. I mean he fought for a junior middleweight title without having fought a junior middleweight. Margarito was knocked out at welterweight and had never beaten a quality junior middleweight himself, and they both fought for the junior middleweight title. That was one of those well selected situations. It worked. A lot of money was made. It was a great performance by Manny, but I don't think the people who are making the decisions and picking his opponents, and he's got the best in the world with Bruce Trampler really. So I think between Bruce Trampler and Bob Arum and Freddie Roach, I don't think they're going to seriously entertain the idea of fighting a full-fledged junior middleweight or middleweight. Sergio to me is really a middleweight now. He made the stipulated weight for this last fight, but I think Sergio just physically is too big. There is just so far you can keep going. I mean what next? Are we going to try and get Wladimir Klitschko? I think he's reached a plateau in winning the junior middleweight title and from this point on I'm pretty sure they're going to go back down and fight smaller guys."
On whether he would be interested in having a fight between Andy Lee and Sergio Martinez:
"We're very, very interested in the fight and his name came up a few times at the meetings we had with Sergio when we were talking to him and his promoter Lou DiBella. So it is a very good possibility simply because of the fact the middleweight division is void of any name recognition. By Andy taking those two fights in a row, he was very fortunate. He kept his name out there when he took two fights in two weeks time, and he's fighting again on the December 11 under card with Wladimir Klitschko which means he will probably have about five fights this year, which is more than mostly all of the other middleweights. So he's kept his name out there. When you look at a list of recognizable names in the middleweight division with Danny Jacobs having been beaten, I really don't see too much out there. So there is a good chance that he may get the fight. We were offered a fight with Pirog and Andy said he'd rather wait. He wanted to fight the Martinez-Williams winner eventually because he felt they were the best two middleweights in the world so that's what he had set his sights on.
I thought that Martinez was just sensational with the one punch knockout. It was something I was definitely not prepared for. None of us saw that. We thought it was going to be one of those going down the wire type fights like before because of the styles. But Paul was coming in with his head just a little bit higher and Martinez threw a shot and had his head shifted just perfectly. It was maybe something that he worked on in training, but it worked perfectly. It was a phenomenal knockout. In the first fight I gave the first round, even though some may call it a draw, I gave the first round in the first fight to Martinez because I thought he had Williams hurt much worse than he was when he went down. With the second fight right here, when they were starting off, it could have went either way really the first round. One guy was really more aggressive and Martinez was landing the clean effective shots. So going down the stretch, you could never tell which way it was going to go.
When you end up with a knockout like that and then you come back with a sensational finish type knockout the following week the way Marquez won his. It's just really good for boxing. It's bringing boxing back to where I think it should be. All of these decisions, and decisions, and decisions, it's nice but somebody needs to knock somebody out. I think that's what's good in what's happened in these last few fights and it makes the future of 2011 look very promising to me in terms of some of the fights that I'm seeing that are on the board, and hopefully some conclusion and closure to this Super Six tournament which is taking way, way too long."
His views on how Wladimir Klitschko looked and performed during training camp:
"Wladimir is looking good. You know the frustrating thing about this fight is the more we have studied the opponent, and there is so much ridicule being put on the opponent. We feel it's totally just the opposite. He is the type of guy that I told Wladimir, and we both agreed, could be his most difficult opponent. No one is going to beat Wladimir by outboxing him. We know that. This guy is a guy that's got a lot of range, and a lot more intensity and aggressiveness then we have really seem since I've been with him. The guys like Hasim Rahman, Brewster, Sam Peter, Calvin Brock, all of these type guys that have been slower or passive-type guys. No one had the intensity and the aggressiveness that this guy has. We looked at him very closely. Forget about the fourteen fights. There is a lot of fire and determination in him. So Wladimir is going to have to be on his best P's and Q's for this fight because he's going to be pressured and he's going to be challenged consistently, and not at a slow pace, either. So it's a fight where everyone is saying it's a mismatch, and it's funny because this is one we're more anxious about than any other fight other than the Eddie Chambers fight, which we always knew he had to be on his P's and Q's because of Eddie's great speed and coordination. So we spent a lot of time boxing with Domonique Dolton who is a very gifted junior middleweight to finish up when we were getting ready for that. We expect this to be a tough fight."
His views on David Haye's victory over Audley Harrison and whether the final result at all surprised him:
"I didn't even see the fight. I was at ringside getting ready to do my broadcast on the Pacquiao fight and right behind me Dan Rafael said, 'The fight with Harrison just ended in the third round'. I was getting ready to leave to go back and see it, and Dan said, 'No, you didn't miss anything. Just go ahead and set up for your show'. I didn't think it was going to be anything because I just think that I knew the relationship between the two fighters and all of that. To me it looked like a fabricated show. I still haven't seen it. I don't want to see it, but I think after that performance it put David Haye in a situation where he lost totally support of all the British people who were justifying all of the things he was doing. Now he doesn't even have the British support, so his next fight will be undoubtedly with a Klitschko. It's not that he wants to, but he has no choice. It has to be with a Klitschko, Vital or Wladimir, and we cannot have any more of these neighborhood fights. I wouldn't even call it British. I think it's just a certain neighborhood, but it's over with now. He has to fight a real tough challenge."
On whether he believes David Haye would be more inclined to fight Wladimir Klitschko or Vitali Klitschko:
"Well you know Vitali is the one while we're in training that is openly challenging him and calling him out. I was told he said he'd rather fight Wladimir, which is kind of strange with Wladimir being the faster and the more dangerous puncher. Maybe he thinks Wladimir is more vulnerable either heart-wise, or chin-wise, or whatever, but the point is he's going to have to fight one of them. I know that Wladimir, I think after this fight here if he wins and can beat him convincingly and impressively, is going to be up in the running at least and I don't think we have a stressful mandatory that I know of. I know that Vitali has supposedly a mandatory against the winner of Austin and Solis so that would probably take place in March, but if he gets a unification fight I'm quite sure that the WBC organization would permit him to just bypass the mandatory. So it's wide open for a fight I think between either one of the brothers with Haye, and I think it will happen sometime in 2011."
On whether Bernard Hopkins at his age beating Jean Pascal would be 'bad' for boxing:
"You know, you hate to say something is 'bad' when a guy is trying to get a victory at his age. I would say I don't know if it's 'good' or 'bad'. I don't like to use those phrases. The biggest overall problem I'm having is there are not many young fighters still coming up that are holding up. It's hard for any of these young fighters to win three fights in a row. They win like one fight or so, Ortiz, Danny Jacobs, and all of these other kids, and they get through one or two fights, but it's hard to get three big fights that are impressive. So we're going back to dealing with marquee names. I mean right now, look at what we're talking about with Pacquiao. We're throwing out names that are in natural weight almost like twenty-something pounds different, Pacquiao and Martinez. All of these crazy situations here we're looking at. Even Pacquiao could be with him and Paul Williams even. He's 6'3". That's what Paul is. He's not 6'1" or 6'2". They're looking at marquee names, whether you go back to Cotto, or whoever, or Shane Mosley. All of these guys, you look at them, they're all in their 30s now, but we have not successfully developed young new fighters.
There are a lot of them coming up and the problem is they don't have anybody really teaching them and making sure their training programs were good. Like years back, if you had a fighter who was fighting for Main Events, you knew they had a solid training program. They had I think Ronnie Shields, and Georgie Benton, and Roger Bloodworth, and Lou Duva, and all of those guys. Once they made the contract the guys were in a good training camp so when they fought you knew they were going to be ready. If you had a kid from Gorman stable, they had a great program down there, Dave Gorman had with Robin Blake, and Donald Curry and all of his fighters. The fighters that we had in Kronk, I may go make a deal but we had a solid training program back in Detroit for all of the Kronk fighters going on with my coaches and us, but see now with fighters you got promoters, and they got agents, and advisors, and nutritionists that show them how to mix up their drinks and stuff and what vitamins to take. Another guy will be showing them how to lift weights and how to jump over a chair with one leg and jump back over the chair. Then they got a PR guy that keeps their names blasted all over the internet for them, and they got everybody, even people designing outfits for them. They got everything, but they don't have boxing training and that's the biggest problem.
So these guys are making fights and they have no idea what kind of condition or training program the fighter is in back at home. Carl Williams is the perfect example. Multi-millions of dollars were given to him, send him back home and instead of developing and training him, Lou DiBella made all of the best fights but never really knew what kind of condition his guys were going to show up in, this and that. That's what hurt. They don't have solid training programs any more. We got everything else, but the boxing part is missing. We're going to have to have some young fighters hold up, win two or three fights solid, and I think the fans will get behind them. We have to have kids showing some knockout power, too. We have everybody with these really fast hands and bip-bip-bip-bip-bip, and they pick on their little pad work and pop-pop-pop-pop where their punches never penetrate. They never follow through. It looks good but it doesn't score knockouts and it doesn't create excitement.
We need fresh blood in boxing. Right now I'm looking at excitement going to all these other sports. All we need is one or two good fights that the public wants to see be made. I think Haye with either Klitschko is going to be very exciting and would be a big lift for boxing. I would really also like to see Pacquiao and Mayweather, but if that doesn't happen hopefully the public will get behind some other good competitive fight. The closest I would say, and maybe it's not the one that Pacquiao would want because maybe he does not have that big super name, is still Marquez. It's still the best fight that can be made I think for Pacquiao that will really bring the best out of him. A challenge, same weight, styles match up, it would be a phenomenal dramatic third fight. I don't if that will happen, but we need to make some of these fights that the public wants to see instead of just the fights that promoters and the networks want to put together."
His views on Andre Ward as a fighter and whether he has the potential to become a future super star:
"Well I know the network is trying to build him and everything, and I've known Andre since he was ten years old. He's always been a winner, but never was that devastating type consistently. But he knows how to win fights, and that's the one thing that's very good. He wins fight. There's still something that's missing and it hasn't been there, the real explosive knockouts or this or that, or the super charismatic style or something. He is a good solid fighter who adapts very well to do whatever he has to do style-wise to win his fights. I think he's great, but there's still something missing. I say first off, that one guy in that super middleweight tournament that might be a problem for all of them still is Glen Johnson. If Ward wins the tournament, I would love to see him and Lucian Bute and that would bring a tremendous amount of excitement back to the super middleweight division. Andre is a good winning fighter, but he still hasn't to me hit that right button really to propel him to super stardom. It may happen in this next year, but the style fought, I can't fault him. He did what he had to do to win. All of the fighters he's fought, he's adjusted tremendously to win his fights and that's what I give him credit for, but he hasn't still had that big punch or whatever yet. It may be coming up this next year."
His views on the 140 pound division (with Amir Khan vs. Marcos Maidana and Timothy Bradley vs. Devon Alexander coming up) and whether he thinks the best of this bunch is a potential future opponent for Pacquiao:
"Well in answer to your question, I would say yes to the last part of your question. Whoever wins that will be a big star. I think it's a very talent-laden division. With Maidana and Khan, I have to give the edge to Khan. I think Khan has the solid background from his amateur days. I think he was hampered a lot trying to make 135 earlier in his career. I think fighting at 140 and being here in the States where he's getting really good quality boxing at the gym in California with Freddie, and his height and size are going to be a little too much for Maidana. I think we're putting too much on Maidana on the fight with Ortiz. I know he's a puncher, but I just physically think he's at a disadvantage myself so it's going to be a tough fight for him. I think that Khan's chin may be okay not that he's fighting at a weight where he's stronger and healthier. His size I think, and his basic fundamental background is going to be a little too much, I think, maybe for Maidana. We'll see. The Bradley and Devon Alexander fight, that's two very skillful talented kids with fast hands and good coordination. That's going to be a very good fight. I think the winners of those two fights matched together will bring us a star at 140 and make a challenge to Manny Pacquiao. But Manny is saying he may only fight one or two more fights and he'll be quitting. Also the fact that him and Amir Khan, who has a good chance of winning this little serious, would possibly be matched up and I don't think that will happen, especially since they have sparred so much together and just based on those I don't think they will fight each other. It would be tremendous. With or without Pacquiao, whoever wins that is going to be maybe our next star, young star."
On where he thinks boxing will be when current stars like Manny Pacquiao and Floyd Mayweather Junior are retired:
"I think in the next twenty-four months it's run its course for the most part. The one fighter who would not be surprising to me to see come back, and I know he hasn't retired, is Oscar De La Hoya himself. It still would not surprise me to see Oscar come back. He's got his Golden Boy stable and all, but he's still the biggest attraction himself. The way I've been seeing him at the fights he looks fit, slim, and everything. It would not surprise me to have Oscar come back for a fight. I think in about twenty-four months all of these marquee names are going to have faded out pretty much. So we are going to be in dire need of developing a star or two, and I think the 140 pound division is good. Fights with Lucian Bute and Andre Ward and those types of fights are going to be I think very good, and who knows. Something unusual might come up in the heavyweight division, but I think the Haye and Klitschko fight is going to be very good for the heavyweight division. Unfortunately, there is not too much coming up though."
His views on the possibility of Oscar De La Hoya and Ricky Hatton coming back to face one another:
"Well I don't see a problem with those two fighting each other because both of them had it pretty rough the last time they were in the ring and it's kind of an evenly matched fight like Ali and Joe Frazier were when they fought their third fight together. So that would be a good fight, but after that whoever wins would just say hey that's it. Strangely enough that would be a good fight for boxing, though, and I think it would be a pretty good match-up, too."
His views on Tomasz Adamek's upcoming fight against Vinny Maddalone and whether he views Adamek as a potential future opponent for a Klitschko brother:
"I definitely can see a fight between Adamek and the Klitschkos. I think he'll beat Maddalone. There's been some rumors that he may fight a Roy Jones or whatever, which could be a risky fight for him, because Roy's got some little moves still. Adamek is the closest, and not just the best prospect but he's proven himself. He did a much better job of proving himself to me than Haye. Haye has done a fantastic job of talking himself into big fights but not really fighting himself into them. Nevertheless, I think after Haye the biggest and the best is still Adamek. He is a little small fellow who I have to take my hat off. I have a lot of respect for him. He wasn't boxing like this before. He was just a little tough guy with a lot of heart. He picked up a lot of little boxing skills with Roger Bloodworth. He's boxing and moving in and out. The Arreola fight just totally overwhelmed me. It made a big fan of me a big fan of his when I saw him beat Arreola under those conditions, going to California, giving up all of the weight, fighting where out there where he's never fought at and all of that. From that point on he's become a big star. I know that the Klitschkos are speaking to his promoter, Kathy Duva, and there is talk in the works related to that fight, though."
His views on the type of challenge and risk Chisora poses to Wladimir Klitschko:
"The thing when you have a good technical boxer, a guy with a strong-minded personality and over-aggressiveness and intensity. That's the problem. That's why Joe Frazier was always a problem to Ali. Ali had all these great boxing advantages and physical attributes, but Joe Frazier had that mindset that was just a determined hard-nosed type guy that gave Ali problems. No one is going to beat Klitschko with just being a puncher and nobody is going to beat him by just outboxing him, but it's the guy that has just that hard-nosed young guy aggressive attitude that has no respect, a little bit on the crazy side if you want to call it. That's the type of guy that I always worry about fighting with technical boxers, because they can control boxers or older fighters, but guys like him are always going to be problems for guys like Wladimir.
Tommy Hearns was one of my best boxers, but what people don't realize about Tommy Hearns—you can put Tommy Hearns in the ring with any boxer whether it was Benitez, Leonard, Virgil Hill, James Shuler, all of those type guys, or even a Roy Jones if they would have fought. Tommy would have no trouble with them. He would work them to death because he was a master with boxers, believe it or not. But him in with wild crazy guys who are all unorthodox and just kept coming, like fighting with Iran Barkley after the first fight. The second fight I wasn't even with him because I didn't even want that fight. Those guys with no skills, but those are the guys who always troubled him. That's why when Hagler fought him, Marvin was very smart. Marvin came out, but his chin in his chest where he can support his chin the best he could, was willing to take the blows, and he just made it an all-out wild alley fight because that's what got Tommy unorganized. Afterwards when Marvin and I were together at the Hall of Fame, he was saying, 'I knew I couldn't outbox that little Tommy Hearns and I knew I couldn't punch as good as Tommy Hearns, so I had to just make a gamble to make it an all-out physical fight to get him all off track and be willing to take a few shots'. In the first round, he said, 'I just about went out the first round'. But Marvin did what he had to do and came in and just made it a physical fight and broke Tommy down and knocked him out.
Sometimes those type fighters are problems for good boxers, not guys who try to box them or just try to move in and punch, but guys who just come out and fight in half crazy styles. Chisora is not that bad a fighter. He boxes left-handed, right-handed, has pretty good boxing skills, but tremendous mental stamina and strength and that's what we are concerned about. It should be a very interesting fight. I will put it that way. We have a lot of anxiety in our camp for the fight, more than we've had in most of them especially when we hear guys are 8:1. That's what Jason Litszau was going in at least week. I spoke to him after the fight. We had dinner together. He was saying it's funny how some of these fighters start reading and listening to those odds and they believe in them. If a person is determined, you have to always have a little respect for them, especially if they're young fighters. A determined person is a dangerous person, and we have that in this fight even though Chisora does not have a big reputation."
On how he expects the fight between Wladimir Klitschko and Derek Chisora to play out:
"Well I'm hoping that Wladimir can control him with a solid jab, keep him outside, and start landing punches a little differently than normally, because this guy is going to be bobbing and weaving Joe Frazier type. We're going to have to start shooting punches from underneath, hard left uppercuts and hard right hands from underneath a little bit like Foreman had to do with Joe Frazier. He is going to have to be a little more physical and a little more assertive in this fight. If things go like I would like, in six or seven rounds he will have tired the guy out and worn him out and mentally broken him down, which is one of the most important things we train for with Wladimir. In the meantime, this guy is a very determined guy. We're going to have to be careful and keep good balance at all times. We can never get off balance with this guy. I would, in a perfect world for me, say a knockout somewhere about midway through the fight for Wladimir."
***
For those interested in listening to the Emanuel Steward interview in its entirety, it begins approximately one hour and five minutes into the program.
***
To learn more about "On the Ropes Boxing Radio:
Visit our official Website:
http://www.ontheropesboxingradio.com
Join our Facebook Group:
http://www.facebook.com/group.php?gid=231954175413&ref=ts
Or Follow us on Twitter:
http://twitter.com/JennaOnTheRopes
To contact Geoffrey Ciani or Jenna J:
ontheropes@boxing247.com
To read more by Ciani or Jenna please visit The Mushroom Mag:
http://www.eatthemushroom.com/mag