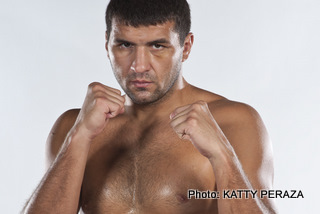 by Pavel Yakovlev – (November 29, 2010) Next week, Timur Ibragimov meets Jean Marc Mormeck in an important bout between WBA world-rated contenders. Ibragimov, the NABA beltholder, is rated seventh, while Mormeck, a former WBA and WBC world cruiserweight champion, is ranked 12th. Given that top contenders rarely tempt fate by facing each other, the winner of this match will deserve to fight for a world championship belt. In fact, it is entirely possible that the victor of Ibragimov-Mormeck will be the mandatory challenger for the winner of the upcoming bout between WBA world champion David Haye and Ruslan Chagaev.
Intriguing also is that the winner of the Ibragimov-Mormeck showdown will be eligible to challenge IBF world champion Vladimir Klitschko. Mormeck is rated tenth by the IBF, and there has been talk of Mormeck facing Klitschko in Paris sometime in 2011. Should Ibragimov win next week, he could replace Mormeck in the IBF ratings, opening the door for an IBF championship bout.
Ibragimov's current high standing in boxing – and the benefits he will accrue if he defeats Mormeck – represent a dramatic turn-around of his career, which looked stalled a year ago.. At the time, the 35-year-old Uzbekistani had no manager, no promoter, and fought only in infrequent bouts against obscure opponents. Such had been Ibragimov's career situation since 2007, when he parted with his manager Boris Grinsberg and fell from the world ratings due to inactivity. Indeed, for several years Ibragimov was so seldomly seen that many fans assumed he had retired from boxing.
The sudden upward turn in Ibragimov's career started in June of this year, when he signed a promotional contract with The Heavyweight Factory, a Florida firm headed by Kris Lawrence and Henry Rivalta. That same month, Ibragimov scored his biggest professional win to date, decisively outpointing former heavyweight champion Oliver McCall to win the NABA title belt and a top-15 rating by the WBA. Now, Ibragimov is one of the world's most active heavyweight contenders, fighting every two months and riding a nine bout winning streak.
Ironically, Ibragimov enters the Mormeck bout not as the star fighter, but as the opponent. The match will take place in Mormeck's home arena, at Halle Carpentier, in Paris XIII (a district south of Paris) and be broadcast live by the Orange Sport France television network. As France's preeminent boxer, Mormeck is lavished with attention by the French media, which closely covers his quest to fight for one of the world championship belts held by Haye and the Klitschko brothers. The 38-year-old Mormeck is on the comeback trail after a two-year hiatus from boxing that began in 2007, when he lost his world cruiserweight titles. During his time away from the ring, Mormeck added nearly 20 lbs of muscle to his 5'11 ½" frame, and decided to campaign as a heavyweight. Since resuming his career, Mormeck has won two fights, decisions against Vinnie Maddalone and Fres Oquendo. The Oquendo victory, although controversial (the vast majority of observers believe Oquendo easily won the fight), was especially important because it established Mormeck in the WBA and IBF top-15 world ratings. Boasting a career record of 35-4 (22 KO's), Mormeck is popular with French fans because of his aggressive, crowd pleasing fighting style. Thus, it is easy to understand that promoters and television executives are eager to cash in on Mormeck's appeal by bringing Vladimir Klitschko to Paris for a big money championship fight.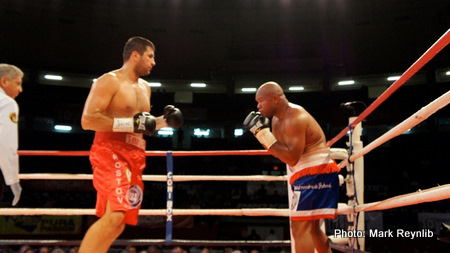 Originally, Mormeck's opponent for next week's bout was Hasim Rahman, the former world heavyweight champion who is still a marquee name in boxing. Rahman, renown for his 2001 knockout over Lennox Lewis, was heralded by the French media as Mormeck's "high prestige" opponent, a fighter who, supposedly, would serve as the final stepping stone in the Frenchman's quest to fight Klitschko. But several weeks ago Rahman withdrew from the fight, citing dissatisfaction with the purse offered to him by the fight's promoters. Immediately, Ibragimov demanded the chance to replace Rahman, and was accepted as Mormeck's new opponent.
Clearly, Mormeck is playing the staring role in a media-hyped French boxing storyline, with his opponents functioning as supporting cast members. Orange Sport France is broadcasting Mormeck's fights as if they are successive chapters in a drama designed to culminate in a Klitschko-Mormeck fight in Paris XIII. Noteworthy is that the highly dubious nature of Mormeck's win over Oquendo is rarely mentioned in the French media. To report such facts would only ruin the storyline, and tarnish Mormeck's growing luster as France's version of a "Cinderella Man."
And where does Ibragimov fit into the unfolding drama of Mormeck's comeback? In French media reports, he is defined as "L'Ousbek," the boxer who "replaced the more prestigious Hasim Rahman." According to one French article, "after facing Ibragimov," Mormeck will have his "choice of fighting either Klitschko brother or David Haye" for the world heavyweight championship.
"L'OUSBEK"
Unsurprisingly, Ibragimov has his own ideas about the upcoming fight with Mormeck. A 1996 Olympian and former Soviet Union national amateur champ, Ibragimov has run-up an impressive professional record of 30-2-1 (16 KO's). Based in the Miami, Florida area since 2001, Ibragimov has sparred with many of the world's best heavyweights, including Mike Tyson, Sultan Ibragimov, David Haye, Tony Thompson, and Fres Oquendo. In a telephone interview with this writer, Ibragimov expressed supreme confidence in his ability to beat Mormeck. He practically shouted as he explained, "They offer me the Mormeck fight, and I tell them yes! I say I take that fight!"
Ibragimov has good reason for feeling self-assured. At 6' 3 ½ ", 225 lbs and possessing a 77" reach, he is a rangy and skilled technical boxer with a fine jab and quick feet. Ibragimov's durability is proven beyond doubt. Deceptively strong, Ibragimov can rough it up inside when necessary, and has the capacity to lock almost anyone in an ironclad clinch. Although not known as a heavy puncher, Ibragimov can pack serious power in his right hand when he plants his feet. In fact, he is rumored to have kayoed Shannon Briggs in a sparring session using 18 oz gloves and headgear. Ibragimov also has a history of fighting well on the road; recently, he decisively beat Luis Pineda in the latter's hometown of Panama City, in a fight officiated by local judges and staged by Pineda's own promoter. In 2007, Ibragimov whipped hometown favorite Timo Hoffmann in Germany, fighting under adverse conditions on a card staged by his opponent's promoter, Sauerland Events. Noteworthy is that Ibragimov entered the Hoffmann fight as an underdog; boxing expert Graham Houston, for one, picked Hoffman to win by knockout. Instead, Hoffmann took a beating and was lucky not to have been knocked out.
Needless to say, Ibragimov is unperturbed about fighting Mormeck in Paris XIII on a card promoted by Mormeck's own J3M Management. He explained, "I'm just doing my job. I'm a professional. I don't care whose town I fight in. If everyone in the arena is backing Mormeck, I am not worried. The crowd is the last thing that bothers me when I am in the ring."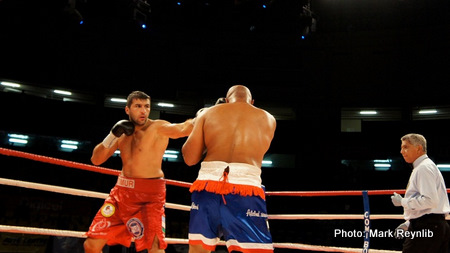 PRE-FIGHT ANALYSIS
Indeed, against Ibragimov, Mormeck may have bitten off more than he can chew.
Four inches taller than Mormeck, ten lbs heavier and enjoying a longer reach, Ibragimov will be the bigger man in the ring; he is certain to make optimal use of his physical advantages both at long-range boxing and during close-quarters combat. Should Mormeck attempt to dominate the bout with his characteristic swarming attack, forcing his way inside and beating down his opponent with a blizzard of hooks and uppercuts, he will be effectively tied-up and pushed away by Ibragimov. The Uzbekistani demonstrated impressive clinching and grappling ability against McCall, who is far stronger and much more powerful than Mormeck. It is possible that Ibragimov could even beat Mormeck at the latter's own game of infighting. Sometimes against McCall, Ibragimov stood flat-footed and traded punches inside, scoring often and effectively with hooks to the body. Thus, he could be just as successful at outslugging Mormeck. If Mormeck changes styles and uses the hit-and-run tactics he surprisingly showed against Maddalone, it will not help much against Ibragimov.
In a long-distance boxing match, Ibragimov will have an advantage. Fighting on the outside, it is doubtful that Mormeck can cope with Ibragimov's superior left jab and quick, shifty, lateral foot movement.
The most telling clues about the likely outcome of this fight, however, concern the different ways that Ibragimov and Mormeck perform in the late rounds of their bouts. Because Mormeck relies heavily on his ability to outwork his opponents (i.e., setting a high pace, throwing large volumes of punches, etc.), he expends energy inefficiently. Thus, Mormeck is vulnerable to fatigue in the late stages of his fights. Against Maddalone, Mormeck sometimes exhausted himself while attacking, and during those moments, would suddenly pull back to regain his breath. In these instances Mormeck tended to drop his arms and leave his head wide open. In the final rounds of the Oquendo fight, Mormeck was fatigued and sometimes hurt. If Oquendo had been more aggressive, he probably could have kayoed Mormeck in the ninth or tenth rounds. Possibly Oquendo held back because he was convinced he had the fight won on the scorecards. Had the Oquendo fight been scheduled for 12 rounds instead of ten, Mormeck probably would not have survived to hear the final bell.
By contrast, Ibragimov has a career-long history of finishing strong in the later rounds of his fights. In his only two career losses (against top contenders Calvin Brock and Tony Thompson), Ibragimov seemed to turn the tables on his opponents in the final rounds. Against McCall, Ibragimov withstood a punishing mid-rounds assault and then dominated the fight from the ninth round onward, at one point even wobbling the rock-chinned McCall with a series of rights. Ibragimov showed similar capacity to turn up the heat late in his bout with Gurcharan Singh. For the first seven rounds, the tough Singh held his own with Ibragimov. In the eighth, however, Ibragimov unleashed a brutal body assault that broke Singh's resistance, then dished out a one-sided beating in the ninth and tenth to win by knockout. The Pineda fight followed a similar script: Pineda came on strong in the early rounds, but was relentlessly pounded by Ibragimov in the eighth, ninth, and tenth rounds. Although Pineda finished the fight on his feet, Ibragimov had him hurt and reeling like a drunken sailor in the final round.
Taken as a whole, stylistic, physical, and career history analysis does not suggest much that is encouraging for Mormeck in next week's fight.
POTENTIAL POST-FIGHT DEVELOPMENTS IN FRANCE
There is a synergistic relationship between boxing and television. Only by broadcasting bouts featuring popular fighters can television networks and promoters – as well as the boxers themselves — make serious money in this sport. Orange Sport France is broadcasting Mormeck's comeback because his career accomplishments and unique fighting style appeal to French fans. This is why boxing industry powerbrokers have talked about bringing Vladimir Klitschko to Paris XIII to fight Mormeck. Given Mormeck's stature in the French boxing world, such a fight would yield a handsome profit to all parties involved.
Ibragimov himself acknowledges Mormeck's popular appeal. "The fans like him because he is exciting, he's really aggressive and throws lots of punches," Ibragimov explained. "Sure, I can understand why French television shows him to the fans," he added.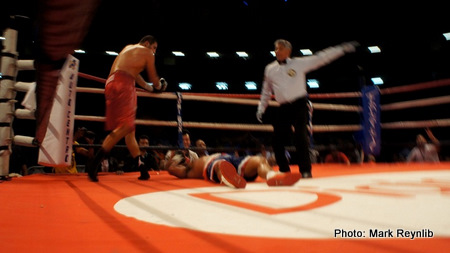 But the French sporting public is also known for its gallant inclination to praise and embrace foreign fighters who distinguish themselves by winning fights in France. In the 1970s, the great Argentine champion Carlos Monzon acquired a near cult-like popularity with the French by beating local hero Jean Claude Bouttier. Monzon's rival Rodrigo Valdez, a Colombian, won praise in France by kayoing homegrown fighters Max Cohen and Gratien Tonna. Another 1970s middleweight, Philadelphia's Bennie Briscoe, became a French favorite by kayoing Jean Matteo and Tony Mundine (an Australian heavily promoted in France) in Paris. The French were so enthused with Briscoe they named him "Le Robot."
In the days following the Ibragimov-Mormeck bout, top executives at Orange Sport France will meet in a boardroom to discuss their boxing program. Do not be surprised if their agenda focuses on bringing Haye or the Klitschkos to Paris XIII to fight "L'Ousbek."